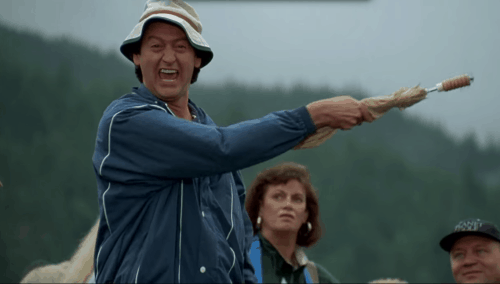 Remember the scene at the end of Back to the Future II when Marty gets a letter from Doc?  Remember the guy who gave him the letter?  It looked like he was going to pull a gun on Marty but he really just took out the letter, let him know he was from Federal Express and joked about the office pool about whether or not Marty would show up?  Yeah, that guy.  That's Joe Flaherty.  He's also the same guy who taunts Happy Gilmore by calling him a "Jackass."
Anyway, Flaherty is our "That Guy" actor of the day because he deserves the homage I'm paying to him.   Flaherty is now 75 years old and has 107 credits to his name.  Unfortunately we haven't seen him since 2014 and I have no idea what he's up to today but I'll always remember his characters is being super annoying and yet kind of necessary for the films he was in.  I highly doubt we'll be seeing Flaherty on the Silver Screen ever again but here's to all his short but memorable performances.
And yes, here's the "Jackass" scene.