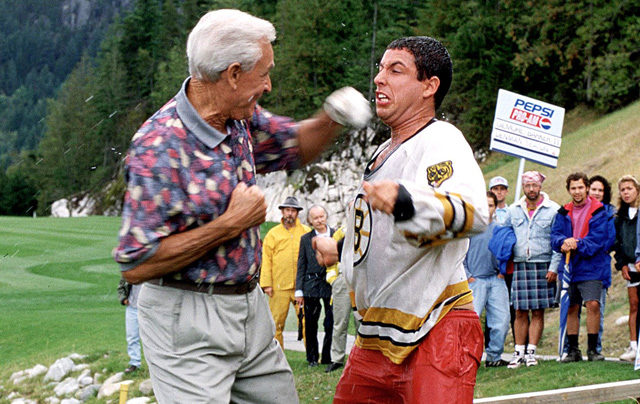 I think we can all agree that without question one of the best moments of Happy Gilmore is the moment Bob Barker beats the crap out of Happy Gilmore during a celebrity Pro-Am tournament. The scene completely came out of nowhere and I'm pretty sure when I was in the theater I hurt my stomach from laughing so far. It's hard to believe that scene was literally over 20 years ago but here we are in 2017 and Bob Barker is unfortunately hospitalized.
The man is 93 years old so this is expected.  Just in case you're wondering he's in there because his hip is healing.  What's not expected is him getting a visit from Adam Sandler wearing another Boston Bruins jersey similar to the one he sported in Happy Gilmore. Instead of feeling sorry for Mr. Barker, Mr. Sandler is pulling no punches and it appears like he's still holding a grudge.
If you thought their first fight was worth watching, this one's gonna be on all the hall of game Golf highlight films.
This is absolutely incredible.
Save
Save