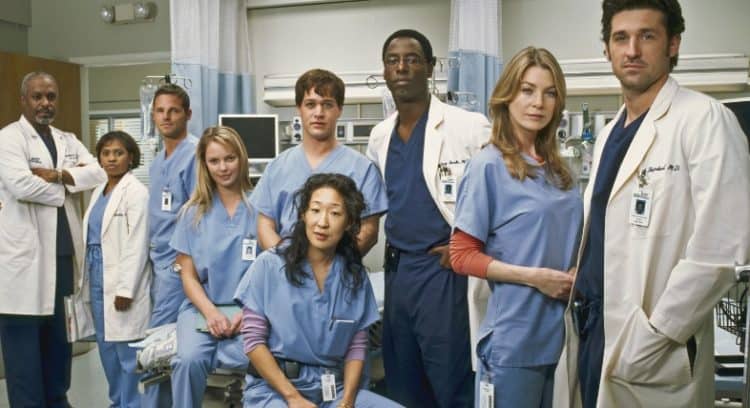 Some shows become part of us, and we become addicted to some of the cast members while others, we love to hate. Therefore, when they leave the screen, we are disappointed, especially when they disappear suddenly. For a show like "Grey's Anatomy," we just never expected some of the cast members to leave the show so soon. Let's take a look at the exit of 15 of the cast members and the circumstances leading up to their disappearance.
1. Callie Torres
Although Callie had appeared in season two, she became a leading cast member in the third season through to the 12th season. After ten years of working at the hospital, Callie leaves her job to follow her colleague Penny Blake, who is also her new lover, to New York.
2. Erica Hahn
Dr. Erica Hahn was dropped from the show because according to Rhimes, there was no chemistry between her and Callie Torres, her lover. So in the 7th episode of the 5th season, Hahn fights with Callie because Callie saw herself as less of a lesbian and more of a bisexual. They, therefore, break up; Erica quits her job at the hospital and disappears from the scene, for good.
3. Addison Montgomery
Shonda wrote Addison off at the end of season 3 to allow her to pursue more significant interests and it was easy since as the ex of Dr. Sloan and Dr. Shepherd, she had to move on with her life. Therefore she quits her job at Seattle Grace Hospital for Oceanside Wellness Center in Santa Monica. However, Addison still made guest appearances in the show until its 8th season.
4. Cristina Yang
Cristina was beloved by fans, and Shonda gave her a proper send off by having her leave Grey Sloan Memorial for Klausman Institute of Medical Research to be the Director of Orthopedic Research. Dr. Burke offered her the job when he decided to retire.
5. Preston Burke
Though never really a fan-favorite, Preston leaves the show abruptly in season 3 episode 25 after abandoning Cristina at the altar and later departing from the hospital and town. He reappears in season 10 to ask Cristina to replace him in the private clinic in Zurich as director.
6. Mark Sloan
He left the show after the plane crash in season 8. Mark suffered as a victim of the accident and then went to sleep at the hospital, never to wake up. Derek and Callie unplug him, and later the hospital is renamed Grey Sloan Memorial as a tribute to him and Lexie.
7. Derek Shepherd
Patrick wanted his contract to end, and Shonda found an ideal, and sad way for him to exit the show. Derek saves the lives of two car accident victims, and as he leaves the scene, a truck hits him, and he is taken to the nearby Dillard Medical Center. Unfortunately, they are not a trauma center which leads to his death.
8. Izzie Stevens
After Katherine made her comment about "poor quality material on Grey's" her time was short-lived, and Shonda cut her off in the 6th season. Izzie left Alex, her husband, assuming he had her fired in the merger with Mercy West. Alex, however, could not take her back even after she tried to get back with him. She left the hospital saying it was just a place to work.
9. George O'Malley
George gets hit by a bus helping a stranger to safety while on his way home to inform his mother that he has joined the army. By the time the doctors realized who he was, he had already been too severely injured for them to save him.
10. Lexie Grey
Lexie Grey appeared on the show for five seasons starting in the 3rd season. She left after being the first victim to lose her life after the plane crash on season 8 finale.
11. Sadie Harris
She appears in eight episodes of season five, but her role does not catch on due to her being reconceived various times in the writing process. She is Meredith Grey's old friend and study partner, and after George realizes she does not have enough theoretical knowledge in medicine, he convinces the boss to fire Sadie.
12. Rachael Taylor
She was on the series for five episodes as a gynecologist to attend to Callie's pregnancy. She exited the show after taking a job at Namboozi clinic in Malawi
13. Adele Webber
Adele, Richard Weber's wife, splits up with him after telling him to choose between her and his career. They later get back together, and in season 7, Adele has Alzheimer's. She is hospitalized in season 8 in a clinic where she is involved with a fellow patient but later has a heart attack.
14. Stephanie Edwards
She, a surgical resident, starts a fire to prevent the kidnapping of a little girl by a rapist. She is injured, and it is her wake-up call for her to leave the hospital, where Stephanie had spent most of her life, to begin a new chapter outside of hospitals.
15. Finn Dandridge
Finn was Meredith's love interest in seasons two and three, but Meredith leaves him to be with Derek since she is still in love with him. After the breakup, Finn disappeared from the cast.