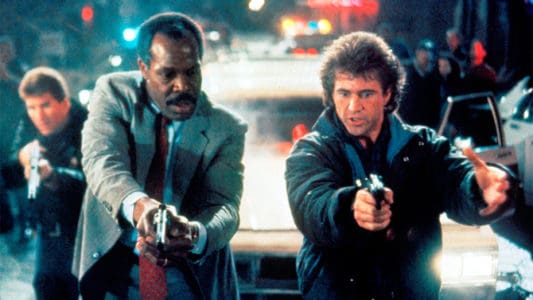 It might be safe enough to say that Mel Gibson and Danny Glover are 'getting too old for this…' well, you know. According to Evan Lewis of We Got This Covered there's another Lethal Weapon movie on the far horizon and despite not being locked in yet it does sound as though Gibson and Glover might actually say yes if there's enough of a story to go on. Let's just break it down as much as we can, Gibson is in his 60s and Glover is in his 70s, as is Joe Pesci who is also rumored to be coming back. Twenty-one years ago, when Lethal Weapon 4 came out, Riggs, played by Gibson, and Murtaugh, played by Glover, had a kid and a grandchild respectively. By now both characters would be retired, the kids would be fully grown and possibly out of the house, and life would hopefully go on in a way that has less explosions, less action, and a lot less stress for both men. Hopefully Riggs and Lorna would still be married, there's no doubt that the Murtaugh household would still be just fine, and whether or not Chris Rock would return as Butters is kind of hard to say, but one could only hope since he made it through the last movie more or less intact.
So what case could possibly pull these guys out of retirement and back on the job for one more go-around? By now Riggs might actually have a grandchild and be fully ready to stop the kung-fu badass cop angle. After all between the third and fourth movies he finally cut his hair, so it's safe to say that over two decades later there might be even more changes coming. Nancy Bilyeau of The Vintage News has more on this matter. What's funny about this is that there's likely an explanation as to why this is being brought back and it might have something to do with 'wrapping up' the entire series. That's funny because when last we saw the Riggs and Murtaugh families, and Leo, they looked pretty happy and everyone had moved on. Riggs and Lorna were going to get married, they had their child, and Murtaugh and his wife could finally settle down and just raise a family as they nearly done since their youngest kids were off to college. So what's left? Did the bad guys from the first and second movies have relatives that became so enraged that they waited decades to finally strike? Did Jet Li's character have relatives that took their sweet time trying to figure out how best to get back at them? Or did Jack Travis have someone that figured that he was worth avenging finally? There are a lot of questions at this point but few, if any, real answers as to just who or what could bring Riggs and Murtaugh back on the case. If anything it's another cash grab using an idea that was finally brought to a comfortable and fulfilling close since Riggs and Murtaugh looked liked they'd been through a meat grinder by the end of the movie.
Hollywood isn't failing in terms of the box office all the time, but it is starting to fail when it comes to new ideas, and this kind of proves it no matter if people want to go see it or not. There's no furthering a story here, it's dragging something that was well and done with, no matter how the TV show was pitched, and raking it along at a pace that could very well tear it apart if the writers aren't careful enough to figure out who they're dealing with and why the characters need to be handled with care. This is not a movie that needs to be made, and no matter if it performs well at the box office it's still one that is bound to get a lot of people shaking their heads solely because it's the type of movie that makes a person look at Hollywood and ask 'why?'. Why in the world would you dredge up a story that was given such a great ending and risk mucking it up? The risk here isn't worth the effort given the fact that the story had stopped, that there was the implication that Riggs and Murtaugh were finally going to leave things to the younger generation and that they'd done their part. What was so wrong with that? Some might want to call me a cynical fuddy-duddy for my views since it might actually sound as though I'm an old man stating 'back in my day, people had more RESPECT for movies', but in truth it stems from the idea of knowing when to let a story go and move on. It comes from trying to push forward a story that people haven't seen before rather than rehash one they've seen over and over. Lethal Weapon was a great movie and so were its sequels, let's not ruin them. One can only hope the news from Chris Evangelista of SlashFilm, that part 5 is DOA, is correct.