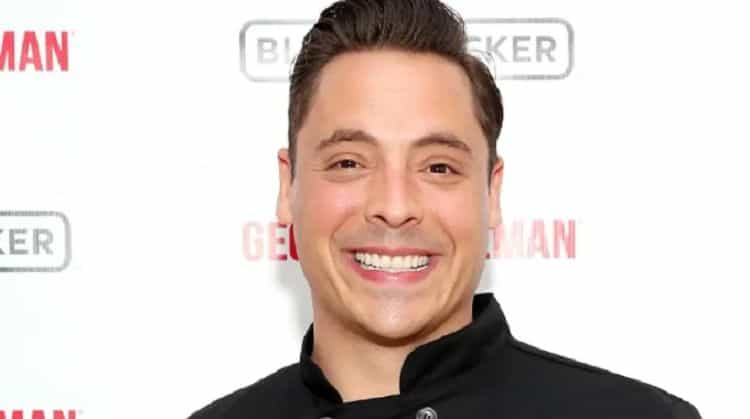 Sandwiches are one thing that almost everyone can make. But not everyone can make a sandwich like Jeff Mauro. Well-known all over the world for his king level sandwich making skills, Mauro is a professional chef who can do much more than whip up a good sandwich. He has made several TV appearances throughout the years and rose to prominence when he won the Food Network Star competition in 2011. Since then, Jeff has been working his way to the top and he is currently a judge on the series Worst Cooks in America. Thanks to his culinary talents and his fun personality, we'll likely continue to see a lot more of Jeff in the future. Keep reading for 10 things you didn't know about Jeff Mauro.
1. He Was Nominated For An Emmy
The work that Jeff has put into his career doesn't just include what he's done in the kitchen. As a TV host, he's also built a strong foundation for himself and his hard work and dedication haven't gone unnoticed. His Food Network show, Sandwich King, has earned him an Emmy nomination.
2. He Studied Radio And TV
Jeff was born and raised in the Chicago area and decided to stay close to home for college. He attended Bradley University where he studied radio and TV. Jeff told Spoon University that during college he was the "kitchen steward" which allowed him to live on campus for free.
3. He Wanted To Be An Actor
Becoming a professional chef wasn't always something Jeff planned on doing. Instead, he hoped to have a career in the entertainment industry. He even moved to Los Angeles after college with the hopes of becoming an actor, but after not finding the success he hoped for he decided to refocus his energy and enroll in culinary school.
4. He Hosts A Podcast
Jeff's dreams of becoming an actor may not have come true, but he's gotten to be a part of the entertainment industry in other ways. In addition to the work he's done on TV, he also hosts a podcast called Come on Over. On his podcast, Jeff discusses a wide variety of topics and often has guests join him on the show.
5. He Doesn't Really Like To Travel
In order to be a well-rounded cook, it's important to understand dishes and ingredients from other places. As a result, Jeff has spent a lot of time traveling over the course of his career. Unlike other people though, Jeff doesn't really enjoy traveling. During his interview with Spoon University he said, "I hate being gone from home and getting on planes all of the time. No one is ever like, "Oh, this is great, I can't wait to stand in line!" And I don't pretend to be some big jet-setter, home is home."
6. He'd Never Had Chick-Fil-A Until 2019
When it comes to chicken sandwiches, Chick-Fil-A is one fast food restaurant that reigns supreme. Surprisingly though, Jeff had never had Chick-Fil-A until last year (2019). In an interview Jeff said, "I'll be honest with you, two weeks ago I had my first ever Chick-fil-A. They just started rolling them out here in Chicago and for a bun, chicken and two pickles it was phenomenal and I just love it. Politics aside, I am in it for the food and they executed a great sandwich."
7. He's A Father
Cooking has been one of the primary focuses of Jeff's life, but he hasn't let it stop him from enjoying his personal life too. Jeff is a proud family man and when he isn't busy working he enjoys spending as much time as he can with his son, Lorenzo. He credits the birth of his son with helping him stay focused and find direction in life.
8. He Loves Pizza
Jeff's nickname may be The Sandwich King, but he has a special place in his heart for pizza. As a Chicago native, he's a fan of the thin crust and deep dish styles that the area is best-known for. Although he does a lot of traveling, he feels that there's no place better than Chicago when it comes to pizza.
9. He's Done Ads For Subway
His work on cooking and food related shows aren't the only TV appearances Jeff has made during his time as a chef. In 2017, he began working with Subway and appeared in a commercial for their popular Italian Hero sandwich. The commercial was the perfect opportunity for Jeff to combine his love of acting and his love of food.
10. He Likes Social Media
Social media has become incredibly popular over the last decade. Being active on social media is almost essential now if you want to have a successful career in the public eye. While some people wish social media wasn't something they had to worry about, Jeff actually loves sharing things with his fans.