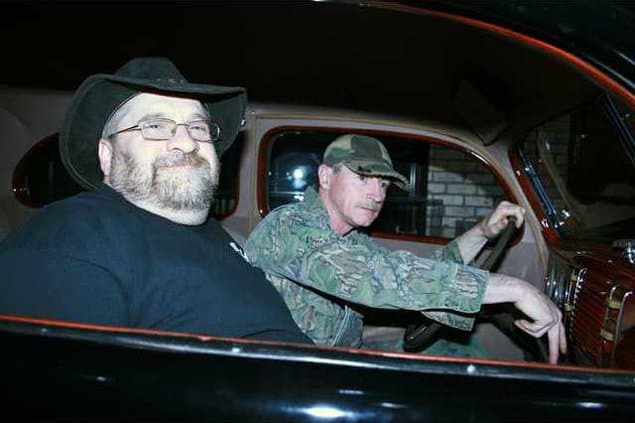 Jeff Waldroup is best known for his appearance as a cast member on the television series "Moonshiners." This is the only television franchise that he has appeared on. He is a reality television celebrity with a focus on making moonshine. He first became a Moonshiner in the year 2012. Jeff became popular with fans of the series and massed a fair-sized group of followers but his appearances were mostly in the premiers of the series. Some fans are wondering whatever happened to him and what he's been up to most recently. We looked into his history and what he's doing with his life now. Here are 10 things you probably didn't know about Jeff Waldroup.
1. He's a private person
There have been a lot of inquiries into various members of the Moonshiners cast. Fans wonder whatever happened to Jeff, and his son Lance. When Jeff was asked about his son, he declined to comment. Those who have asked Jeff for information about what his son is doing these days get a big fat zero and it's something that he is not willing to talk about.
2. He's doing okay financially
During the time that Jeff has made appearances on the show, he has made an income from it. While the exact amount that he received for each episode has not been publicly shared, it was enough to help him build his net wealth. When we inquired about what he is worth today we learned that Mr. Waldroup has an estimated net worth of $500,000. Sitting on a half of a million dollars isn't bad at all.
3. His last television appearance was in 2019
Jeff Waldrop started out with the series "Moonshiners" in 2012. He made his last appearance in the series in 2019 in the episode titled "Secret Backwoods Recipes." He also appeared in two episodes of the 2018 season of "Moonshiners: Shine on Shine" in episodes titled "Fails" and "Close Calls."
4. He and Lance have disappeared from the series
Jeff Waldrop and his son Lance have been regulars on the series "Moonshiners," but the two were absent after the first half of the 2019 season. This has left some fans who enjoyed seeing them a little upset and they are wondering what has happened to the father and son. The show is in its 8th season and Jeff and Lance are two of the most popular members of the cast. They joined the group in the second season and have appeared up until now.
5. Jeff has been a big support for his son
When it comes to moonshining, Jeff Waldroup knows how to do it the right way. His son Lance has had a lot of failures in his attempts. Jeff has always been there to help him out and show him what he did wrong and how to do it better the next time around. For example, when he went to sell his absinth, he had priced it at triple the going rate and when it didn't sell, his father had to explain why.
6. Fans are confused by his absence
There has been no explanation offered by either Jeff Waldroup or Lance as to why they have not yet appeared on season 8 of "Moonshiners." The producers of the show have not come forth with any information either. There has, however, been speculation that a new pair of moonshiners will be introduced to the series. While this is a suggestion that the father and son may have been replaced it is unclear why.
7. They may be taking a season off to build their business
We also learned that Lance is selling some items on social media including a car, a television an Xbox and other items. This means that there is a need for them to raise funds for some reason. While there are those that are speculating that the Waldroups may be having financial difficulties, there could be other explanations. We recall that the Waldroups had vowed to double the size of their bootlegging operation so it could be that they're trying to raise a little extra funding to put into the business.
8. There is still hope that they will return to the show
Although some fans are speculating that Jeff and Lance are off the show permanently, this may not actually be the case. It really depends on how to look at the clues. First of all, they are still listed as being members of the cast officially by producers. The second piece of evidence is that they are still claiming to be official Moonshiners on social media. There is a high likelihood that they will be returning to the show and they may be coming back bigger and better than ever, but only time will tell because they certainly won't.
9. Jeff Waldroup is following a family tradition
Jeff is a seventh-generation moonshiner. This is a craft that has been passed down in his family through multiple generations. He passed the skill on to his son Lance. For him, making moonshine is more of a family tradition but he didn't resort do doing it seriously until he needed the extra finances to help keep his family fed.
10. He has other job skills
Jeff Waldroup has always been a working man. Prior to appearing on the television series "Moonshiners," he worked in two other professions. He has worked for the majority of his life in two main industries. He is a qualified bulldozer operator and he has also worked as a logger. After going into the production of moonshine and selling it to the public, the fame of his family recipe of shie has become famous and in-demand across several different counties. Although this is considered to be an illegal activity, Waldroup and his son stay within the legal limits and observe the necessary rules to keep them out of trouble with law enforcement.