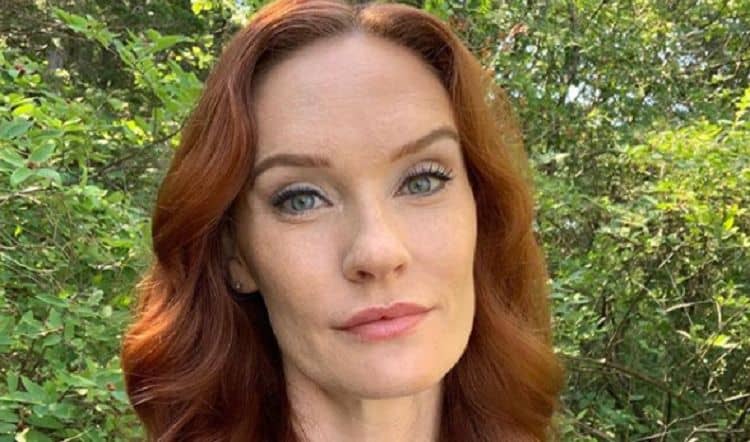 It's been 15 years since Jennifer Marshall made her first on screen appearance. Many things have changed over the course of those years, but one thing that hasn't is Jennifer's dedication to her craft. With over 60 acting credits to her name, Jennifer has managed to find longevity and consistency in an industry where both of those things sometimes seem impossible to attain. Most recognized by her bold red hair, Jennifer has had a variety of roles. Each time she steps in front of the camera the audience can't help but to pay attention. She is best-known for appearing in Stranger Things and and for being the host of The CW's Mysteries Decoded. Keep reading for 10 things you didn't know about Jennifer Marshall.
1. She Was In The Navy
Becoming an actress and working in entertainment were things Jennifer never saw herself doing. She had very different plans for her life starting with a career in the Navy. She joined after high school and served for five years. Jennifer was honorably discharged and is very proud that she was able to serve the country.
2. She Competed On The Price Is Right
The Price is Right remains one of the most well-known game shows on TV. If you've ever been home sick, there's a good chance you've probably caught a few episodes. Jennifer actually appeared on the show as a contestant during the show's Veterans' Day episode in 2015. Not only was she on the episode, but she won the whole showcase.
3. She Loves Working With Charities
Jennifer has always been passionate about helping others. She especially enjoys working with members of the military and fellow veterans. According to her website, "Volunteering is near and dear to my heart. Working in television and film has allowed me the flexibility to spend a lot of time with some of my favorite causes. Here are two: teaching at the Grace Day School and Orphanage in Mukono, Uganda and being an ambassador for the Congressionally-recognized, award winning non-profit, Pin-Ups for Vets."
4. She's A Private Investigator
Jennifer isn't just an actress, she's also a certified private investigator. She started PI school in 2014 and spent years working under other investigators to reach the California state requirement of 6,000 hours to be eligible for a license of her own. She has since opened up her own PI business. Jennifer also has a master's degree in criminal justice.
5. She Attended Virginia Wesleyan University
The more we learn about Jennifer the more impressive she gets. In addition to all of the other things she's accomplished, she was also an excellent student. She attended Virginia Wesleyan University where she earned degrees in Spanish and international politics. She graduated with a 3.99 GPA.
6. She Likes To Travel
Jennifer has always been grateful for the opportunity to get out and see the world. One of the best things about being an actress is the flexible schedule it provides. She has been able to do lots of traveling throughout the years and has visited places like Uganda, New Zealand, Thailand, and Cambodia.
7. She Planned On Becoming A Police Officer
Earlier when I said that acting wasn't really in Jennifer's plans, I wasn't exaggerating. When most people move to Los Angeles, their goal is to get into entertainment, however, when Jennifer got to L.A. she was hoping to become a police officer. Unfortunately, an injury prevented that dream from coming true.
8. She's From Colorado
Jennifer was born in Colorado and spent several years living in the small town of Carbondale. Although living in a small place has its perks, Jennifer knew that she wanted to get out and see the world, which is exactly what she has done. She currently lives in the Los Angeles area with her family.
9. She Was A High School Cheerleader
Jennifer has always been the type of person who likes to be involved, and her high school career was full of all of the things people encourage teens to do to stand out on their college applications. Jennifer was a member of the cheerleading team and the basketball team. She was also involved with the yearbook and the newspaper.
10. She's A Private Person
She's been in the industry for well over a decade at this point, but Jennifer has never been the type to get caught up in the hype of being in the spotlight. She prefers to keep things private and has never really shared too many details about her personal life. Although we do know that she is married and has four children, she doesn't share photos of them on social media.