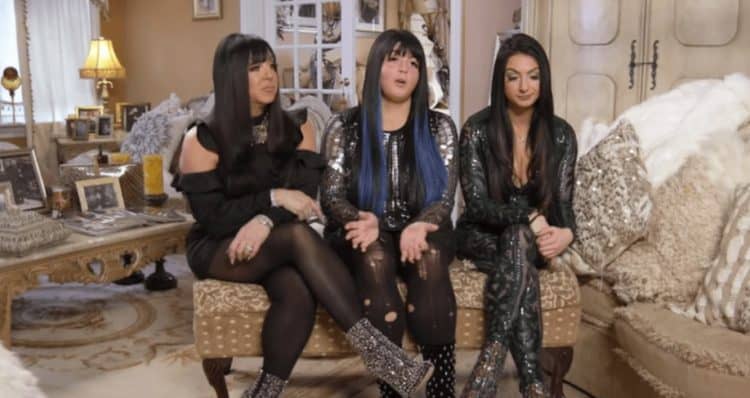 Jennifer Martone is the mother of two talented young ladies who happen to be the co-owners of their own hair and nail salon. Jenn has become well-known to fans of the new show who tuned in for its debut airing on November 17, 2019. It is scheduled to appear for a total of six episodes. The stars are hoping that it will gain the needed ratings to return for a full season the following year. Jenn Martone is not the main star of the show, but she certainly adds a lot to it. Here are 10 things that you probably didn't know about her to help you become better acquainted with Jenn Martone.
1. She works at a stylish and expensive salon
Salon Martone is one of the most expensive hair and nail salons but its clientele have left some rave reviews about the services that they receive there. The prices are high, but the kind of nails, hairstyles and coloring are unique and hard for others to duplicate. This is because the girls Lexi and Bria, who are Jenn's daughters are both eclectic and talented artists in their field. They specialize in the delivery of client requests and they leave a satisfied clientele who come back for more. Jenn is the receptionist at the salon and she is the first person to greet clients as they show up for their appointments.
2. Fans compare Jenn and her girls to the Kardashians
Are we seeing similarities between the Martone's and the Kardashians? While some fans of the show are comparing Jenn, Lexi, and Bria to the famous reality stars, others disagree. w read on Jenn's Twitter account that one fan has a bone to pick with the comparison and has stated that the Martone girls are more talented than Chris Jenner's daughters. The statement has seemed to have generated a bit of a spat between fans of the Kardashians vs the Martone's but in reality, we do see a mom with two famous daughters so there are at least some similarities. Both moms have reason to be proud of their girls.
3. Jenn promotes the business on social media
Jenn doesn't just sit behind a desk looking pretty, she is a hard worker who is doing everything she can to help her daughters' business become even more successful. She is busy making posts to fans on social media to point them towards new events that are happening with the salon and on the show.
4. She highlights special visitors
Jenn makes some interesting posts about the visitors that come to the salon. One of them is Jezebel, the dog and a client of Foxy Grandma. While there were some concerns that the dog was being injured by a hot blow dryer on the show, Lexi was quick to respond that the blow dryer was in fact turned on the low setting and the pup was never in any danger or subjected to any discomfort.
5. She replies to Tweets
Although Jenn has made it clear that she prefers regular texting to use of Twitter, she does the best that she can on the site. Admittedly, it's not her favorite medium because she is still learning how to use the site effectively, but she does respond to the Tweets that other people make. She's really great at PR, and she likes to make sure that people know she and the girls care about their fans and want to make sure that at least one of them responds to as many Tweets as possible.
6. She raised a loud family
Jenn Martone isn't a shrinking violet, and neither are her daughters. She is a strong woman with definite opinions. She comes from a proud Italian ancestry and is also from Long Island, New York. While we avoid stereotypes, there is an attitude that seems to go along with being from this part of the country that is cultural. Jenn speaks her mind and she has raised her daughters to do the same, so there are times when things get a little loud in the salon, but nobody seems to mind.
7. Jenn Martone treats everyone special at the salon
Lexi and Bria could not have found anyone better to greet the customers as they enter the salon. Jenn is right on target with customers from the moment that they walk in the door. She greets everyone warmly and makes sure that they are comfortable. The little girls are given tiaras and everyone who walks through the door gets a hug and even a pick on the cheek from her. She goes the extra mile to make sure that everyone who comes to the salon feels special and welcome. She is a valuable asset to the business.
8. She is a proud mom
Jennifer shared that she realizes that her girls are both young and running a salon takes a great deal of discipline and hard work. There's a lot more to it than merely coloring hair or doing nails, although these are important aspects of it. Jennifer helps them by taking care of a lot of the public relations work and she adds to the overall atmosphere and clients dearly love her. Jenn is proud of both of her daughters.
9. Jenn and the girls are close
Jenn has raised her children to value family. While things may get loud and there are definitely disagreements they do stand together. They can disagree with one another but the bottom line is that blood is thicker than water and the Martone's all hang together. Jenn, Lexi, Bria and Foxy Grandma are four dynamic women who represent 3 generations of strong women.
10. Jenn is an important part of the business
Although Lexi, Bria and Foxy Grandma are working their magic with their clients, Jenn is behind the scenes keeping things running smoothly. She may not be a nail artist but she is very good with the public. She's a very important asset to the business and to the new series.