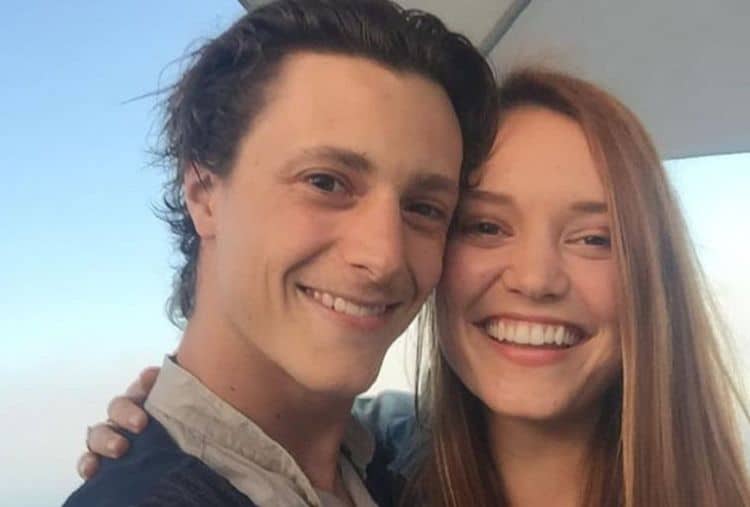 Jessica Sutton is an actress who is best known for her appearance as Mia in the 2018 film "The Kissing Booth." She is fairly new on the acting scene but her performances and acting skills have made an impression on viewers. She's gaining more fans with each new project that she tackles and we see a rising star who is just getting started. To help you become more familiar with her, here are 10 things you didn't know about Jessica Sutton.
1. Sutton launched her professional acting career in 2015
Jessica has only been in the acting profession for a little over 5 years. Her first gig was in the television mini-series "Saints & Strangers," in the role of Lizzie Tilley in 2015. The same year she landed a minor role in the film short "His Turn" as Ruby. There was a gap of two years before she appeared next as Anya in the film "Finders Keepers" in 2017.
2. Things picked up for her in 2018
Just three years after making her debut in television, she was cast in the role of Carly for 2 episodes in the television series "Ice." She went on to appear as Mia in "The Kissing Booth" the same year. In 2019, she appeared in "Escape Room" as Allison, adn was cast in the role of Stacey in "Bhai's Cafe." She was also hired for the role of Ava in the 2019 film "Inside Man: Most Wanted." Last year was one of the best for Jessica and it marked a period of rapid growth and some great exposure to audiences.
3. Jessica is having another good year
It's thrilling to see new actors establish themselves in the industry, which is no small feat. Last year was the best that Jessica had to date, but it looks like she is gearing up to possibly do even better for 2020. So far, we see that she has a recurring role in the television series "Motherland: Fort Salem." She is slated to appear for the entire season on the show which is good news for Sutton as well as for her growing base of fans. She is also set to appear in the 2020 film "Rogue" which is currently in its post-production stage of development.
4. She is branching out in the industry
Jessica Sutton's acting career is just getting off the ground in grand style, but she is also branching out into other aspects of the industry. In 2015, she produced the film short titled "His Turn." She went on two years later to produce the short "Beautiful Boy" in 2017. It all looks good on a resume.
5. She turns 27 in a few days
Jessica Sutton was born on March 31, 1993. As of the writing date now, she is 26 years old, but she has a birthday coming up. She will turn 27 years old and is still in her prime as an actress. She was born in South Africa but does most of her work as an actress in the United States.
6. She received formal training
Sutton didn't just jump into the acting business with little knowledge and high hopes of snagging a role. She actually took the time to prepare for her new career in advance. Before she became famous she trained through the ACT Film Academy. This gave her a solid foundation in acting techniques and helped her to enhance her natural acting talents, honing them to a more polished finish. She trained with Nicola Hanekom, Denise Newman, Grant Swanby Tamryn Spiers, and Nicol Ritchie.
7. She is an international celebrity
Jessica Sutton has earned the status of being an international celebrity actress. She appeared in a feature film by Christopher Smith titled "Detour" that was in the international classification. She is well-known throughout the United States, South Africa, and in other places in the world. "Detour" is a film that has not been acknowledged by some of the major reporting sites such as IMDB, but she deserves the proper credit for her early appearance in the film.
8. These are a few of her favorite things
We learned some interesting things about Jessica Sutton and who she really is apart from her acting career. Her favorite place in the world is Paris, France, but she prefers Thai Food. The colors she loves the most are blue and black. Her favorite actor is Will Smith and her favorite actress is Joey King. She enjoys shopping and traveling as her top hobbies.
9. She's doing well financially
Jessica hasn't been working for that long, but she has already managed to put back a lot of money. While some actors who are at her stage of development and beyond are still struggling to make ends meet, she is doing quite well for herself. We learned that her estimated net worth is $750,000. This is three-quarters of a million dollars and we're guesstimating that it won't take her long to reach the level of a millionaire. She's been landing more acting jobs and they just keep getting better and better. She is quickly becoming a hot commodity in the business.
10. You can keep up with her on social media
One of the best ways to keep up on all of the latest news and what is trending in Jessica Sutton's personal and professional life is to follow her on social media. We learned that she has a Facebook account, and she is also on Twitter and Instagram. So far, she has just under twenty-thousand followers on Instagram and there are 104 posts on the page. It's a terrific place to find great photos of her and of the projects that she is currently working on. She is doing a great job of keeping her social media accounts updated with interesting information for her friends, family and for her fans.