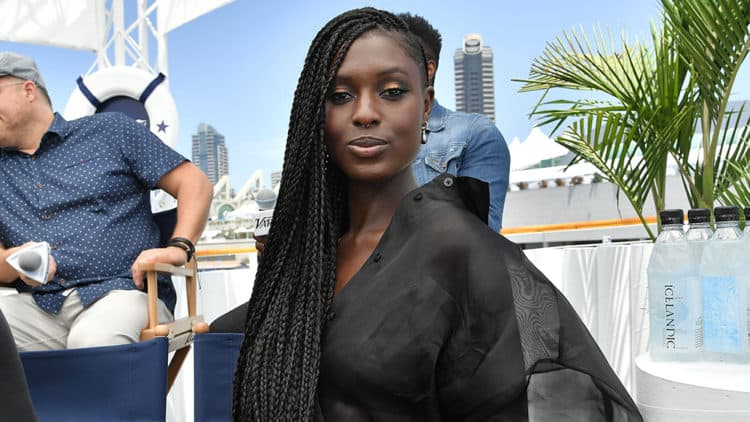 Jodie Turner-Smith is someone that you might know or you might not depending on what shows you watch and if you've seen her at all in the past. With so many stars out there to keep track of it's easy to think that you might be seeing her for the first time and wondering just who she is. Well it's easy enough to find out by typing in a Google search but you could always keep reading and find out a few details that might take some time to discover. One of the easiest ways to tell you who she is and what she's done is to say that she is a TV and movie star and has been around the business longer than a lot of people might realize. It's true that she hasn't been the most popular throughout the years but her reputation and career might be on an uptick these days as it would seem that she's gaining a bit more popularity as time goes by.
Here are a few things about Jodie you might not have known.
10. Her social media presence is still building.
She has a good number of followers on her accounts so far but it does seem as though it might still be building up as more and more people start to realize who she is and what she's done in her career. Normally you'll see models have hundreds of thousands of followers, but maybe those numbers will jump eventually.
9. So far her net worth is about $500,000.
Most of her income comes from modeling and acting but quite honestly she's earned a pretty decent salary from doing work online for advertisers as well. Her promotions easily pull over a thousand dollars each time she promotes one brand or another.
8. She's done her time as a model before getting into acting.
Jodie has done her fair share of modeling and has profited quite a bit from it as this has been a good part of her income and practice for the screen. In her opinion if a person can model they can likely act since getting up on stage means that you're putting on a show for someone no matter what you're doing. There's a lot of logic to that quite honestly.
7. At the moment she is unmarried.
Everyone's got their designated time and place when they want to finally get married and it might not be her decision yet that she wants to be attached to anyone. Some folks wait a while and some don't do it all since they either don't believe in it or don't see the sense in it.
6. Jodie is in her early 30s.
She's still relatively young as she just hit her 30s not long ago, which means that she's still got a lot of time in which to do the things she wants with her life and to experience a great number of moments that life has to offer. When you're in your 30s the general feeling seems to be that the good times are still rolling and there's no need to worry just yet about getting old.
5. It's been rumored that she might be with Joshua Jackson.
She was seen walking about with Joshua Jackson at one point, hand in hand. While there's been no word as to whether the two are officially dating or not a lot of people have already drawn their own conclusions and are already starting the gossip as to what's really going on between the two of them. It could be a relationship or it could not be, it's kind of up in the air at the moment.
4. She's been around for longer than some might think.
Jodie has been in the business for a while now and she's seen and done things that would label her as a veteran actress. The mere fact that a lot of people don't seem to realize this isn't all that horrible since honestly she's been doing her own thing and hasn't really been in the spotlight as much as a few others.
3. So far she's been in some very notable shows and movies.
If you know about the show Nightflyers you might recognize her since she's played a rather prominent part there, but she's also been in movies like The Neon Demon and other shows such as True Blood. So yeah, she's been around.
2. She did try to pursue a career in writing.
It sounds like modeling wasn't her first choice of profession as she was at one point kind of a bookworm that loved to write and explore the different worlds she could come up with in her head.
1. There's not a lot of information concerning her education.
It does stand to reason that she's educated enough to get by on her own but apart from that there's not a lot of information saying whether she went to college or not.
There's still a bit more to find out about her if you're interested.