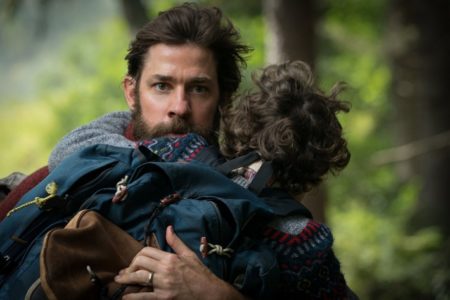 In some ways it seems as though John Krasinski belongs in an educational role as much as he does in show business. He's taught English as Second Language courses in the past and he's even hinted that he might have stayed in education if not for acting. To date however he's been an actor, screenwriter, director, and producer so it seems as though his course is more or less set and going back to anything else isn't a possibility unless he tired of acting and decided to do something else. That might be kind of a loss however since he's made such an outstanding career thus far. In fact you could say that he's come a long way from The Office where he was one of the most endearing characters and played the role perfectly throughout the span of the show. Seeing him take charge and leap into other roles though has been great.
Here are a few things you might not have known about him.
10. There are those that think his character, Jim Halpert, is kind of a psychopath.
This is something that you really need to be looking at the chat boards and opinion articles for when it comes to this show since some people firmly believe that Jim was the real bad guy while Dwight was the guy that should have been idolized. In truth Jim did a few shady things to be certain but for the most part he wasn't even on Dwight's level when it came to being annoying.
9. At one time he was a script intern on Late Night with Conan O'Brien.
He did have to work his way up when it came to his career, there were no shortcuts that he took in order to get his start and he did spend the time and effort learning the business before he really got the go-ahead to show what he could do.
8. He's actually the shortest of his siblings.
In terms of height John stands at 6'3″, meaning he's a fairly tall man, but his siblings stand several inches above him at 6'6″ and 6'10", so believe it or not he's the short sibling in the family. You can imagine that their parents had to search around for big and tall shops when they were growing up.
7. He interned at an advertising agency as well.
John kind of got around when he was first trying to make his foray into show business and it was likely a wise move since it showed him just what was going to be expected and how he would have to deal with various types of people when it came to TV. That's the kind of experience you can't get just by leaping into a career.
6. His real parents were in License to Wed.
It might sound kind of corny but you might get the feeling that his parents were wondering when the day was going to come that they might be attending their son's actual wedding. Amusingly enough he and Emily Blunt did get together just a year later and they've been married for several years now.
5. He had his first on screen kiss during his time on The Office.
It's kind of hard to believe but his kiss with Jenna Fischer was his first ever on screen kiss. A lot of people actually feel nervous kissing someone that they're not actually involved with but it would appear that John did just fine and has kind of grown used to it since like many other actors.
4. John had a childhood crush on Molly Ringwald at one time.
There's nothing embarrassing about this is there? After all Molly Ringwald was the teen queen of her time and she was absolutely gorgeous. A lot of guys could admit that she was their crush at one point.
3. He's stated that if he hadn't become an actor he would have been an English teacher.
John has the education to back this up so it's easy to think that if he didn't have acting or decided to retire at any point, which seems unlikely, that he'd go right back into his role as a teacher and go full speed ahead.
2. He doesn't care if he does comedy or drama, he just likes to act.
A lot of people say that they're in the game for the love it and some actually mean it. John is definitely one of those that is there because he likes what he does. The paychecks are no doubt rather nice but the act of actually being there because you're enjoying yourself makes it even better.
1. John admits to liking The Bachelor and The Bachelorette.
There's no need to lose man-points (kidding, kind of) over this since a lot of guys tend to like these shows for various reasons. Some watch just to see the conflict between the contestants and others really get into it.
Whether he's being funny or serious John Krasinski is a lot of fun to watch.