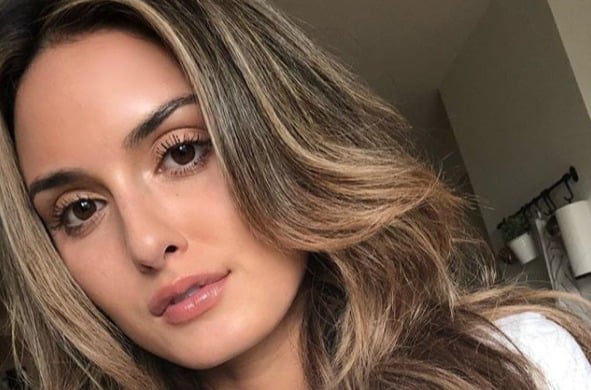 Julia Rose rose to popularity if not notoriety when she made the news for a lewd public act. She flashed her "assets" to a World Series pitcher, but it was a part of her job believe it or not. She's employed for a digital magazine called Shagmag. It's a digital publication that's dubbed by one of its founders as "the millennial version of Playboy." In case you were wondering about the incident and the woman behind the event, here are 10 things you didn't know about Julia Rose.
1. She is an Instagram model
Julia wasn't just a random woman rushing out to flash one of the players at a ball game. She was working for Shagmag at the time that she lifted her shirt. She wasn't alone in the assignment either. A co-worker at the magazine named Laurane Summer also lifted up her T-shirt to give Gerrit Cole of the Houston Astros a big breasted flash.
2. She is the Chief Executive Officer of Shagmag
Not only does she work for the online magazine, but Julia Rose is also the CEO of the company. The flashing event was considered to be an X-rated stunt with a good intention behind it. It wasn't as much for the promotion of the magazine, it was for a charity. She was attempting to promote the October Breast Cancer Awareness Month. This is a national campaign and this was her way of drawing attention to the need for women to engage in breast self-examinations as well as getting regular checkups from a healthcare provider.
3. It was her idea to perform the stunt
It isn't as though there was somebody in the background making Julia and her co-worker flash at an MLB game. This was her idea and she even pushed to make it happen according to one of the co-founders of the magazine. This wasn't the first or only time that Ms. Rose has publicly flashed. She also took her shirt off when she was riding on a roller coaster in June, at an amusement park.
4. She got into trouble from her MLB flashing incident
After flashing the pitcher at the Washington DC, there were consequences for Rose and the two women who accompanied her to the game. Both were fellow models. Joining Rose and Summers was Kayla Lauren, a fellow model. What made the offense so serious is that the ladies were sitting directly behind the home plate and the camera caught the act, showing it nationally to viewers over live television. This included children as well. For their trouble, the three ladies were accosted by park staff and removed.
5. Rose and her pals also received official letters
Not only were the trio escorted from the ballpark, but they were also banned from attending MLB games. Rose received an official letter from the organization. It was written by the Vice President of Security and Baseball Operations at MLB. His name is David Thomas and in his official notification, the wording instructed Rose that she was banned from any future MLB events. This is a legal action because the women did violate the fan code of conduct. This bans them from all MLB facilities and stadiums.
6. She posted a screenshot of the letter on Twitter
Rose became an internet phenomenon after she posted a screenshot of the letter that banned her for MLB facilities and events. Fans had a big response and there were about 21,000 people talking about it online through various social media platforms. There is an indefinite time associated with the ban. It could at some point be lifted but until further notice, these ladies will be booted if they show up prior to the lifting of the ban if it ever does happen. Perhaps it will be a lifetime event for them.
7. Rose is making a habit out of exposing herself publicly
Having two incidents recorded for public nudity shows that it's not just a wild notion that inspired her to flash people from a roller coaster at the Six Flags Magic Mountain amusement park, or at an MLB game. Rose was also kicked out of the amusement parks after her public display of nudity. She is also known for another incident at Pacific Park for exposing herself on a Ferris wheel and for pole dancing.
8. There are mixed reactions to Julia Rose's stunts
On social media, there was a public outcry against the multiple nudity stunts that she has pulled. Parents and other concerned citizens are upset about her exposing herself publicly in the plain sight of children. While the magazine claims that the stunt is to promote Breast Cancer Awareness Month, we must realize that it is also promoting its digital magazine that provides a lot of graphic content. In the same regard, Rose has 2.8 million followers on social media. She gets between three and four thousand likes on her content on a consistent basis, so the reactions to her displays of public nudity are mixed. Some like it and some do not.
9. Julia Rose is a native Texan
Rose was born in Texas. She attended high school in the state and graduated in 2012. Afterward, she went to Texas State University. Although her father posted two crying emojis in reaction to the stunt, she's not about to let up on them. She has made a vow to take her company to the next level and to provide yet more explicit incidents.
10. She was a bartender at Hooters
Prior to founding the digital magazine Shagmag, Julia was a bartender at the Hooters bar. She has also posted photos of herself in her Hooters outfit on Twitter. She had worked at a few other bars making drinks in Austin, Texas and also in Los Angeles, California. This was a launching pad for her current professional endeavors.