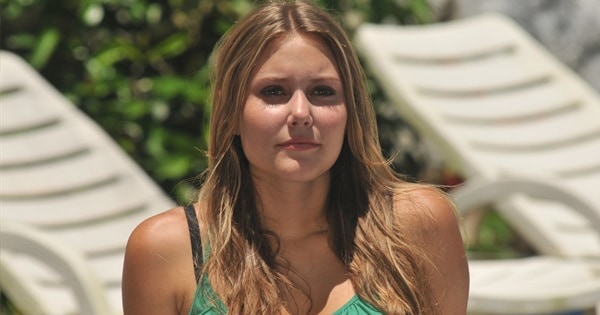 Julianna Guill, whose is full name Julianna Minetree Guill, is an American actress who has now amassed several stellar roles in both television and cinema. She first gained widespread attention to a global audience for her appearance in the 2009 slasher horror film, "Friday the 13th." Her role as Bree was only a minor one, but she showed up enough poise and originality to attract even bigger parts. Here are some facts to note about Julianna Guill.
1. Her background
Guill was born on July 7, 1987, in the North Carolina city of Winston-Salem. She is one of three children born to Earl and Ann Guill. Julianna and her siblings were all interested in singing and stage performances from an early age. Therefore as she went through her elementary, junior, and high school education, Guill was doing plenty of singing and dancing on stage, including tap, ballet, and jazz dancing. Up to her graduation from R.J. Reynolds High School in 2005, she was a lead singer in the school choir too.
2. She made multiple Guest appearances on TV shows as a teenager
Guill says she always wanted to be an actress, and it did not take long for her to earn roles in shows with a global audience. As a teenager, she would receive several guest roles in popular TV shows. The first of these appearances happened while she was still in high school when she appeared in the first season of One Tree Hill. As documented on TV.com, the sixteen-year-old Guill was cast as Money Girl in the 18th episode titled "To Wish Impossible Things." Just over a year later, she made another guest appearance in the third season of the show as Ashley in an episode titled "Locked Hearts and Hand Grenades." Other high-profile appearances in Guill's fledgling acting career on TV include roles in "CSI: Miami," CSI: Crime Scene Investigation," and "How I Met Your Mother."
3. She hadn't been born in the year when Glory Daze was Set
Guill's first significant role on TV came in 2010 when she played Christie DeWitt in the comedy and drama series, Glory Daze. The show ran on the pay channel TBS for a single season; from November 2010 to January 2011. "Glory Daze" revolves around the lives of a group of college freshmen at Hayes University who pledge a fraternity in 1986. Funny enough, Julianna Guill was born in the summer of 1987, hence was still not alive in the year when events depicted in the show were supposed to have happened.
4. She is a college drop out
After she graduated from high school in 2005, Guill decided to join New York University and study acting, which did not last very long. According to the Winston-Salem Journal, Guill left New York University after completing a single semester on campus. She headed off to Los Angeles during what is known in Hollywood-speak as "pilot season" when broadcast networks carry out the recruitment of talent for the upcoming TV series.
5. Her marriage life
While Julianna continues to use her maiden name, she got married to Ben McMillan in 2015. According to The Knot Registry, the couple got married on September 26, 2015, at Cape Cod's Martha'sMartha's Vineyard. McMillan, born February 26, 1979, is a writer and producer whose works include "Quest for Truth," a 2016 comedy film, and "Max and Shred" a sitcom that aired on Nickelodeon from 2014 to 2016. The couple has one child, a daughter named Mabel McMillan.
6. Her net worth
Guill has an estimated net worth of about $500,000. She made her fortune from her steady acting career now spanning well over a decade. In playing roles in Hollywood blockbusters such as "Crazy Stupid Love" as well as "Captain America: Civil War" " (where Guill rubbed shoulders with leading Hollywood stars like Robert Downey Jr. and Scarlett Johansson), she is said to have earned between $40,000 and $120,000 per role. She also makes between $20,000 and $40,000 for appearing on TV shows.
7. Why she got to be in "Glory Daze."
Guill is a white female actress and is notably good looking. Michael LeSieur, who was the executive producer and co-creator of "Glory Daze," acknowledged that it was important that Julianna Guill was beautiful for the role she played in the comedy series. However, as he quotes ' 'a saying by the Winston-Salem Journal, there were a lot of other beautiful actresses gunning for the role. Guill booked the part due to her impressive "inner glow" and ability to connect.
8. Her star sign
Julianna was born in the summer in 1987, making Cancer the Crab her zodiac sign. People born under this sign are known for their steadfast loyalty, emotional depth, and impressive parenting instincts. It explains why she has such devotion for her family and circle of friends. Cancer's personality traits have also helped her depict the roles she has been cast in flawlessly.
9. Her social media life
As a millennial, Guill is prominent on social media. On Instagram, her handle is "@officialjguill," and she has over 31,000 followers. She is also on Twitter as "@juliannaguill," an account which has over 15 million followers. Guill uses her social media accounts to share updates and life moments with her fans. She posts plenty of photos and updates on her family life while keeping it modest and decent. A fair amount of these photos depict an ordinary mom having moments with her daughter. Two family cats also make regular appearances in her posts.
10. She worked as a waitress
Before she started landing prime roles in Hollywood, Guill worked as a waitress in Los Angeles. After some time, her talent proved to be exceptional and enough for regular appearances on TV shows and short films. The extraordinary step of dropping out of college to gun for Hollywood glory should have been a disappointment, but Julianna's mother was impressed by her daughter's determination. She knew her daughter was always determined to make it and that by grit and sheer will, she would flourish in one of the most intensively hectic industries in the world.