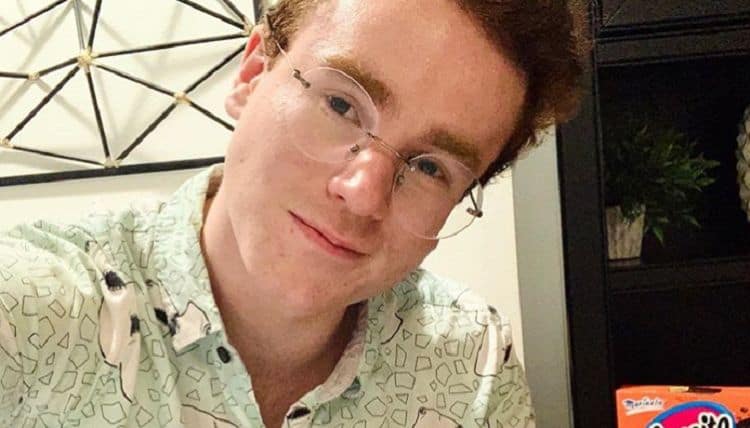 At only 20, Justin Tinucci has not only carved a career in the film industry by being a film producer and an actor, but he also prides himself as a philanthropist, skydiver, and musician. His name is in the Guinness World Records due to his expert skydiving skills, and for him, the sky is the limit. There is not much about his family except for his sister Kayla so let's tell you what we know about him.
1. His charitable efforts
In 2012, Justin and his sister teamed up to co-found a charity, Shoe Crew, which helps underprivileged youth to acquire new athletic shoes. They have made significant strides through partnering with celebrities; in December 2016, they welcomed Hunter Payton, whose heart of gold would go a long way in supporting their charity. Justin and Kayla are also ambassadors for Amazing Kids, an educational non—profit organization that helps kids launch their dreams.
2. The quotes by which he lives
People will spend an entire day on Facebook and Instagram to check out quotes that give them a sense of hope. We all need to be inspired, and with the right motivation, we start moving in the right direction. Justin refers to Will Smith's "Fail Forward" to encourage him to make attempts since every failure is an opportunity to learn. He also lives by Ralph Waldo Emerson's advice that we should make our path and not follow a trail. Such encouragement has pushed Justin towards trying new things, even in the face of failure.
3. His favorites
Justin looks up to Denzel Washington, Leonardo DiCaprio, and Matt Damon because of how well they execute acting scenes. He likes reading, and one book he would encourage other people to read is "Hunger Games," not just for the violence but for the romance involved. As for movies, Justin's favorite is "Memento." Lobster and a glass of juice rank at the top of meals he enjoys.
4. He has a celebrity crush on Elon Musk
Forbes has recognized Elon Musk as the 40th richest person worldwide, and in other years, he was named among the most innovative leaders and most influential people in the world. With such titles, it is no surprise that someone like Justin crushes on him. Elon Musk has a net worth of $24 billion as of November 2019, but maybe it is more than just the wealth that Justin is looking up; the entrepreneur is also a shrewd investor and philanthropist. Elon's latest vehicle, Tesla's electric Cybertruck, however, had a poor reception, especially after the supposed bulletproof windows smashed during a demonstration. Then again, since Justin believes in failing forward, his crush must also use the bump in the launch to improve the product.
5. How he prepares for his acting roles
A lot of actors will spend hours trying to memorize a script, but Justin does not work like that; instead, he was taught by his acting coach to always read between the lines. That way, he will know what the character is feeling and wants to say; thus, the lines will naturally come to him. His experience as a stage actor has also facilitated his television acting by letting him become more aware of his environment as well as boosting his memory and energy level. For Justin, the worst part of being an actor is when filming is done, and he feels he could have done a much better job.
6. He has broken a Guinness world record
In 2006, Justin and Kayla Tinucci attempted indoor skydiving for the first time one afternoon, and they instantly fell in love with it. By 2009, the two had become a duo competing against adults after practicing in the wind tunnels to hone their skydiving skills. As he told Tunnel Flight, they broke and re-broke the world record after flying in the tunnel for the longest time: 1 hour, 34 minutes and 40 seconds. Previously, the record had been set at 1 hour and 18 minutes.
7. He has a love for music
When Justin was 11, he learned to play the guitar, but he was not content until he was part of something bigger. He, therefore, joined the music band, Breaking Tempo, during his junior year in high school and became their lead guitarist. They made their EP "Beginning to End" and toured various states to promote it. They also opened for different artists among are Midnight Red, Parachute, and Cherri Bomb. Justin, however, left the band aiming to focus on his career.
8. He opted out of UCLA
He graduated High School as Valedictorian with a 4.5 GPA. He decided upon CSUN instead of UCLA because CSUN has a Media Composition program and it better suited his career aspirations to go into Commercial Media and Film Score.
9. He moved out to Los Angeles to pursue acting
Justin credits his love for indoor skydiving for the opportunities that have come his way, one of which is acting. He and his sister, having been the youngest to compete with adults skydivers, attracted lots of attention from significant channels, including ABC News and iCarly. iCarly flew Justin and his sister Kayla to Hollywood to be in one episode. However, that was not the end of it because Justin went back home in Denver for an open call with Coast to Coast Talent Agency. As Justin told Naluda Magazine, he read a commercial line that made the agency call him back and fly him to Los Angeles. He was only ten at the time, but that became the start of his acting career.
10. He will graduate in the fall of 2020
As a teenager, Justin was set on becoming a film composer, but since he also wanted to pursue music, he struck a balance by studying the art of film score. He has already studied classical guitar at the California State University Northridge for one year but is pursuing his undergraduate degree in the Media Composition Program. He will graduate next year, but Justin has been scoring films ranging from horror and drama to Indie, comedy, and documentary.