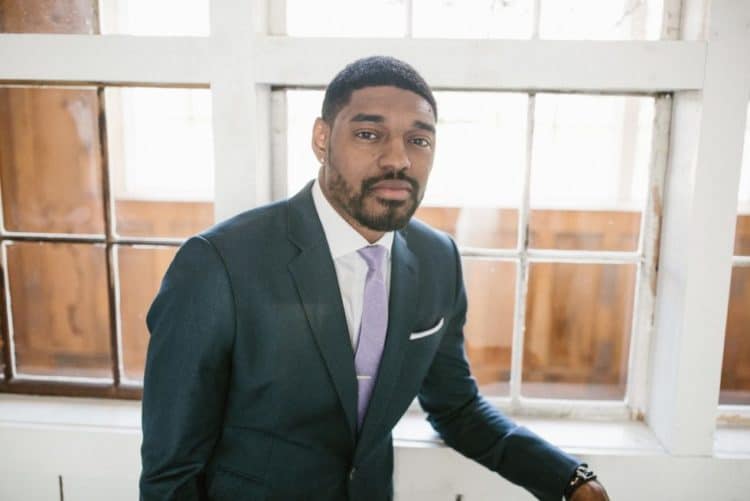 When people with a common goal meet and work together to achieve it, they are more likely to excel in life. Juwan Mass is one person who has risen to fulfill his desires after meeting friends who were shared his goal. He was interested in the paranormal world, and he later met his friends, Dalen Spratt and Marcus Harvey. Together, they went ahead to explore the ghost world. They are doing paranormal investigations in households believed to be haunted by ghosts, and their activities appeared in a television show "Ghost Hunters." Juwan was born on November 17, 1985, in Chicago. Here are some facts about him that you might not know.
1. He is a fashion designer
Apart from paranormal investigations, Juwan is also a fashion designer. Fashion designing was the order of the day for him before meeting the friends with whom they ventured into paranormal investigations together. He deals mainly in high-end male suits and has several designs for a customer to choose. He is keen to balance between paranormal investigations and his business since he designs men fashion in the day and then goes for paranormal investigations at night.
2. He started exploring graves when he was 12
Our destiny is usually determined when we are still young. The journey of Juwan to exploring paranormal activities began when he was still young. At the age of 12, he could visit graveyards in an attempt to examine the dead in the spirits world. He would experience a lot of changes in his physical sensation, and this made him more curious about the unseen world, and he wanted to explore more. When he met the two men with the same goal, they began satisfying their curiosity of paranormal activities together. They visited most places that were haunted by ghosts and made many discoveries that promoted their fame. Juwan is now a famous reality star.
3. Family
As far as family is concerned, we have little information about the family of Juwan. A look at his Instagram shows many posts of his mother, perhaps due to the inevitable bond between mothers and their sons. He has not revealed details of the father or siblings and prefers spending most of his free time with his mother.
4. He is single
Most celebrities are susceptible to falling in love because of the fame that makes them prey to women who want to be in the spotlight too. Juwan has not yet found a woman to worm her way into his heart according to Celebs Couples. He has not been in any relationship in the recent past and has not shown any interest in getting into one in the future. He spends most of his time exploring paranormal activities and has no focus on dating or marriage.
5. He loves living a private life
Some people like keeping the details of their lives private for their own reasons and Juwan is one of them. A secret life makes it possible for someone to do things without the constant meddling of the public. The only details about him that we can find is his career in paranormal investigations and his line of business. The other things on his social life have remained a secret, and we do not know what happens beyond his career and business. The available details about him reveal only so little about Juwan, but still, he is not a mystery.
6. He likes a thermal camera in their investigations
When Juwan was getting into paranormal investigations, he used to experience different physical sensations when he was around ghosts. Therefore now, when carrying out investigations, he makes use of a thermal camera. Juwan likes the thermal camera because it assists him in knowing if the physical sensations are different spirits trying to get his attention or he is paranoid. By use of the thermal camera, he can also know the types of spirits that he has attracted and investigate them.
7. He met his partners in "Ghost Hunters" in college
Juwan met one of his colleagues in "Ghost Hunters" while he was in college in Atlanta. They later realized that they had common interests in the paranormal world. They shared the experience of their childhood and decided it was time to explore the ghosts. The curious men started working together and visited several homes to investigate the spirits that had been haunting the people. The unity of the three led to their rise to fame, and they are now the famous paranormal investigators. While "Ghost Hunters" ended, the interests of paranormal activities led to a spin-off of their show.
8. His scariest place
Paranormal investigations involve visiting creepy sites. According to his interview with Parle Magazine. Juwan's most frightening place is a House of Wills in Cleveland. He says that the area became a funeral home, but currently, a satanic movement occupies the residence. He says that that is the scariest place he has ever been in his life.
9. He has a passion for helping people
Juwan has a passion for helping people. Throughout the paranormal investigations that he has carried out, he has interacted with several people and is ready to help them solve their issues. He can jump into the fire to get things done while in line of duty. The passion for helping people is brought by his quest to know more about ghosts and Juwan will continue serving people with his thirst to explore the unknown.
10. His net worth is rumored to be very high
Through his career as a reality star and his business, Juwan has amassed immense wealth. He currently lives a lavish lifestyle and drives expensive cars. His living standards improved when his work in parametric investigations attracted public attention and appeared on television. Since Juwan is very hardworking and works day and night, his efforts have paid off. Juwan apparently has a net worth of anywhere from $26-100 million which will climb due to his ambitious nature.