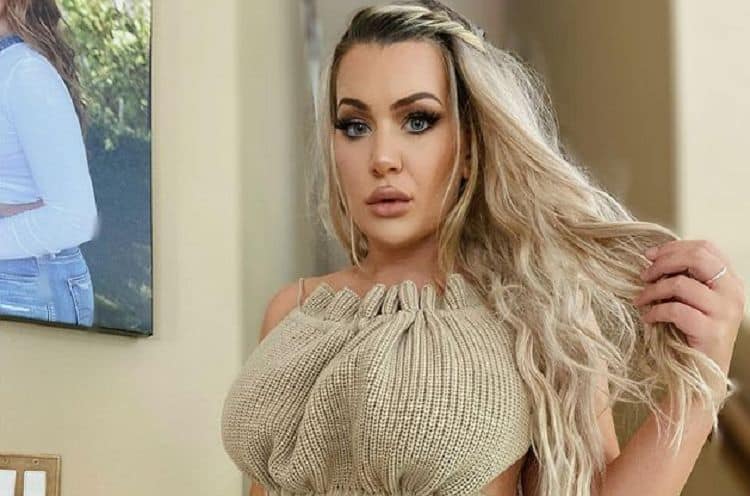 They say it pays to have friends in high places, but it can be even better when that person is a close relative. At least, that's been the case for Kalli Metz. Thanks to her sister, Trisha Paytas, Kalli has become well-known on the internet. At the moment, Kalli is best known for being Trisha's assistant. While her connection to her sister has gotten her a lot of perks, it's also had its downsides, too. Trisha's reputation has been under fire lately, and those who are closest to her have gotten caught in the middle. Regardless of what people have said about Trisha though, Kalli has never switched sides. Keep reading to learn 10 things you didn't know about Kalli Metz.
1. She's Worked In The Entertainment Industry
People may be most familiar with Kalli for being Trisha's sister, but that certainly isn't the only thing she's done. In the 2010s, Kalli stepped into the entertainment industry. She was a hairstylist on the set of a movie called Hollywood Sex Wars which was released in 2011.
2. She Loves Animals
Kalli has always had a soft spot in her heart for animals. Although she loves all kinds of species, she's definitely a dog person. She and her sister have their very own fur baby named Mukbang Gucci Paytas. Not only does Mukbang make a lot of appearances on Kalli's Instagram, but he also has an account of his own with nearly 140,000 followers.
3. She Is A Foodie
Food is obviously something that we all need to stay alive, but for many people, food is something much more than that. With so many different flavors and recipes, food provides endless opportunities to try new things. Kalli is a big food lover and she enjoys a wide variety of dishes.
4. She Started An OnlyFans
In the spring of 2020, Kalli made several blog headlines when news broke that she started an account on OnlyFans. Essentially, OnlyFans is simply a platform that allowed people to charge a subscription fee to access premium content. However, it has become widely known specifically for adult content. Kalli is currently charging a $7 per month subscription fee.
5. She Is A Gamer
The gaming community mostly consists of men, but recently more and more women have made their presence known in a major way. While Kalli may not be a big influencer in the onliny gaming world, she does likes to play video games and occasionally she even streams her gameplay on Twitch.
6. She's Had Cosmetic Surgery
Over the last decade or do, cosmetic surgery has become more and more common. However, there are still lots of people who prefer not to tell anyone that they've gone under the knife. Kalli, however, has been very open about the fact that she's undergone cosmetic surgery. In 2021, she underwent liposuction and she recorded content so that her followers could take the journey with her.
7. She Has A YouTube Channel
Instagram and TikTok are where Kalli has built the biggest fan base, but she also has a YouTube channel where she has more than 30,000 subscribers. She posts a wide variety of content on her channel including shopping hauls, vlogs, and mukbangs. At the moment, her channel has more than 1.3 million views.
8. She Loves Hanging Out Near The Water
When the weather is nice, you can usually catch Kalli outside enjoying it. While she might not be the type of person who likes to do outdoor activities such as camping and hunting, she is the type who loves to soak up some sun while relaxing by the water. Kalli isn't afraid to show some skin when she's out there either.
9. She Is A Brand Ambassador
Over the years, Kalli has built a very impressive online presence. She currently has 126,000 followers on Instagram and her fan base really enjoys her content. As a result, she has gotten the opportunity to partner with brands to help market their products. There's no doubt more opportunities are going to roll in as her following continues to grow.
10. She Struggled With An Eating Disorder
Things may be going well for Kalli now, but that hasn't always been the case. Kalli dealt with an eating disorder when she was in her early 20s. At the time, she was also in an abusive relationship that caused her to separate herself from her loved ones. Although she has shared some information about this time in her life, she has also admitted that it's a very sensitive subject and it isn't an easy thing for her to talk about.