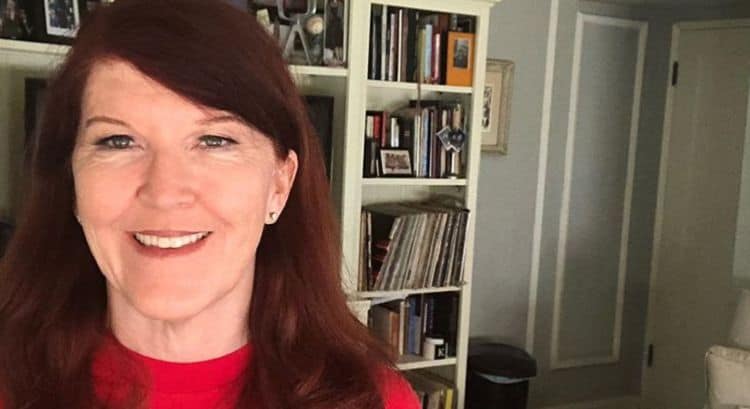 Actress Kate Flannery is best known for playing the alcoholic single mother Meredith Palmer on the NBC series The Office. Well, she was until the lineup of 2019's Dancing With The Stars was announced. The show is set to take Flannery to new levels of stardom… and perhaps reveal a thus far hidden talent for high kicks and spins. How far she'll get in the competition, we'll need to wait and see. For now, here are 10 things you may not know about the talented actress.
1. She's a multi-millionaire
Thanks to a career that's spanned 30 years and has taken in some of the biggest shows on TV, Flannery can count herself one very wealthy woman indeed. While many actors are struggling on the breadline, The Office actress is certainly not one of them, at least if the information on Celebrity Net Worth is anything to go by. According to the latest figures, Flannery is worth a very healthy $2 million – a figure that's only set to rise after her appearance on DWTS.
2. She's a twin
Flannery was born in Philadelphia, Pennsylvania as one of 7 siblings. The actress is actually one of twins; her twin sister, a social worker, beat her into the world by all of three minutes. Flannery spent her formative years at Saints Colman- John Neumann School and Archbishop John Carroll High School in Radnor, Pennsylvania. After graduating, she spent two years at Shenandoah University in Virginia before graduating from the University of the Arts in Philadelphia.
3. Her parents tried to stop her from becoming an actress
Flannery dreamt of becoming an actress from a young age but was stopped from auditioning by her parents, who insisted she focus her attention on her studies instead. Eventually, she got a taste of the stage when she got a part in a school play. "I wanted to get into acting when I was a kid, but my parents were not very cooperative," she shared with Hobo Trash Can. "They wanted me to wait. My senior year of high school, I got into Riverfront Dinner Theater, I actually got to do a show there. I was doing Bye Bye Birdie.'
4. She has a musical group called The Lampshades
In 2001, Flannery created a musical comedy lounge act called The Lampshades with the improviser Scot Robinson. As well as putting on a weekly show at the Olympic Theater in Hollywood, they also host regular stand up nights and charity events. "It's basically a dying lounge act," she's explained to Hobo Trash Can. "You get to know who we are through the course of the act – kind of what we don't say. We're in this unrequited love situation that's very tortured. It's very silly and funny and dumb."
5. She's a former musical director
As well as perfuming on stage herself, Flannery has helped others do the same via her former position as musical director of the Los Angeles Drama Club. At the club, Flannery helped install a love of Shakespeare in LA's adults and children, while also instructing them in the basics of acting. In terms of her own resume, Flannery's long love affair with the theatre has seen her perform as Neely O'Hara in the Off-Broadway hit Valley of the Dolls, and play the teen prostitute and Blair's sister in The Phacts of Life at the Renberg Theatre.
6. She's Jane Lynch's sidekick
Kate Flannery and former Glee actress Jane Lynch struck up a close friendship years ago and have enjoyed a close collaborative relationship ever since. In addition to performing alongside Tim Davis and the Tony Guerrero Quintet in Lynch's stage show, See Jane Sing, since 2013, Flannery has also appeared on Lynch's A Swingin' Little Christmas album, which climbed all the way to #8 on the Billboard top 100 charts.
7. Her TV debut was on Spyder Games
In 2001, after several years of appearing almost exclusively on stage (with a few minor ventures into film), Flannery made her TV debut on the MTV soap opera, Spyder Games. Flannery appeared on the show for 5 episodes in the recurring roles of Bunny. After a few years of landing small parts in shows since as Boomtown, The Bernie Mac Show, and Curb Your Enthusiasm, Flannery landed her breakthrough role as the alcoholic, depressed single mother Meredith Palmer in the hit sitcom, The Office.
8. She was a member of Mono Puff
In addition to her day job as an actress, Flannery was once a member of the New York-based band Mono Puff. The band was started as a side project of John Flansburg, one of the founding members of They Might Be Giants. Core members of the band include Flansburgh (who serves as vocalist, guitarist, keyboardist, and songwriter), bassist Hal Cragin, and drummer Steve Calhoon of Skeleton Key. Since its inception, the band has welcomed various guest musicians, including Mark Feldman, Yuval Gabay, Ghost Krabb, Mary Birdsong, Elina Löwensohn, Robin Goldwasser, Ammonia D, Trini Lopez, Jay Sherman-Godfrey, Jim O'Connor, Phil Hernandez, Frank London, Eric Schermerhorn, and Mike Viola. During her period with the band, Flannery appeared under the stage name "Lady Puff".
9. She met her partner on The Office
While Flannery has managed to keep the spotlight firmly away from her personal life, one thing we do know is that she's been involved in a long-term relationship with Chris Haston, a photographer for NBC, for several years. The two met while Flannery was a stills photographer on The Office, and have been dating ever since.
10. She has the backing of her Office co-stars
Since she was announced as one of this year's DWTS contestants, Flannery has been feeling the love of her former Office co-stars. "Rainn Wilson, Amy Ryan, Oscar Nunez, and Phyllis Smith just wrote to me today. Angela Kinsey was here, of course," Flannery told Us Weekly after her first performance. "There's been a lot (of love). Craig Robinson. Really sweet!"