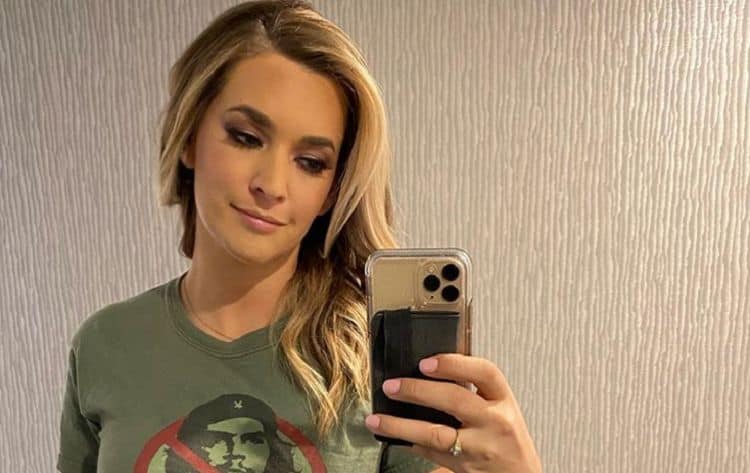 Fans of Katie Pavlich are generally conservatives, but the young American is gaining popularity among other citizens due to her style of commentating and her onscreen charisma. She's achieved quite a bit in her industry throughout her still young career, and the 31-year old journalist is not stopping any time soon. She received some heat from the media recently after a heated exchange with Fox News anchor Chris Wallace, but all of that only sat to fuel the conservative pundit even more. Pavlich could easily be the future of conservative media; and if you're wondering exactly  who she is, here are 10 things you should know about her.
1. She's an Arizona native
Much of the west may be liberal, but Arizona is very much a conservative state. It may stand to reveal much about the kind of political environment Pavlich grew up in. Pavlich spent most of her life in Arizona. She attended and graduated from Sinagua High School, which was located in Flagstaff. After high school, she proceeded to attend the University of Arizona, where she graduated with a Bachelor of Arts degree in broadcast journalism in 2010.
2. She's got an interesting ancestry
Just like most Americans, Pavlich's ancestors come from European descent. Particularly, Pavlich's family is of Croatian and German descent—hence her last name. Interestingly enough, Pavlich is a member of the famous organization, the DAR or Daughters of the American Revolution. To become a member of the DAR, you'd have to be able to trace your lineage directly back to any person that was involved in the efforts towards the United States independence. As soon as Pavlich became of eligibility age, she gained her membership and is now a proud member.
3. She's an outdoors girl
Coming from Flagstaff, it was natural for Pavlich to become an outdoors person. Flagstaff is a beautiful area surrounded by mountainous regions that are perfect for various outdoor activities. Because of the location where she grew up, Pavlich ended up developing a love for the outdoor life and the activities that go along with it including hunting and river rafting.
4. She's also an athlete
Given that Pavlich already likes doing outdoor activities, it's safe to assume that she also likes sports. Pavlich happens to be big into sports, and she even played sports in high school. The young commentator played both basketball and volleyball while in school, but there's no information whether she played in college as well, but there's no doubt that she likes to remain active today. She happens to be in great shape.
5. She moved to D.C. for work
There's only so much politics you could participate in if you're in Arizona. Pavlich wanted to play with the big players, so the logical move was to go to the nation's capital Washington, D.C. She started working for a popular online political platform, Townhall.com. This was where she got her footing into the industry. She was news editor for the online outlet, and at the same time she served as a contributing editor to the Townhall Magazine in print.
6. She started as a contributor on Fox
While she was working for Townhall, she was also working as a contributor for Fox News. Out of the many contributors that continuously do work for the Fox News network, only the brightest and most talented really see the light of the camera set. It was clear from the get-go that Pavlich had what it took to make it on the spotlight. Sure enough, she got a promotion not too long after. In 2013, she got the job to become an alternate co-host for the panel talk show, The Five. To this day, she has and continues to appear in various news networks and radio shows on both the national and local levels.
7. She's a podcaster
It's hard to imagine that there are people out there, who make money through podcasting. It's not the most lucrative career. In fact, many people use podcasting as simply a way to voice personal opinion in hopes that someone might take heed. Pavlich happens to be a professional podcaster. Since 2018, she's been co-hosting a podcast titled, "Everything's Going to Be All Right," alongside Sean Spicer, former White House Press Secretary.
8. She's a blogger
Aside from being a professional commentator and podcaster, Pavlich is also a professional blogger. Out of thousands upon thousands of blogs out there today, there are a few that stands to actually give some value to people. In 2013, Pavlich was awarded and named Blogger of the Year at the CPAC—Conservative Political Action Conference. Receiving acknowledgement for blogging is an achievement for anyone, and Pavlich received her award because of her coverage of the Obama Fast and Furious scandal.
9. She's an author
Speaking of the scandal, Pavlich actually wrote an entire book about the Obama administration's ATF gunwalking scandal. This topic is what she won an award for, and she's published because of it. The scandal is infamously known as the Fast and Furious scandal; and in 2012, Pavlich published the story and the cover up that ensued. The book, Fast and Furious: Barack Obama's Bloodiest Scandal and Its Shameless Cover-Up, wasn't the only one that Pavlich authored. She also wrote another book in 2014, Assault and Flattery: The Truth About the Left and Their War on Women. They're well written books, but they're not light reading for those with more liberal views.
10. Questions Climate Change
It's an interesting view given her background living the outdoor life and growing up in such a naturally pristine environment in Arizona. Pavlich openly opposed climate change's most prominent activist today, teenager Greta Thunberg, regarding the science behind climate change. Thunberg says more scientific information is needed, while Pavlich claims that there's enough scientific information that disagrees with climate change projections. Whether she's right or not, no one can deny that Pavlich can put up a good argument all in all.