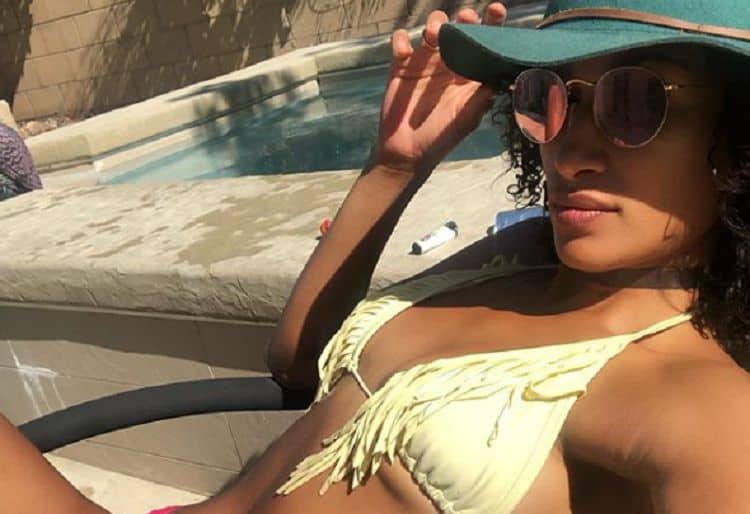 Kiara Belen is an American model who gained celebrity status as a finalist for "Americas Next Top Model" in season 19 of he competition. She made the news again but not for something that will help to boost her career. Kiara has amassed a large following of fans who have an interest in knowing more about her. We decided to look into her past and current activities to see what we could learn about her. To help satisfy your inner craving to know more, here are ten things that you probably didn't know about Kiara Belen.
1. The cops pulled her over in 2014
When Kiara Belen was 23 years old, she was out driving in Hollywood. Officers who were patrolling noticed that her driving was a bit on the erratic side, so they pulled her over to investigate further. She was suspected of being under the influence, so the police gave her a field sobriety test. After failing the test, they arrested her on suspicion of DUI, and she was booked into the jail. She was only there for a few hours before she made bail and was released, so she didn't end up spending a night in the can at that time.
2. She is currently 29 years old
It's been six years since Kiara Belen competed in the competition to become "America's Next Top Model," but she's still going strong. She was just twenty three and the time and it's hard to believe that it's already been six years. The celebrity model was born on March 16th of 1990.This means that she just turned 29 in the spring of 2019, for fans who were wondering about her age, and she still looks youthful and amazing.
3. She attended college at the University of California
Kiara Belen has both beauty and brains. The fashion model and former runner up of "America's Next Top Model" enrolled in classes at the University of California. Her studies were in the field of Sociology. Kiara was enrolled in the Irvine, California campus of the school.
4. She has made several television guest appearances
Kiara's involvement with cycle 19 of "America's Next Top Model" gave her the exposure that she needed to gain even more recognition and invitations to appear on a variety of television shows. In all, she has made guest appearances as herself on a total of five, including "Mic Check Live: Ms. Lauren Hill & Tyrese Gibson in 2011; "The Tonight Show with Jay Leno" in 2012; "LA Live The Show" in 2013; Of course, her competition on "America's Next Top Model" from 2012 through 2014 and "America's It Girl" in 2014.
5. She sued Ryan Seacrest and Bravo TV
In our investigation of Kiara Belen's past, we also discovered that she filed a lawsuit against Ryan Seacrest and Bravo TV. It appears that they thought it would be a good idea to insert photos of her face and her body in an episode of "Shahs of Sunset." This was done without her knowledge or her permission. The model claimed in her suit that the photos were embarrassing to her and she is seeking $100,000 in damages because they used photos of her in the early stages of pregnancy. Belen claims that this was a period in her life when she felt insecure because of the changes taking place in her body.
6. She's a native of New Jersey
Kiara Belen has been to a lot of different places with her modeling career. Although she's lived in a few different places in her life, including Los Angeles, California, she's a transplant there. Kiara was originally from Red Bank, New Jersey, where she was born and then the family relocated to Las Vegas, Nevada where she was raised, but for her career prospects, she had to relocate to the LA scene where she could find better career opportunities to get her modeling on track.
7. She was also an athletic coach
Our research into Kiara Belen's past has revealed several interesting facts about her that we didn't know before. For example, while she was still living in Las Vegas, Nevada, she was a coach. Belen who is skilled in the game of basketball and just happens to know a lot about it was the coach of a basketball team. It seems that there is no end to her skills and talents over a broad range of different things .
8. Kiara also served as a judge
Kiara Belen served as a judge on the television series "America's It Girl" in 2014. This series featured two cycle competitions that lasted for 12 episodes featuring young women who were attempting to build a powerful brand for themselves as young entrepreneurs. This was an exciting and empowering series and Kiara was a perfect fit for the position of judge, thanks to her own experience and insights in this area.
9. The scenes used by Bravo were demeaning to Kiara
We also learned that the scenes which were used by Bravo adn Ryan Seacrest were somewhat derogatory. One of them showed her changing her wardrobe backstage and she was in a half naked state. In another, the Bravo show referrd to her as a "bitch." It isn't difficult to understand why she was so upset by their actions.
10. She's still modeling
Belen walked in the 2013 runway for L.A. Fashion Week. She is still modeling. We learned that she is currently still signed with Model Management. From all appearances Kiara has a long and successful career ahead of her in the field.