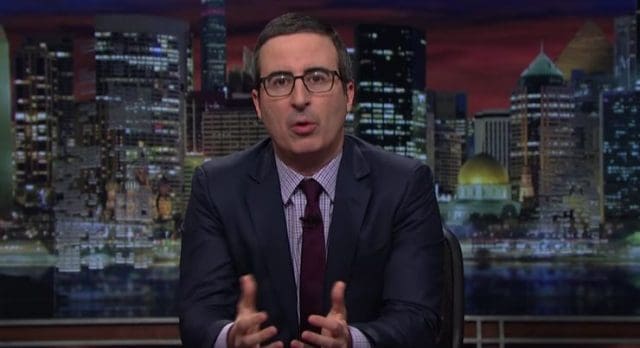 Last Week Tonight with John Oliver was back last night and Oliver wasted no time whatsoever and got right into what we assumed he would, Donald Trump. You'll recall that when Oliver signed off in 2016 he essentially wanted all of 2016 removed from existence. Now that he's back in 2017 it doesn't seem like he's very optimistic. While the world has changed since the last time we saw Oliver on television, his show theme remains the same: get riled up about whatever's bothering him and let the rage build every single minute of the show.
And rage Oliver sure did display. Oliver's half hour was dedicated almost entirely to Donald Trump. Oliver's outrage built over Trump's cabinet picks, his inability to shake hands, and his love of fiction, opinion, and belief, instead anything resembling fact. While the show was of course funny, I'm hoping that he goes after topics other than just Trump in the next episode. You knew he was going to do this is in his return but part of what makes John Oliver so much fun is that he tackles a myriad of issues.
We've been on Trump overload since he began office. From SNL to every single late night show out there to awards show speeches, it seems the entire Hollywood establishment is out to put an end to the current administration. I'm not a Trump fan either but at some point we have to realize there's some other cool stuff going on in the world.
Check out John Oliver's return below: