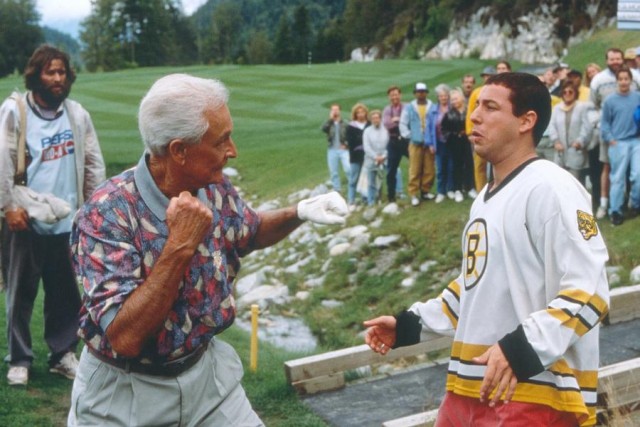 Did you know that Bob Barker was part Sioux? Apparently he lived on the Rosebud Indian Reservation in South Dakota for a good part of his life. His father was reportedly 1/8th Sioux, which would make him about 1/16th I think, unless his mother was part Sioux as well. It's interesting the things you can find out about people by just looking around the internet. For instance, Barker has been trained in martial arts by none other than Chuck Norris himself, so it's likely that in this image above he could have really taken Adam Sandler even at his advanced age. Of course that's assuming he wouldn't get winded quickly, but there's no way to know since he and Sandler have been on good terms for quite a while, including during the movie.
Barker was the host of The Price is Right from 1972 to 2007, but before that he hosted another few shows that a lot of people might not recall at this point. He had a 50-year long career in TV and was definitely due his retirement when it finally came. Few of those on the tube have ever even come close to matching his style and longevity, though Alex Trebek does come to mind as one that might be edging the closest out of anyone, but he still has a ways to go. Barker has for a long time been one of the biggest names in TV and one of the biggest stars when it comes to game shows. In some ways he revolutionized the game show and made into a respectable program that captured people's attention and made them care for at least thirty minutes to an hour about the contestants and what was going on in the game. I even remember watching the show trying to will the contestants along, and of course groaning when they did something wrong.
His role in Happy Gilmore was perhaps one of the best since it was so unexpected and not at all what a lot of people thought was going to happen. Who would have ever thought that Bob Barker, an elderly game show host, would have been scripted to take on a younger man in his prime and actually win? Of course like I said I think that Sandler would have gotten his butt whipped if it had been a real fight. Barker might be old but he still looked like he wasn't about to take any guff from anybody at that point in his life. As of now I don't think he'd be able to do much but even back then he might have showed Sandler what for.
Another funny moment came when Barker was a guest start on WWE RAW, where he got to be the GM for the night. He got to humble the likes of Chris Jericho and a few others and it was just downright funny. It shows a lot of respect for this man that he would be welcomed onto such a show and simply trash the superstars, for fun obviously.