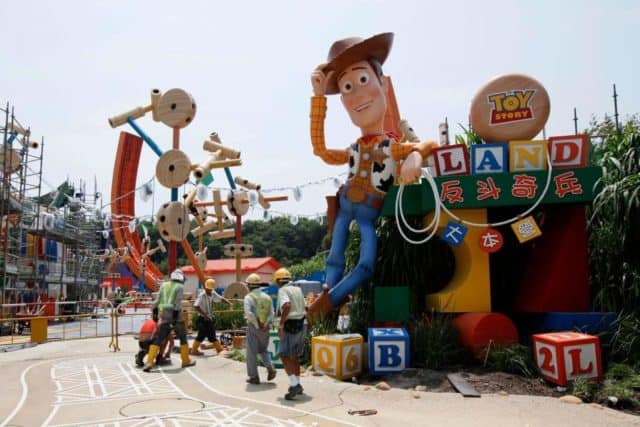 Disney is constantly striving to improve its parks and ensure that they are as interesting and exciting as possible for visitors. They make changes so their attractions are current and represent the interests of their guests. Across their parks in the United States and in other international destinations, rides and attractions are added so they can constantly attract new visitors and encourage new visitors to the park. There is work underway to open a new section of their Disneyland theme park called 'Toy Story Land' and this is planned to open to visitors in 2018. It is one of the most anticipated additions to the park since it first opened. It is planned for the Walt Disney World Resort's Hollywood Studios in Orlando, Florida, and is expected to open its doors in the summer of 2018.
This new land covers an area of a whopping 11-acres and will be home to a wide range of attractions, rides, and restaurants. The theme is based on the toys from the 'Toy Story' series of films. For example, there is Woody's Lunch Box and the Slinky Dog Dash roller coaster. Based on the aliens that appear in the films, there is also the Alien Swirling Saucers. This ride features flying saucers that are circling and pulling a rocket ship full of visitors to the park. Toy Story Mania is already an existing attraction at the park. This will become a part of 'Toy Story Land'. Although it already exists, it is being an update in line with the new developments as it is having a third track added.
It is not just the Hollywood Studios park that has seen updates this year as there have been many more developments across the Disney parks. At Universal Orlando Resort, there is a new attraction that will be ready in spring of 2018. This is based on the 'Fast & Furious' movies and will feature characters, cars, and music from these films. The attraction is called Fast and Furious-Supercharged and guests can experience an interactive story that involves a high-speed chase. Also at Universal Studios, there is a sixth onsite hotel called 'Aventura. This glass tower hotel covers 16 storys with 600 rooms and its own rooftop bar and grill. This is the first eating establishment of its type on Universal's property.
Across the country in Los Angeles, a DreamWorks Theatre at Universal Studios Hollywood gives guests a multi-sensory adventure that uses projection mapping and LED lights that turns 3-D objects into an interactive experience that is based on Kung Fu Panda. Disney California Adventure is set to see the opening of its Pixar Pier, based on characters and films by Pixar. The Incredicoaster is just one of the new rides and this is linked to 'The Incredibles'. The sequel to this film, 'The Incredibles 2′, is set for release in June 2018. Therefore, this introduction of this attraction is perfect timing.
At Silver City in Branson, Missouri, the Time Traveler ride is making its debut in spring. Riders can enjoy the thrill of dropping at a 90-degree inverted angle and then traveling through three inversions at speeds which reach 81 kilometers per hour. With so much to look forward to across Disney's various theme parks, it is little wonder that visitors are booking their vacations in droves to have the opportunity to try out the new rides and attractions first-hand.