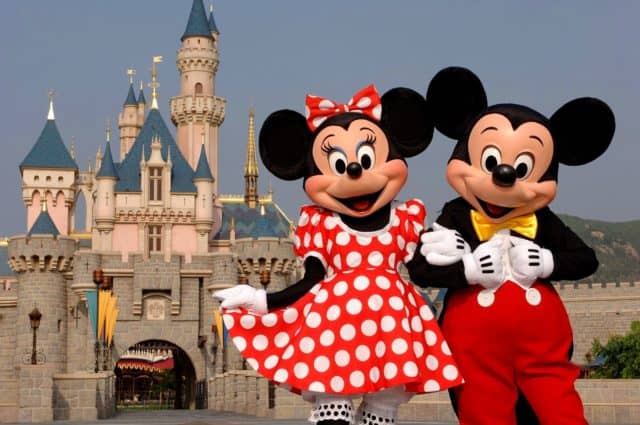 Usually when you think about well-kept secrets and Disney you tend to think that something lewd and altogether unsavory might be happening, or some park employee got angry and decided to take revenge for being fired after some form of misconduct. In any case this isn't anything like that, but it is a secret that a lot people didn't know about until now. Mickey and Minnie were married for a long, long time.
Not a secret? Well in the cartoons you might have never seen the two iconic characters tie the knot, and you likely won't since Disney seems content to keep their favorite mascots on good terms without having to bring that particular issue into it, but those responsible for the voices of Mickey and Minnie had no such qualms. Â Wayne Allwine and Russi Taylor performed the voices of Mickey and Minnie for years after Walt Disney gave up the roles finally, and married in 1991. They stayed together until 2009 when Wayne sadly passed away at 62. But it's great to know that two of our favorite animated stars from childhood actually were a couple for a little while.
We've always been able to assume that Mickey and Minnie were essentially created for each other, yeah? It's in the cartoons, the stories, the movies, and all the specials that Minnie is more or less the girl for Mickey and Mickey is the guy for Minnie. Even if they've never officially tied the knot onscreen we always had the idea that they were together. The same could be said of Donald Duck and Daisy after all since people just assumed that this would be the case.
Of course that left out poor Goofy that didn't seem to have anyone, yet he somehow had a son named Max without anyone knowing just who he managed to be with in order to produce a son. Weird I know, but in the land of  Disney characters things tend to happen without a lot of need for explanation, at least not until your kids grow up and realize the truth of how people tend to be born and grow. Then it becomes a question and answer routine that a lot of parents find a little uncomfortable when it's applied to cartoons.
One thing you can tell your kids now and forever after thankfully is that onscreen Minnie and Mickey are most definitely together, but in real life they did get to be married. If and when your kids ask how that's possible you can cite this story and let them know that in some way the two were made inseparable for good in a very fundamental way. It is very touching in fact that this would happen and very inspirational in its own way.
I kind of wonder if Wayne and Russi were that big on Disney or if it was a job that paid well. One would almost assuredly select the former and disregard the latter option, but it's still a good question. Not everyone absolutely loves their job after all, but this could be one of those pleasant exceptions.
Save