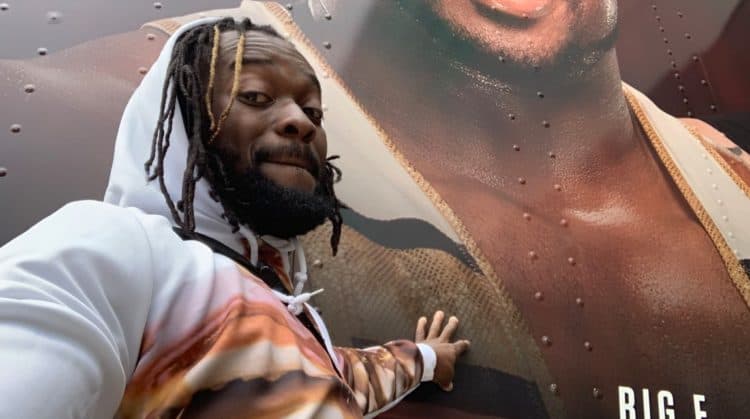 For the uninitiated, Kofi Nahaje Sarkodie-Mensah is a 37-year old Ghanaian- American professional wrestler who performs on the Smackdown brand of the WWE under the ring name Kofi Kingston. Those a little more au fait with the world of wresting will know him as one of the three sporting titans of The New Day wresting stable. Whether you're familiar with wresting or not, Kingston's recent ascension to the WWE Championship title after his crushing defeat of Daniel Bryan at April 2019's WrestleMania 35 makes him a name you'll be hearing a lot more from in the months to come. Prepare yourself now with these 10 little- known facts about the wrestling champ.
1. He studied at Boston University
Kingston was born in Kumasi, Ghana on August 14, 1981. After deciding to trade Africa for America, the Sarkodie-Mensah family relocated to the Greater Boston area, where Kingston studied at Winchester High School before enrolling at Boston College (where, coincidentally, his father was employed as a professor). Kingston graduated Boston College with a degree in Communications and worked briefly in advertising with Staples before embarking on his professional wrestling career.
2. He first love was basketball
As a youngster, Kingston loved watching pro-wrestling, but preferred basketball when it came to getting active himself. Unfortunately, he failed to excel on the court for a slightly unusual reason:- "The problem was, I just had such small hands," Kingston has revealed. "I could blow by anyone on the court, but I had no handle. No jump shot." With basketball a no-go, he turned his hand to wresting, where the size of the aforementioned proved no barrier to success.
3. He once broke his opponent's leg
During his high school wrestling career, Kingston was known for his powerfully explosive moves… something his childhood buddy and occasional wresting opponent, Tom Mello, learnt to his cost when he faced up to Kingston in the 1998 state semi-finals. "I was undefeated that year," Mello recalled. "We were wrestling at 125. I was winning, 6-2 or something, and he hit an arm drag, took his lanky legs, and cracked my fibula". Fortunately, Mello bore his foe no lasting ill-will, and the pair remain friends to this day, with Mello describing his buddy as "one of the most kindhearted people I've ever met, constantly smiling".
4. He's had several name changes
Born as Kofi Nahaje Sarkodie-Mensah, the Ghanaian native adopted a Jamaican persona when he began performing on the New England independent circuit as Kofi Nahaje Kingston. After signing a deal with WWE in 2007, the wrestler debuted as Kofi Kingston. In 2009, he decided to drop the Jamaican persona (and accent) to be billed as Ghanaian, while continuing to perform under the name Kofi Kingston.
5. He's part of a professional wresting stable
In 2014, Kingston joined forces with fellow wrestlers Big E and Xavier Woods to form the New Day collaborative. A year later, they won their first WWE Tag Team Championship, and have since gone on to win the SmackDown Tag Team Championship three times. In December 2016, New Day became the longest reigning tag team champions in WWE history after smashing previous record holder's Demolition 478 days reign. The trio have enjoyed recognition for their achievements from the likes of Rolling Stone, who in 2015 named them "WWE Wrestler of the Year", and Pro Wrestling Illustrated, who awarded them the title of "Tag Team of the Year" in both 2015 and 2016.
6. He's written a book
In 2017, Kingston and fellow New Day members Big E and Xavier Woods published The Book of Booty: Shake It. Love It. Never Be It. The non-fiction account of how the three wrestlers joined forces to take over WWE is accompanied by numerous fun features like coloring pages; trivia facts; rapid fire questions; activities such as "How to Dance Like Big E," "Find Your Spirit Animal," and "Bake with Booty-O's"; a glossary of New Day terminology; multiple pages devoted to the evolution of Xavier's many hairstyles, and details of the threesome's favorite wresting techniques.
7. He's married
Ladies, weep… Kingston is officially off the market. After many years of dating, the devoted family- man married model/ actress Kori Campfield in a private ceremony in 2010. The pair are notoriously private and are rarely pictured together in public. Although you're unlikely to see the family sharing any cute baby pics on Instagram anytime soon, it's known the pair share two children.
8. His chest has drawn speculation
Kingston has drawn much speculation over the years for one body part in particular. While many of his competitors bear the bulging pecs you'd expect from professional sportsmen, Kingston's chest is slightly more, shall we say, "concave". While the reason for the appearance is unknown in Kingston's case, it's actually not an uncommon problem. Pectus excavatum, a genetic deformity that can either be present at birth or develop after puberty, affects the sternum and rib cage and results in a sunken or caved- in appearance to the chest. Whether or not Kingston is affected by the condition is unknown, but whatever the cause, it's not stopped him excelling in the ring, or having some fun at its expense with his New Day colleagues.
9. Kofi Kingston's Net Worth
Thanks to 13 successful years in WWE, Kingston has built up a sizable fortune. As the first WWE African-born World Champion, 30th Triple Crown Champion and 13th Grand Slam Champion, the babyface has pulled in his fair share of wins over the past decade… and the accompanying proceeds are more than reflected in his personal fortune. As of 2019, CNW estimates his net worth to be a very healthy $3 million.
10. He has his own line of merchandise
If you can't get enough of Kingston in the ring, you'll be pleased to know you can now buy your very own doll- size version of the wresting champ to take home and keep. As part of the Mattel WWE Series, Kingston is available for purchase as a toy action figure in a variety of outfits and styles. If you don't want him to get lonely, you can also invest in toy figurines of his fellow New Day members, Big E and Xavier Woods, both available from Mattel distributors across the country.