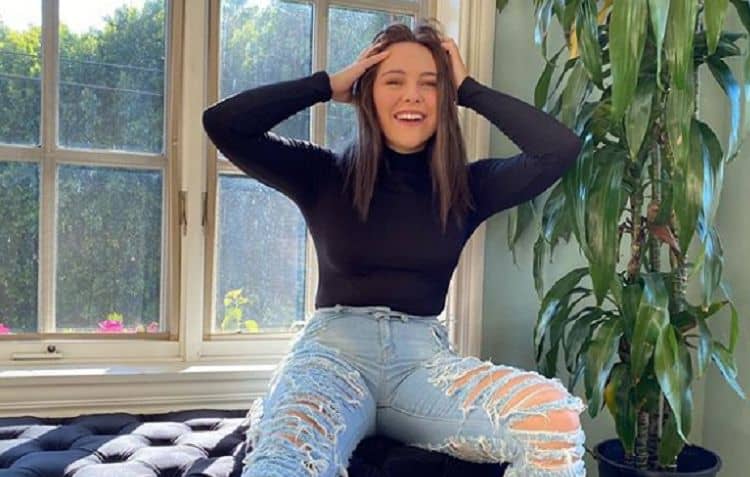 Just a few years ago, Kouvr Annon was a normal teenager. These days, however, she's become nothing short of a celebrity – and it's all thanks to the internet. Like many other teens, Kouvr has discovered how to create content to engage the masses. Kouvr is a bonafide social media celebrity who has millions of followers on TikTok and Instagram. She is a member of the popular TikTok clique, Hype House, and she has become well-known for her dance videos. But despite her immense popularity and regular uploads, lots of her followers are still interesting in learning more about her. Keep reading for 10 things you didn't know about Kouvr Annon.
1. She's From Hawaii
Most people would consider Hawaii to be paradise on earth. Kouvr was lucky enough to live there. She is a native of Hawaii and spent most of her life there. For a short time, she even lived with fellow TikTok star, Dayna Marie. Currently, Kouvr lives in Los Angeles with the rest of the members of Hype House.
2. She's A YouTuber
TikTok has turned out to be a great platform for young creatives, but it can also be limiting for people who want to share longer videos. That's exactly why Kouvr, like many other TikTokers, has created a YouTube channel. She's only been on YouTube since January of 2019 and already has over 460,000 subscribers.
3. She's A Model
Kouvr is best-known for her dance videos now, but when she first started getting noticed on the Internet, it was for her pictures. She got her start by posting modelesque photos on Instagram. Although it doesn't look like she's gotten any professional modeling gigs yet, that could very well be something that happens in the future.
4. She's A Brand Ambassador
In addition to her 8.1 million followers on TikTok, Kouvr also has over a million followers on Instagram. While some people see her follower count as nothing more than numbers, business and brands see her audience as an opportunity to market to more people. As a result, Kouvr has become a brand ambassador for several companies including Bubble Leggings and Thread Wallets.
5. Â She Like Spending Time Outdoors
Kouvr may not seem like the outdoors type, but looks can certainly be deceiving. She actually loves to spend time outside – especially with her boyfriend and fellow Hype Houser, Alex Warren. One of her favorite things to do is hangout by the pool or the beach.
6. She's Been Involved In Some Drama
Once someone becomes popular, drama usually isn't too far behind. Unfortunately, this is something Kouvr has had to experience firsthand. Not only did Kouvr have a falling out with her former friend and well-known TikToker, Dayna Marie, but she has also been accused of cheating on her boyfriend.
7. She Sells Her Own Merchandise
Kouvr isn't just a social media star, she's also an entrepreneur and she's thinking about the future. On top of her work with brands, she's also turning herself into a brand. Kouvr has a website where sells her own merchandise. Her items include things sweatshirts, crop tops, hats, and sweatpants.
8. Kouvr May Not Be Her Real Name
Everyone on the internet knows her as Kouvr Annon, but there's been lots of speculation that this may not be her real name. In fact, there may be a chance that Annon stands for 'anonymous'. However, if she does have a real name, it has never been revealed. It's common for people on the internet to use pseudonyms, but their real names aren't usually guarded so closely.
9. She's Very Private
Oversharing has become one of the most common side effects of social media. There's something about being able to easily post things on the Internet that makes people feel the need to share every detail of their lives. Although Kouvr spends a lot of time on the internet, she is careful about what she shares. She seems to enjoy keeping personal details about her life on the low and it's difficult to track down much about who she was before the fame.
10. She's Into Staying Fit
Kouvr may not have an athletic background, but she still enjoys staying healthy and fit. She isn't afraid to break a swear and she spends a lot of time working out at the gym. She also likes to do yoga. Sometimes, she and Alex even workout together and do couple's yoga.