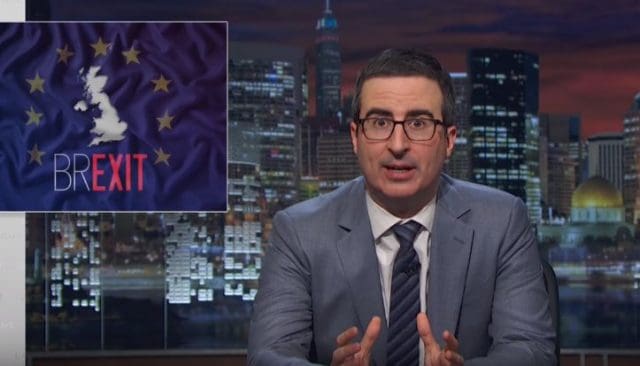 John Oliver typically devotes a good portion of every Last Week Tonight episode to talking about a major issue that's currently affecting the United States. However, last night, he turned his focus over to his home country of England, as it finds itself in a crisis of sorts as its citizens determine whether or not England should leave the European Union. This idea, called the "Brexit," has been receiving a lot of traction lately, and currently, polls show that England is split about whether or not it wants to leave the EU, which is why Oliver took 15 mins of last night's Last Week Tonight to explain why the "Brexit" is such a terrible idea and implore English citizens to not let it happen.
In the video below, Oliver points out the many inconsistencies and, in some cases, straight-up lies being told by the United Kingdom Independence Party (UKIP) as it tries to rally citizens for the "Brexit" movement. Plus, not only does the Last Week Tonight host showcase the falsities that are being promoted by UKIP, but he also exposes the character (or lack thereof) of many of its members, as numerous individuals within UKIP have proven themselves to be racists. In fact, one councilor, Rozanne Duncan, said that she has to "watch her tongue because she's very outspoken" before admitting that "the only people I do have problems with are Negros, and I don't know why."
"Okay, let's agree, it is now official: not everything sounds smarter in a British accent," Oliver joked after playing the clip of Duncan. "It's official now."
But Oliver couldn't make all of his points on his own. Near the end of the segment, he invited a special group to help him send a musical message to England, one that, hopefully, the country will hear.
Watch John Oliver take down the "Brexit" in the Last Week Tonight video below:
[Photo via YouTube]