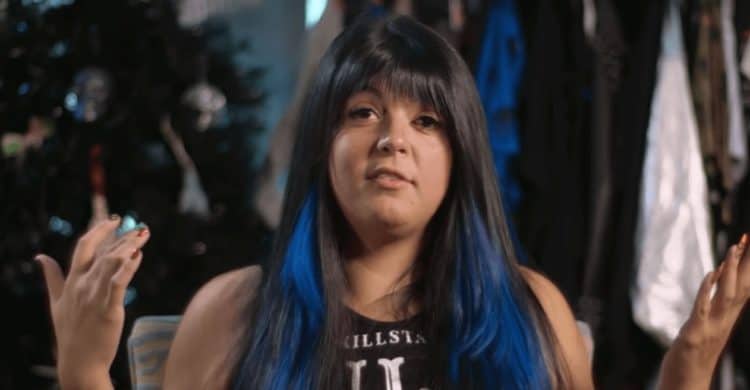 Lexi Martone is a reality television star who has recently become known for her role on the series "Unpolished." The show first aired on November 17, 2019, and it follows the lives of her, her sister Bria and mother Jennifer Martone. She is part owner of a hair and nail salon with her sister Bria and their mom helps them out in the salon. The show is brand new and it's still in the process of being evaluated for its popularity. So far, it has been approved for 6 episodes for the first season so there is a lot riding on the first shows. Here are 10 things about Lexi Martone that you probably didn't know to help you become better acquainted with the newcomer to reality television.
1. Lexi Martone is 26 years old
When you first see Lexi Martone in action it's tough to guess her age. This is because she has an extremely youthful and lovely appearance. She is 26 years old but she could easily pass for much younger, also this is fairly young. Her birthday is December 14th and she was born in 1992. She is a native of New York and was born under the birth sign of Sagittarius.
2. She's a business owner
Lexi Martone is the co-owner of a nail and hair salon. She and her sister Bria founded the establishment together. This is quite an accomplishment for a woman that is under 30 years old. She has an excellent start on her career and is establishing herself as one of the best nail artists in her field.
3. She's served the very rich and famous
Lexi is known for her artistic and sometimes unusual nail sculpting work. She is a nail artist for a number of famous celebrity personalities. Katie Holmes is one celebrity whom she has served. Although she works with some very well-known people she doesn't limit the scope of her services to celebrities only. You can also make an appointment to have your nails done at her salon.
4. She made it to the finals in a televised competition
Lexi Martone has been on television before. She appeared on "Net Top Nail Artist" where she used her talents to vie against some of the best competing nail artists in the business. Although she didn't emerge in the first position, she did very well in the contest and she ended up being a finalist in the competition and she gained a huge amount of recognition for her versatility, artistic talent, and creativity.
5. She is also into baking
Lexi has a lot of different hobbies. One of the things that she really enjoys doing besides nails, is baking. She's the kind of lady who can bring home the bacon, then fry it up in a pan. She knows her way around the kitchen and has a passion for creating her own dishes. Lexi is an amateur baker but she has appeared on "Bakers vs. Fakers."
6. She was offered her own baking show
We also learned that Lexi Martone also appeared on the "Christmas Cookie Challenge" on the Food Network. In addition to this, YouTuber Buddy Valastro offered her a show on his channel as the Cupcake Witch. While this may have been a missed opportunity, it's an offer that she didn't accept.
7. Nail artistry was her second career choice
When you see just a few examples of Lexi's nail artistry, it becomes obvious that she is immensely creative and talented. Although it is one of her passions, it wasn't her first career choice. Prior to learning this skill, she tried to get into the fashion design industry. When things didn't work out for her in this niche, she turned to nail artistry. After reading a few blogs, she decided that this was something that she could become good at. Apparently she was right and it was a choice that has made her very famous at the moment.
8. Lexi Martone is in a relationship
For fans who are wondering about her relationship status, Lexi Martone is definitely involved in a relationship. All you need to do is take a glance at her social media presence and you will see evidence that she and Joseph Fraumeni are dating. They appear all over one another's Instagram accounts and they're not just friends. They appear to have a lot of fun with one another, and this seems to be a really good relationship from what we can see.
9. Lexi Martone is bold and daring
Lexi is not the kind of girl who will walk away from a challenge. She has already established a reputation for being able to deliver high on unusual requests. She does some of the most beautiful and unique nails in the business, but she can also do whimsical designs and has done everything from making open scissors images on the nails to glow in the dark or even 3D Boomboxes. One of her goals is to please her customers by giving them the kind of nails that they want even if the requests have a high level of difficulty. She's so skilled that there is very little that she cannot do when she sets her mind to it.
10. Lexi loves the holidays
We also learned that Lexi Martone is really into two holidays in particular. She is a big fan of Halloween and of Christmas. You can tell this by looking at her Instagram account. This has carried over from her thematic baking endeavors to her nail artistry. She loves spooky things and she was even called the Cupcake Witch. She earned this name for a reason. Lexi Martone is a multi-talented artist with creativity and a natural artistic ability that transfers over into a lot of different things. We also learned that she is also into custom shoe painting. When it comes to design, she's got it all together.