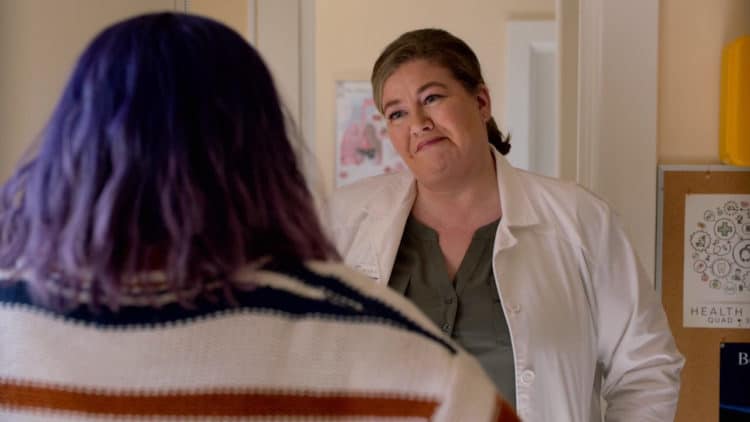 Lisa Linke is an accomplished actress and improviser. Born and raised in Champaign, Illinois, she fell in love with improv during grad school when she was looking for an outlet to relieve stress from studying. After graduation, Linke made the move to Chicago where she worked in the corporate world while also training with The Second City and performing at well-known venues like The Annoyance. It was during this time that she booked her first on-camera acting role on the hit show Shameless. After that, Linke was hooked and eventually made the decision to leave Chicago and head west to Los Angeles to pursue acting full time.
She is best known for her role on the Amazon Prime series Successful People, which follows a songwriting duo struggling to make it big surrounded by a world full of successful people. She currently recurs on ABC's Bless This Mess, which stars Dax Shepard and Lake Bell. Linke has also brought her talent to a recurring role on Teachers as well as memorable guest spots on Bunk'D, LOVE, Grey's Anatomy, Marvel's Runaways, Black-ish, This Is Us, Modern Family, and For The People to name just a few. She will also guest star in Netflix's highly-anticipated original series AJ & The Queen which stars RuPaul and is executive produced by Michael Patrick King.
Linke also loves making her own content. She co-created, wrote, produced, and starred in the award-winning web series Rick & Len Fix Sh!t In Your House. Most recently, she was the brainchild behind Dog Moms, a parody of the Lifetime series Dance Moms. She also showcased her comedic acting chops as "Waggy Lee", the equivalent of Abby Lee Miller's character. The show is available now on Amazon Prime. Linke currently hosts a weekly Instagram improv show called #SuggestionSundayShow, which airs live at 12:30 pm PST. She also recently began co-hosting a podcast called Go Help Yourself, which offers self-help book reviews with a comedic twist. You can check it out on iTunes.
Here are 10 things you didn't know about Lisa:
1. Lisa is an Aquarius, which makes sense, because her astrology friends tell her that Aquarians are very concerned with community. And she is! She loves marches, rallies and writing and phoning her elected representatives.
2. When moving to Los Angeles from Chicago, Lisa kept a blog for her two dogs. From their point of view, they documented the journey – from road stops, to hotels and even the Grand Canyon. It's called from Windy City to Hollywoof. Of course.
3. She's been on five of the seven continents. Her goal is to make all seven before she dies. She's an avid traveler, and loves to explore new places and experience new cultures. She's been to about 40 states here at home – she can't remember if she's been to Vermont or not.
4. If she could live in any foreign city, it would be Paris.
5. She has a podcast with her friend Misty where they review self-help books, called Go Help Yourself. Lisa hates self-help books. She's too midwestern to have anyone tell her what to do.
6. Lisa uses her dogs as often as possible in her work. She used her dog, Wrigley, in both her web series DOG MOMS and Dog Therapist. Her other dog, Zoey, has a series on YouTube where she tries different fruits and veggies.
7. Her family is mad about the mouse – they go to Walt Disney World every year! They've been going for about 20 years. When she moved to LA she had to miss a few years, but is back in the groove, thank goodness.
8. When she was a guest star on Disney's Bunk'd, she was both dunked in water and covered in food – and had a blast! It was a real introduction to kids' comedy.
9. In Chicago, Lisa co-created a web series called Rick & Len Fix S#it In Your House with her friend Robyn Scott where they both dressed up as handymen. It still is one of her favorite projects she's ever done.
10. If you have a pet, Lisa will already be best friends with it and she will take amazing pictures of it for you.