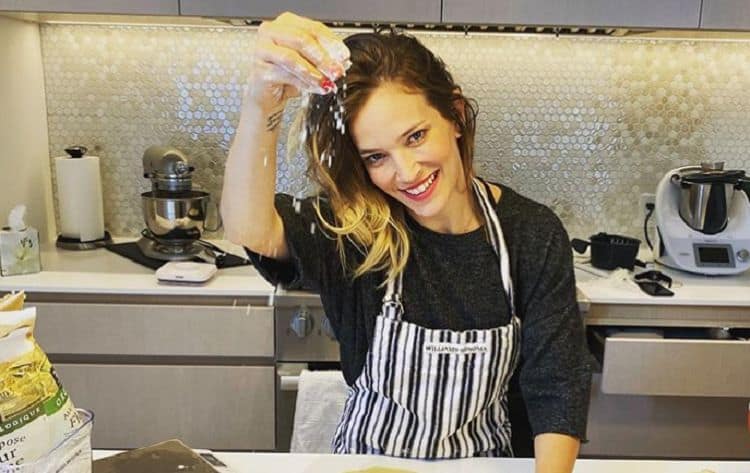 Born in Argentina, Luisana Lopilato's career in the entertainment industry began to take off during the late 90s. Since then, she has found success as an actress, singer, and model. However, many Americans may have been first introduced to her in 2009 when she became engaged to singer, Michael Buble. The two were married in Argentina in 2011 and now have three children together. Although being married to a celebrity can often leave the other spouse with less spotlight, Luisana definitely deserves some attention.  Keep reading for 10 things you didn't know about Luisana Lopilato.
1. She Met Michael Buble At One Of His Concerts
Luisana has always been a fan of Michael Buble's music, so going to see him perform when he came to Argentina was a no brainer for her. Michael noticed her and had someone from his team ask if she'd like to take a picture. Luisana declined because she is very famous in Argentina and didn't want to the press getting the wrong idea. However, when he invited her to the after-show party, she decided to attend with a friend, and the rest is history.
2. One Of Her Sons Was Diagnosed With Cancer
Luisana's world came to a sudden stop when her oldest son, Noah, was diagnosed with cancer when he was just 3-years-old. Luckily, the disease was caught in the early stages and was able to be treated. Luisana says that the worst is over and Noah is doing much better.
3. She Will Only Return To Singing On One Condition
Even though she had a successful music career in Argentina, Luisana has no plans to ever make a comeback. She sees herself as an actress first and prefers to keep that at the top of her priority list. However, she says she would be willing to return to singing if her talented husband were to write her a song.
4. She Didn't Speak English When She Met Buble
As a native of Argentina, Luisana learned Spanish as her first language. She didn't begin to study English until adulthood. In fact, when she and Michael first met and began dating, she didn't know any English. For a while, the two had to communicate using a translator.
5. She Believes Support Is The Key To A Good Marriage
Each married couple has a different idea of what it takes to make a marriage work. In Luisana Lopilato's opinion, support is what has made her and Michael's relationship work. Although they both have very busy schedules, they manage to support each other.
6. Her Band Sold A Million Records
For most of Luisana's music career, she was part of a band called Erreway. The group released three albums and had a great deal of success in Argentina. They sold over a million units and several of their works were labeled platinum and gold.
7. She Loves Sports
Luisana has a lot of things on her plate, but that never stops her from practicing some self care. One of her favorite things to do is stay healthy and active. She participates in CrossFit and enjoys training and strengthening her body.
8. She Thought Michael Buble Was Gay When They Met
Michael Buble says he knew he wanted to marry Luisana from the moment they met, but she was thinking something entirely different. While talking to The Daily Mail, Luisana shared what was going through her head when she met Michael at his post show party: " I was there with my sister and a really handsome male actor friend I worked with, and Michael came up and asked us to come to the after-show party. I didn't speak English, but my male friend did and Michael was talking to him and saying things to him like, "Oh my God, look at your muscles." I just thought he was gay; I rang my mum and said, "I am at a party with Michael Bublé, and he's gay!"
9. Her Older Brother Is An Actor
Luisana Lopilado isn't the only entertainer in her family. Her older brother, Dario, is also an actor in Argentina. He has appeared in several popular projects including Casados con Hijos which is the Argentinian version of Married with Children. Luisana also starred in the show as Paola Argento.
10. She Has Italian Ancestry
Luisana can trace her roots back to Italy where her great grandfather was from. She also has Italian citizenship and has appeared in several Italian screen productions. It's unclear if she still has any family there.