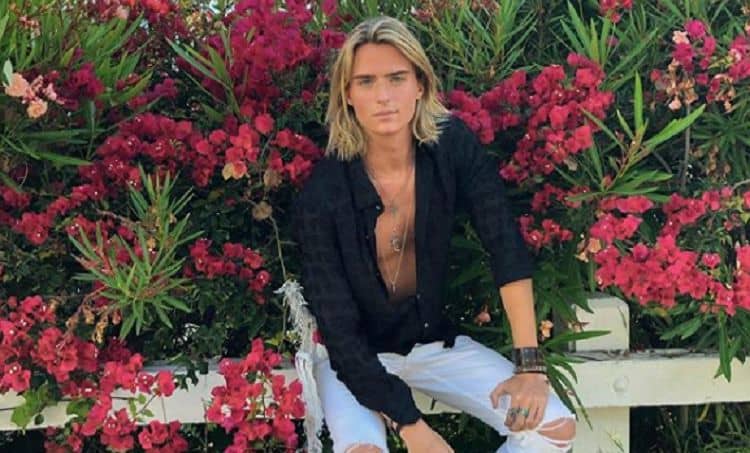 You can do almost anything in the world, but it is only one thing that makes people get curious about you. People in business have tried many startups, but only one puts them on the path to millions. For Luke, the movie "Tall Girl" has encouraged people to learn more about him. While there is a lot you can find on the net, this summary is all you need to learn everything about the new celebrity in Hollywood.
1. "Tall Girl" is Luke's first movie
While "Tall Girl" propels his star to greater heights, Luke has been on other television shows. You might recognize him from "Family Reunion" and "The Goldbergs." However, despite starring in many television shows, "Tall Girl" is his debut to the film industry.
2. He was bullied in high school
Today his tall frame has helped Luke land lucrative modeling gigs, but in high school, his height and thinness only got him bullied. With his debut film, Luke now wishes he could go back and hold his head high. He understands what makes you different is what enables you to stand out from the crowd. It is, therefore, no wonder that Luke feels a deep connection with "Tall Girl" due to personal experience. Luke says on Romper that he hopes that kids who watch the movie realize even what seems harmless could hurt someone.
3. He is passionate about causes
Only the wearer of a shoe knows how much it pinches. As a victim of bullying, Luke knows that although there are many talented people in the world, there are not as many kind people. Therefore he has taken it upon himself to spread the message of kindness and love. One thing he particularly detests is domestic violence. According to him, people who do not understand the meaning of love will get hurt.
4. He is a musician too
Some people seem to have it all; apart from being an actor entrepreneur, and model, Luke is musically gifted. Not only does he have great vocals, but he can also play the guitar and piano too. Luke formed a band with his high school friend, Gus Ross. If you have to listen to him to believe how good Luke is, then you can go to his Instagram page or watch "Tall Girl" because he (Stig) sings with Jodi.
5. He models for high-end brands
They say one man's trash is another's treasure. Therefore to Luke, his hair had grown long enough to cut, so he ended up going to the mall in Los Angeles to get a haircut. As luck would have it, a modeling scout was in the mall and immediately got taken in by Luke's looks. The scout convinced Luke not to cut his hair, and within a few months, Luke was on his way to stardom. He has modeled for Calvin Klein, H&M, Ralph Lauren, American Eagle and many more.
6. He wanted to be an author
J. K. Rowling said that once you read a good book, something magical happens. The belief applies to Luke, who kept reading Nicholas Sparks novels in secret to avoid being made fun of by his friends. Still, he could not stop himself from enjoying the romance and hid the books on Kindle. He was inspired so much by the writer that upon growing up, Luke knew he wanted to be an author but fate had something else in store him.
7. His mother is very strict
A mother's love has been compared to none other in the world because it disregards any laws and knows no pity. A mother will, therefore, do anything to keep her child safe, and that is one trait we see even in animals. Luke's mother, Denise, is one who Luke describes as the most regimented and strict woman he knows. Luke would not have made it to the "Tall Girl" audition if he did not sneak out. He had had surgery for sinuses and was supposed to stay away for auditions for at least a week. With a mother who followed the doctor's advice to the letter, Luke thought it best to dare and make his dream come true. He, therefore, went to the auditions without his mother's knowledge.
8. His grandfather was a famous designer
The Eisner family seems to have a creative genetic streak in their DNA that dates back to Luke's grandfather, William. William Eisner founded William Eisner & Associates in 1959, and although Bill Eisner renamed it Nonbox in 1999, the competence of the firm in its creative works remains uncompromised. William's contribution to the creative industry did not go unnoticed. Therefore his wife Elaine and Bill Eisner, his son, paid tribute to his efforts after William died. They dedicated to him the William F. Eisner Museum of Advertising & Design. Both Bill and Luke have not departed from William's footsteps. While Luke is now engrossed in the art profession, his father is also a branding strategies consultant through his business, Incendiary, which he founded in 2018.
9. His father has cancer
According to the World Health Organization, cancer ranks second in the causes of death worldwide, and last year, around 9.6 million people succumbed to the disease. Although many companies are working day and night to find a cure for it, none has been successful. Luke's father is among those who have fallen victim to the scourge of cancer, but details of how far it has spread in his body are undisclosed. After being diagnosed with the disease, Bill Eisner had to take it easy and resigned from the leadership role of his businesses.
10. He registered his first business at 15
Luke comes from an enterprising family. His cousins are renowned entrepreneurs in Wisconsin and own the biggest wedding DJ company, according to Earn the Necklace. Luke decided to join them when he was 13, and at 14, he had gained enough experience to start his own company. By 2011, Luke had registered Luke Eisner DJ and Lighting LLC. As someone who loves to be independent, Luke had already saved enough money to buy the equipment required. Within a few months, the firm had grown big enough to hire staff, and instead of relying on his parents' car to transport the equipment, Luke bought a 12-foot trailer.