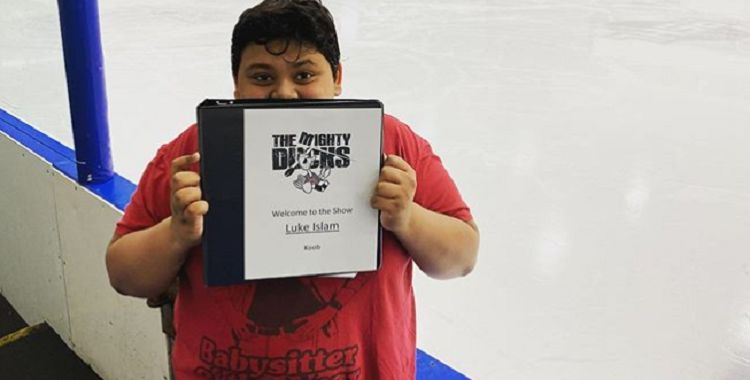 Luke Islam is a teenage singer who rose to fame when he appeared in Season 14 of America's Got Talent. He received the Golden Buzzer but was eliminated in the semi-finals. Here are ten things about him that you may not know.
1. He Lives In New York City
Luke grew up in New York City where he still lives with his parents and his older sister. His family is originally from Puerto Rico and he is very proud of his Latina heritage. He is still in high school and he has to fit in his career around his school work.
2. He Is A Part Of Wingspan
He is part of Wingspan, which is a non-profit program that gets children involved with performing arts. The program runs after school classes which Luke attends on a regular basis. The program has been designed to give young people confidence through performing arts and to help them make friends. Luke has been able to share some of his experiences that have opened up to him since AGT with his friends from the group.
3. He Is New To The World Of Social Media
Before he appeared on AGT, he did not have any active social media accounts. This all changed after the show because people were genuinely interested in what he was going to be doing next. He is most active on Twitter and Instagram and uses these platforms to share updates with his followers. The accounts are ran by his parents but Luke gets a great deal lot of input into the things that are shared. He has almost 50,000 followers across both platforms.
4. He Has Always Wanted To Be A Broadway Star
Luke has been interested in acting and singing since he was just three years old. This interest developed much further when his mom took him to his first Broadway show when he was six. It was not just the performance side of things that interested him, but also everything that happens backstage. He knew even then that starring on Broadway was something that he wanted to achieve. This still remains his ultimate aim and there is a good chance that he will get to do this one day now that many people are aware of how talented he is.
5. He Is A Big Fan Of Voices Of Service
Heavy reports that he became a huge fan of Voices Of Service when both acts were on America's Got Talent. The a Capella singing group were also favorites among the judges and got a standing ovation during their auditions, as did Luke. He posted a picture on his Instagram of him happily posing with the group. When Luke was eliminated from the competition at the semi-final stage, it was Voices Of Service that went through instead but he does not bear them any bad feeling.
6. Lin-Manuel Miranda Is His Idol
His idol is Lin-Manuel Miranda and he would love to get the chance to meet him one day. Miranda is the creator of Hamilton which is one of Luke's favorite musicals. Luke also has several other things in common other than their love of musicals. They both have Puerto Rican heritage but were raised in New York City. Luke has a promising career ahead of him in musical theater and there is every chance that he will get to work with his idol one day.
7. Julianne Hough Is His Favorite Judge
Julianne was the judge who gave Luke the Golden Buzzer, but she was his favorite judge even before that. Luke said that the reason for this was because he and his sister had long been fans of Julianne and her brother Derek and their dancing careers. This information had to be coaxed out of him by another judge, Gabrielle Union. She asked him who his favorite judge was and he was very diplomatic at first, saying that he liked them all equally. However, with a bit of pressing she got him to admit that Julianne was his real favorite.
8. All His Performances On America's Got Talent Were From Musicals
The AGT Fandom site states that all the songs he performed during his time on the show were from musicals. He sang She Used To Be Mine from Waitress in his first audition and the judges were really taken aback by the way that he sang. He went straight through to the quarter final because Hough pressed the Golden Buzzer and here he sang You Will Be Found from Dear Evan Hansen. His semi final performance of Never Enough from The Greatest Showman was very well received by the judges but unfortunately he did not receive enough votes to get through to the final. All of these performances are available on YouTube and they have been watched millions of times.
9. He Performed At A Waitress Karaoke Competition On Broadway
Before he entered AGT, Luke performed on Broadway in a karaoke competition where he performed a song from Waitress. His performance here earned him a lot of praise from the hosts of the event, Jason Mraz and Tiffany Mann. Videos of the contest were posted online and he also received very positive comments. It could be that the feedback he got from this competition was enough to make him decide that he should audition for AGT. He is always very humble with the compliments that he receives and he remains a very grounded young man.
10. He Is Involved With Several Charities
There are details on his Instagram page about several events that he is involved in which raise money for charity. He performed at the 15th Annual Unicef Snowflake Ball which raised funds for the work that Unicef do overseas. He was also the co-host of a Facebook Live event alongside Brooke Procida. This event featured performances by singers of STUDIO PCI in a virtual concert that raised funds for You Gotta Believe. This is an organization that raises awareness of the fact that there are a lot of older children that are waiting to be fostered or adopted.