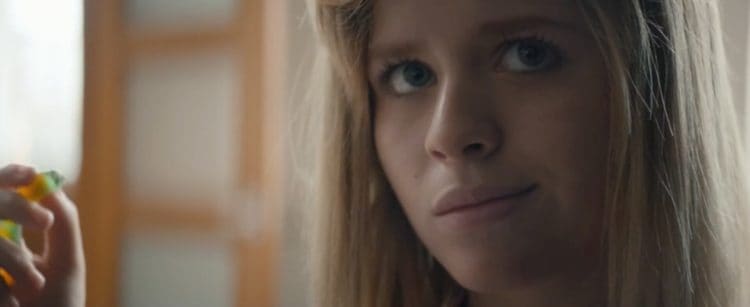 Many people who have experienced fame at a really early age often find that they struggle with the spotlight. However, 14-year-old Lulu Wilson seems to be handling her stardom with grace. The teen made her TV debut in 2012, and she has been working on a regular basis since then. Over the years, she has become well-known for her work in the horror genre. On the big screen,  she is best-known for her role in films like Annabelle: Creation and Ouija: Origin of Evil. On the small screen, she is most well-known for her main role in the series The Haunting of Hill House. Although the release date for the second season hasn't been announced, but the anticipation is already growing. Continue reading for 10 things you didn't know about Lulu Wilson.
1. She Auditioned For A Role In It
Since Lulu has become a young queen in the horror genre, it only makes sense that she would want to be part of one of the most iconic scary movies of all time: It. Lulu actually auditioned for the role of young Beverly Marsh but was not chosen because she was too young.
2. She's A Lizzo Fan
2019 was a huge year for Lizzo. Although she released her debut album in 2013, her career didn't really gain traction until the release of her third album, Cuz I Love You. In less than a year, she gained millions of fans, one of which is Lulu Wilson. Lulu loves spent a lot of time listening to Lizzo while getting her makeup done for the film, Becky.
3. She's A Musician
Not only is Lulu a fan of music, she's also a musician herself. She plays the ukulele and writes her own music. She often posts snippets of her work on Instagram and she hasn't shared whether or not she ever plans to put together and release a full length project.
4. She Wrote A Script For Stranger Things
Lulu Wilson is a huge Stranger Things fan. Actually, huge might be an understatement. Lulu loves the show so much that she wrote a script for the show's second season prior to its release. She told Fresh Fiction, "I had a character idea and I sent it to The Duffer Brothers."
5. She Loves Scary Movies
There are lots of actors who aren't necessarily fans of the genres they do most of their work in. However, that isn't the case for Lulu. Not only does she love acting in scary movies, she loves watching them too. She says, "I love scary movies. I like scary TV shows too." She also adds that although she doesn't particularly like being scared, she gets a rush out of scaring others.
6. She's Done Some Of Her Own Stunts
When Lulu was working on Ouija: Origin of Evil, she got the chance to do her first stunt. The stunts she did herself "were the back bend, the climbing on the walls — crawling — and on the ceiling." She says that her favorite stunt was back bend she did while her character was possessed.
7. She Likes Antiques
Lulu is a teenager, but she's definitely the kind of person who has an old soul and is wise beyond her years. She has an affinity for antiques and likes to spend time browsing through antique shops. In fact, after auditioning for the role in Ouija: Origin of Evil she went to her favorite antique shop to look around and decompress. While there, she stumbled across an antique Ouija board and took it as a sign that she would get the role.
8. She Would Never Play With A Ouija Board
Despite being on a scary movie all about Ouija boards, Lulu doesn't have any interest in playing with them in real life. She says, "I have never played with a Ouija board and I never will. No. Way too scary and way too risky too. What is going to happen? Is it real? Is it pretend?"
9. She Wants To Do An Action Movie
Scary movies may be her thing now, but she hopes to get the chance to spread her wings even further by taking on other kinds of roles. Now that she has some experience performing her own stunts, she says that she would love to do some action roles in the future.
10. She Likes To Draw
When Lulu isn't singing or acting, you can find her expressing herself through another art form: drawing. While talking to Dread Central, Lulu said, "I'm a huge cartoonist, I have cartoons all over my wall. I draw these little clown devil guys."She often shares her sketches in stories on Instagram.