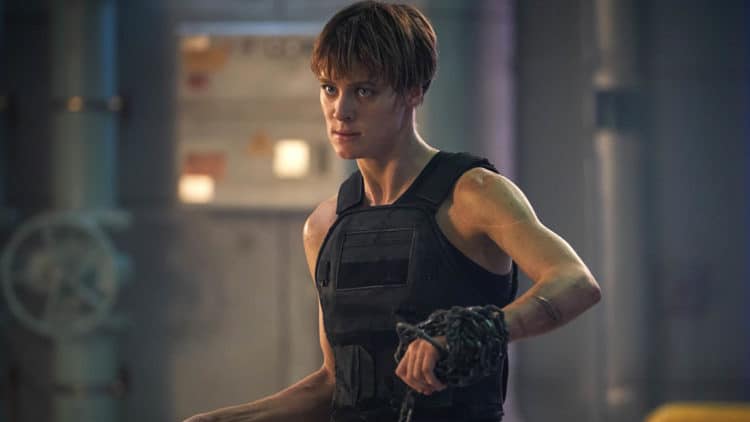 Mackenzie Davis has already been around for a while but it would seem that people are just starting to open their eyes and see her now since she's been included into one of the most loved franchises in movie history. Some area already starting to grumble about the savior of the movie being a female, but honestly it's so easy to sidestep that argument and just watch the movie for what it is that hopefully it won't be dwelt on that much. In terms of her acting ability though Mackenzie obviously has the skill and the know-how to take on the roles she wants, though whether she'll get caught up in the debate concerning gender roles and this movie is hard to say since actors tend to be a bit close-mouthed when it comes to various topics that are a bit controversial, or they let it fly and alienate part of their fan base. We'll have to wait and see what Mackenzie chooses to do.
Here are a few things you might not have known about Mackenzie.
10. She would rather play the part of a person actively solving problems rather than a person that has problems tossed at them.
That's definitely the attitude of a doer and a go-getter rather than someone that wants the world to leave them alone and just figure things out on its own. In the movies those that are doers however tend to be those that get in the most difficult situations, so it's usually a good idea to have a healthy balance of personalities.
9. Mackenzie feels that she could give up technology fairly easily.
A lot of people tend to say this and a few of them actually seem capable of following through, but it's very true that a lot of us spend a great deal of time with our personal devices and computers these days, though every now and then it's great to just unplug and remember the world that's beyond the screen.
8. She stopped playing video games due to admitting she has an addictive personality.
It's kind of a 'duh' moment to say that video games are addictive since so many people can attest to this and a lot of them don't care since they'd be on their systems from sun up to sundown without doing more than getting up to get food and use the bathroom. But it's a good thing that she recognizes this and manages to restrain herself.
7. Mackenzie started acting right out of college.
It didn't seem to take long for her to find a good manager and get into the swing of things since she's been acting for a couple years shy of a decade now and yet hasn't really been as noticed as other people up until this point. Hopefully her career keeps going up from here.
6. She tried modeling and discovered that it wasn't for her.
Mackenzie thought it would be nice to travel and see the world but the demanding pace and the reality that she was expected to look pretty all the time just wasn't her cup of tea so to speak and she decided to walk away from it.
5. She does have a plan to start producing after a while.
She's a very opinionated woman and has her own ideas of the kind of movies she'd like to produce since she definitely seems to be less interested in the plight of men in movies as she does the underdog that desperately needs a win. It's not hard to see where this comes from but hopefully with her vision in mind she can be impartial at times as well.
4. Her acting debut came around in 2011.
The first thing she appeared in was a short film but it was uphill from there as she went on to star in several projects after that point and has been tearing it up since.
3. As you might expect she doesn't have a huge following on social media.
It's true her Instagram following isn't all that big but again it doesn't seem as though she's all that impressed by having a big following or with being online all the time.
2. She has a net worth of around $3 million.
As you can see she's amassed a pretty good amount of money in her time thus far and if Dark Fate does any good her reputation and her fortune could stand to increase in a big way.
1. Her role in Terminator: Dark Fate is already starting to draw controversy.
It's true that some men can't seem to handle strong women but the fact that Tim Miller seems to find the need to even mention this almost makes it look like he's on the defensive when talking about Mackenzie's role. John F. Trent of The Mix captured this much in his article and while it seems fair to state that much of the Terminator mythos is about strong men, Miller seems to have forgotten that there was a female terminator and that Linda Hamilton DID get tough in the second movie. Mackenzie's character is already looking awesome, but it's easier to enjoy the movie than to listen to arguments about gender roles.
So far her role in Terminator: Dark Fate looks pretty tough, here's hoping that it will be just as awesome as it looks.