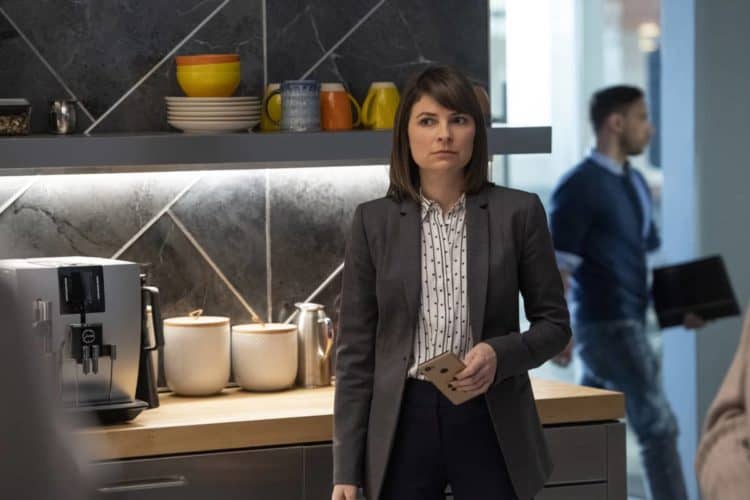 If you're not yet familiar with the name Mackenzie Meehan, you soon will be. The up and coming actress can currently be seen reprising her role of Taylor Rentzel in the hit CBS drama television series, Bull. After her introduction last season, she's set to have an even bigger part to play in season 4 as her character integrates herself ever further into the action. Find out more about the actress with these 10 quick facts.
1. Her Bull costars feel like family
Since Meehan landed her dream role of a recurring part on Bull, she's been quick to forge strong ties with the rest of the cast, telling Meaww, "We talk openly about our lives outside of the show and support each other when times are tough. On-camera we often have so much fun that we sometimes get into laughing fits and have to "cut" so we can pull it together. It's a dream cast and crew."
2. She's an accomplished stage actress
In addition to her promising screen career, Meehan has built up a reputation as one of the leading stage actors of her generation. Her Broadway credits include a star turn in the national tour of War Horse at the Lincoln Center Theater, while her off-Broadway credits include appearances in Where We're Born, Double Falsehood, Pass the Blutwurst, Bitte, The Sacrifices, and Point of Departure. Her regional theater performances, meanwhile, have included roles in The Second Girl at The Huntington Theatre, Period of Adjustment at the San Francisco Playhouse, Circle Mirror Transformation at Studio Theatre, Out Of Orbit at Sundance Theatre Lab, Caviar on Credit at the Guthrie Theater, and Jester's Dead at The Peoples Improv Theater.
3. She was born in Denver
Meehan was born and raised in Denver, Colorado. After graduating high school, she received her BA from California State University, Long Beach, and later obtained her MFA in acting from New York University.
4. Her film debut was in The Wolf of Wall Street
After several years of working almost exclusively on stage (with a few minor roles in TV series and shorts thrown in for good measure), Meehan made her film debut as Hildy Azoff in the 2013 movie, The Wolf of Wall Street. Starring Leonardo DiCaprio, Jonah Hill, Margot Robbie, and Matthew McConaughey in lead roles, the film, which is based on Jordan Belfort's memoir of the same name, was a massive commercial success, grossing $392 million worldwide and becoming director's Martin Scorsese's highest-grossing film. It was just as much of a success with critics, with many praising Scorsese's direction, along with the pace and humor of the storytelling.
5. She's an award winner
While Meehan may not have picked up any awards for her screen work just yet (although it's surely only a matter of time before she does), she's been scoping awards and nominations for her stage work for years. In 2016, she won the Helen Hayes Award for her performance in World Becomes Flesh. She's also netted nominations for her appearances in Equus at the Constellation Theatre Company, Constellations at The Studio Theatre in Washington, DC, King Ubu at Mead Theatre Lab at Flashpoint in Washington, DC, and Moxie, A Happenstance Vaudeville at Round House Theatre, Bethesda, MD.
6. She's noticing changes in Taylor
Since Meehan began playing the role of Taylor in Bull, she's noticed a lot of growth in her character, both in terms of the confidence she has in herself and how she interacts with members of the TAC team. "Since Taylor has proved herself to be a valuable asset to the TAC team, it seems she's getting more comfortable speaking her mind on the cases they take on," she's said. "I've also noticed her relationships with the other TAC team are deepening and she is forming true friendships with them".
7. She's married to a fellow actor
Although not much is known about Meehan's personal life (she's notoriously guarded about her offscreen life), we do at least know she's married to fellow actor Matt Dellapina. The pair married in 11th October 2014 in Brooklyn, New York, and welcomed their first child, a son called Jack, in Jun 2016. The happily married pair can be seen together in Adult Ed (Dellapina stars as Ed Russo, while Meehan takes the role of Rita McKee) which premiered at this year's Tribeca Film Festival. Other stars to join the lineup include Campbell Scott, Alex Ubokudom, Nick Westrate, and Peter Friedman.
8. She loves anything striped
Meehan may be passionate about acting, but she has an even greater love in life: anything with stripes. The slightly oddball interest is revealed on her Instagram page which also documents her love for egg & cheese bagels, Bjork, podcasts, karaoke, and the 90s. It's fair to say Meehan isn't the most avid user of social media: since she opened her account, she's managed to find time to post only 62 posts and accrue just 905 followers.
9. She's building up a portfolio of film and TV work
Meehan may be relatively new to the world of TV and film, having spent the majority of her early career establishing herself as a stage actress, but already she's build up quite the list of credits. After her debut in 2013s The Wolf of Wall Street, she appeared in the films The Fold (2013) as Dell, These Hopeless Savages (2014) as Nicki, My All American (2015) as Nurse Fuller, and A Stand Up Guy (2016) as Lorie. When it comes to TV, she's appeared as Mac in Couch Hoppers, Hannah Miller in Candlesticks (2011), an Event Attendant in White Collar (2011), a Cashier in Mildred Pierce (2011), Penny in Vinyl (2016), Taylor Rentzel in Bull (2018- present), and Rita McKee in Adult Ed (2019).
10. She's got Irish, English, Scottish, German, and Swiss-German heritage
While Meehan has never revealed too much about her early years or her parents, we do, strangely enough, know a little about her family tree. According to Ethnic Celebs, Meehan has a combination of Irish, English, Scottish, German, and Swiss-German roots, while her paternal great-grandparents were Irish immigrants from County Cavan.