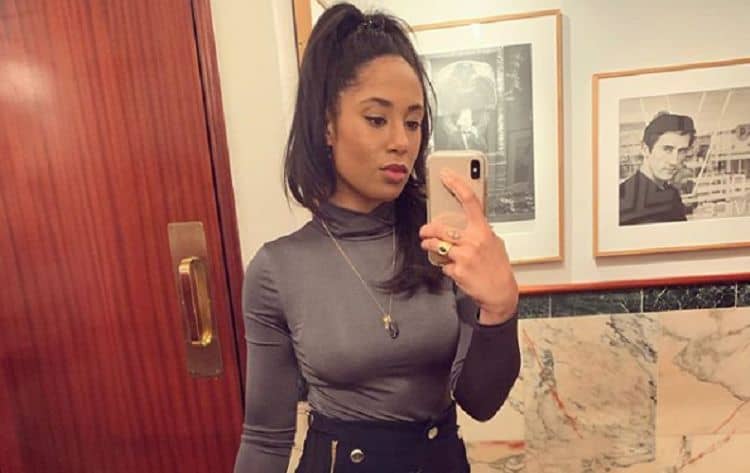 Margot Bingham is among the many biracial actresses who had a hard time fitting in during their childhood years. Adding to her dilemma was the fact that her mother is Jewish while her father is Methodist, but she ended up choosing to follow her mother's religion. As if that is not enough, Margot always wanted to sing and dance and wondered if her dreams would ever come true. There is a time that she could not talk for months after having vocal surgery, but with time, she learned how to speak and sing again. Now Margot has a few movie credits and an album to her name. Learn a few more details about this ambitious singer.
1. She does not like roles that promote nudity
While some people will not mind showing any part of their body so long as it helps bring home the bacon, Margot is a bit reserved. She reveals that she had to initially turn down a role because she was uncomfortable doing a full-frontal nudity scene. However, the directors compromised and still brought her on board. Margot believes that unless a character being nude will help tell the story, then there is no need for any nudity. She is so concerned about not showing any more of her body than necessary that before wrapping up a sex scene, she will check camera angles, according to Sway's Universe.
2. Her singing talents run in the family
By early 2016, the actress was already recording music and was optimistic that it would be released in 2017, after which she would continue to freestyle. Margot has always had a knack for music, and while her peers memorized the times tables, she would rap it instead. Further, she utilized her singing skills to learn about states and their capitals. According to her mother, Margot gets the musical gift from both sides of the family; her father has a beautiful voice, and her maternal grandfather put himself through college by performing in clubs.
3. She modeled children's clothing
Of course, with such a beautiful face, Margot is fit to be a model. Therefore her parents put her to work on advertising the children's clothes they sold in their store, Lullaby Landing Boutique. Later on, after Margot's parents sold the store in 2000, she continued modeling for Kaufmann's department store.
4. She was not interested in acting
Margot has become a renowned actress, but that is not the career path she wanted to take. She was always interested in arts but only dancing and singing, never acting. Therefore she took voice and dance lessons while in elementary school. When introduced to CAPA, the actress played Ti Moune in "Once on This Island." In college, Margot went ahead to study musical theater but revealed to Billy Hartung that she only considered the dancing and singing components. However, Billy encouraged her to think broadly as an artist, telling her that it takes more than a great beat to captivate her audience; sometimes, it will have to be words, either hers or someone else's.
5. How she started her acting journey
With Billy's advice, Margot began to see herself as a potential actress; hence by senior year, her interest in acting had already begun. Consequently, when she enrolled in Point Park University, she juggled her studies with acting. At the time, Margot was lucky to be an opening act for some of the most famous singers today, including Nelly Furtado, Black Eyed Peas, and Jason Mraz. Her acting and singing talent also landed her callbacks in "Spring Awakening" and eventually a role in "Rent" revival.
6. Her father was the first Jamaican to play in NFL
Margot has tried as much as possible to carve her career without using her father as a stepping stone. Her father, Craig Bingham, was a football player who played for San Diego Chargers and Pittsburg Steelers in five seasons of the National Football League. He went down in history as the first Jamaican to ever play in the NFL and has never pushed his daughter to follow in his footsteps. He told Pittsburgh Magazine that he knew Margot was more interested in performing. Margot agrees that although she is athletically-build, she did not have the skills to make a career out of it.
7. How "Rent" became her turning point
After enrolling in Point Park University, Margot only studied for two years before dropping out of school and moving to New York City. Her parents were disappointed in her decision and gave her an ultimatum; get her act together or go back to school. Margot, therefore, started looking for recording and audio engineering schools to go back to in case her mission to make it in the entertainment industry failed. Luckily, she went for an open-call audition for "Rent," and despite there being hundreds of people, she is the only one who got the callback, as she told Jeff Pearlman.
8. She likes watching shows or films she has starred in before they premiere.
Margot appears to be one person who likes to give her best lest she will beat herself up. Consequently, whenever she appears in a film or show, she wants to be the first to see it before the public does. She reasons that if she did not put on a good show, then she should be the first to know. Still, even if the performance is not to her liking, she comforts herself that she had a great time filming it and has gotten a new family from the castmembers.
9. She took a course in contractual agreements
They say that if you think education is expensive, then you should try ignorance. Margot's parents knew how easy it is for someone to give their fortunes away by signing on the dotted line. Therefore they encouraged their daughter to always read any contract before signing. Further, to ensure that she learned everything there is to know about contracts, Margot undertook a course in contractual agreements.
10. What she intends to do with fame
Margot admits that she never wanted to be famous, but now that she is, she will not mind signing an autograph. However, she reasons that there is more to being famous, thus prioritizes anything that will change a person's life. Therefore, she would like to support organizations that make a difference, such as those that offer education to underprivileged children.