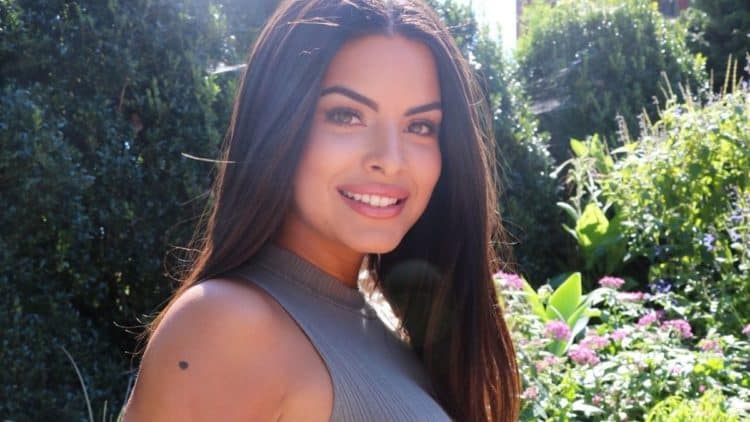 Mariela Pepin may be new to reality TV, but she's no stranger to being in front of cameras. Mariela, who is rumored to be a contestant on the upcoming season of The Bachelor, is also a beauty queen who earned her first crown when she won the Miss Maryland Teen pageant in 2014. Although the show is still filming and there hasn't been much information released yet, Mariela is already the top of lots of conversations on Bachelor related gossip sites and forums. Of course, we won't know the real tea on her until the show airs, but for now, fans are having fun speculating about her and the rest of the contestants. Keep reading for 10 things you didn't know about Mariela Pepin.
1. Bachelor Fans Think She's On The Show For The Wrong Reasons
Even though there isn't a ton of verified information out there about the upcoming season of The Bachelor, lots of diehard fans are already under the impression that Mariela is on the show for the wrong reasons. They believe that Mariela isn't really looking for a serious relationship and is only on the show as a way to put herself in the spotlight.
2. She Used To Run A Blog
One of the best and worst things about the internet is the fact that nothing you put ever really goes away. With that being said, we were able to dig up an old blog that Mariela ran several years ago. The website was called Healthy, Beautiful, Confident and was all about spreading positivity as well as information on Mariela's beauty pageant journey.
3. She Graduated From High School Early
Anyone who thinks a person can't have beauty and brains has never met Mariela. Education is something that has always been important to her. She graduated from high school early and went on to earn a bachelor's degree in communication from Towson University.
4. She Moved Around A Lot
Mariela was born in Puerto Rico, but she didn't call the island home for long. Since her father was in the military, she moved around a lot when she was growing up. At one point, she was even diagnosed with an adjustment disorder. Although constantly having to get used to new places wasn't easy, Mariela is thankful for the experiences she had.
5. She Has Acting Experience
Mariela isn't a Hollywood superstar by any means, but she does have a little bit of acting experience. According to IMDB, she appeared in the 2017 film How to Get Girls. We weren't able to track down any information to suggest that she wants to pursue acting on a more serious level.
6. She Is Passionate About Learning Languages
As someone who has lived in different parts of the world including Germany, Mariela understands the importance of being able to speak more than one language. For that reason, she has always been passionate about learning languages. She is fluent in both Spanish and English an has studied French and American Sign Language.
7. She Doesn't Appear To Be Active On Social Media
As a former beauty queen and a pending reality TV star, most people would probably assume that Mariela is also very active on social media. That doesn't seem to be the case though. Although she did have an Instagram account at some point, it has since been deactivated. Once the show gets close to its air date, she'll likely pop back up on social media.
8. She Loves Helping Those Around Her
Mariela has always understood the importance of using her platform to help the people around her. She is very passionate about charity work and has collaborated with several organizations over the years. In 2017, she returned to Puerto Rico to help rebuild homes after the island was badly damaged by Hurricane Maria. She also works with a non-profit organization that offers free permanent makeup services to women who have dealt with serious medical issues such as alopecia and cancer.
9. She Plans To Go To Graduate School
Having a bachelor's degree is a major accomplishment, but Mariela doesn't plan on stopping there. She eventually wants to go to graduate school to earn a master's degree non-profit communications which "she hopes to use as she travels the world working as a Marketing and Public Relations Director for international charities."
10. She Competed In The Miss USA Pageant
Mariela has had quite an interesting journey in the pageant world. After winning Miss Maryland Teen USA in 2014, she went on to compete in Miss Teen USA in 2014. In 2018, she was crowned Miss Maryland USA in 2019 and represented Maryland in the Miss USA pageant that same year.