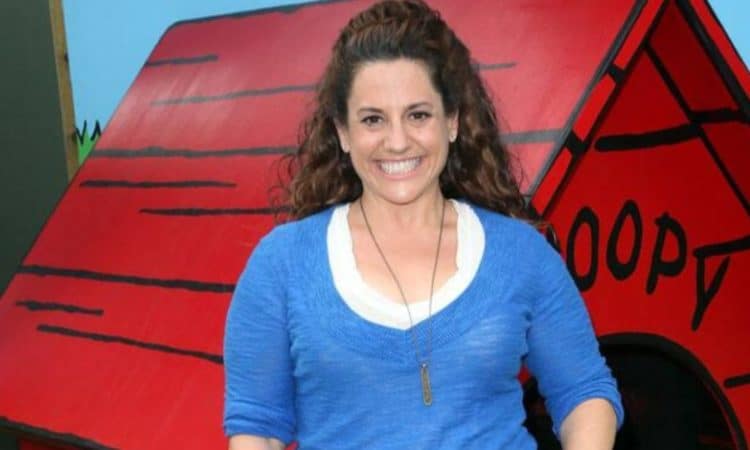 These days, actress Marissa Jaret Winokur is almost as well known for being the first-ever winner of Celebrity Big Brother as she is for her Tony Award-winning performance as Tracy Turnblad in the hugely popular Broadway production of Hairspray. But that's not to say there isn't more to this popular entertainer than reality TV… from hosting shows like The Talk and Dance Your Ass Off to lending her vocal talents to popular animations like American Dad! And King of The Hill, if there's a corner of the entertainment world Marissa hasn't yet applied her talents to, it won't be long before she does. Find out more about the star with these 10 fast facts.
1. She's been married since 2006
Marissa and her partner Judah Miller married in October 2006. Two years later in March 2008, they announced they were expecting their first child. Their son, Zev Isaac Miller, was born July 22, 2008, via a surrogate mother, with both Marissa and Judah present at the delivery.
2. Fame runs in the family
Marissa isn't the first of her family to achieve celebrity status (although she may be the first to have achieved it through her vocal talents, rather than her writing abilities). The actress is in fact the great-niece of not one but two of America's finest writers. The first, S.J. Perelman, was the man behind many of the New Yorker's most popular and humorous articles of the formative half of the 20th century, as well as, surprisingly enough, the reason "crazy like a fox" gained common parlance. The second, Nathanael West, is best remembered for the satirical novels Miss Lonelyhearts (1933) and The Day of the Locust (1939), the 2nd of which was turned into a hugely successful film starring Donald Sutherland and Karen Black in 1975.
3. Winning a Tony beats winning Big Brother
Marissa may have nabbed $250,000 as the first-ever Celebrity Big Brother winner, but she still considers winning a Tony Award for Hairspray her greatest ever achievement. Although that's not to say her Big Brother crown doesn't have its merits, as she revealed to TV and City. "Winning a Tony was a lifelong dream… so that's got to be number one," she shared. "Winning Celebrity Big Brother made me a much cooler mom, so that's helped. Now I can get my son to do homework!"
4. She was a semi-finalist on Dancing with The Stars
Marissa isn't just a talented actress; if her performance on Dancing with The Stars is anything to go by, she's also a gifted dancer. In season 6 of the long-running show, Marissa teamed up with professional dancer Tony Dovolani to wow us with her Cha-Cha-Cha and Tango. Despite placing last on the leader board on several occasions, Marissa's loyal fanbase saved her with their votes, allowing her to dance her way all the way to the semi-finals.
5. She's a cancer survivor
As MasterWorks Broadway notes, Marissa's breakthrough role in Hairspray almost never happened. During the initial stages of the production, Marissa found out that she had cervical cancer. Fearing the diagnosis might affect her chances of playing Tracy, Marissa kept quiet about her condition, revealing the news to only her immediate family. Thankfully, she made a full recovery and went on to play with part with such success that in addition to a Tony, she claimed several other awards from Drama Desk, Theatre World, and Outer Critics Circle.
6. She's starred alongside Pamela Anderson
Marissa may be best known for her stage work, but she's not fallen short when it comes to landing TV and film gigs either. Her first appearance on screen post-Hairspray came with the 2003 made-for-TV movie, Beautiful Girl. She followed up on its success with Fever Pitch (2005), Ultra (2006), Fugly (2007), and Betrayals (2007). In 2005, she landed a part in the TV series Stacked, alongside former Baywatch star, Pamela Anderson. While the series was canceled prematurely, it did at least allow her the opportunity to meet future husband Judah Miller, who was at that time a writer for the show.
7. She lost 60 lbs. on medical advice
Marissa has always been a firm advocate of diversity in the entertainment industry and would be the last person you'd expect to cave in to pressure about her weight. Yet in 2012, she did exactly that… although admittedly, the pressure that time around was coming from her doctor, rather than industry executives. After tests showed her to have dangerously high cholesterol levels, Marissa took swift, decisive action; in just 7 months, she managed to lose a massive 60 pounds through a combination of good old-fashioned dieting and exercising.
8. She's dyslexic
For a long time, Marissa buried her writing ambitions out of fear her dyslexia would hold her back from achieving what she wanted. In recent years, she's grown more courageous, penning several scripts and writing numerous articles, including a highly personal xoJane piece about making it as a plus-sized woman in an appearance-obsessed industry. In an interview with ReellifewithJane, Marissa shared how the writing process had acted as a form of therapy. "Now that I've got a couple of scripts written, and people have said, 'Yeah, this is good; I enjoy this,' it gives me the courage to keep going," she said.
9. She has an unusual motto
As she discussed quirks, strategies and personal habits with CBS prior to entering the BB house, Marissa revealed her life motto to be the somewhat unusual "Life's too short, put cream cheese on it". She also shared a few more fun facts about herself, including that she's a nature lover, is obsessed with the great outdoors, and can accurately guess the calorie count in anything.
10. She's a multi-millionaire
All those years of hard work have clearly paid off.  The sum total of Marissa's years on Broadway, screen and reality TV amount to an envy-inducing $5 million.