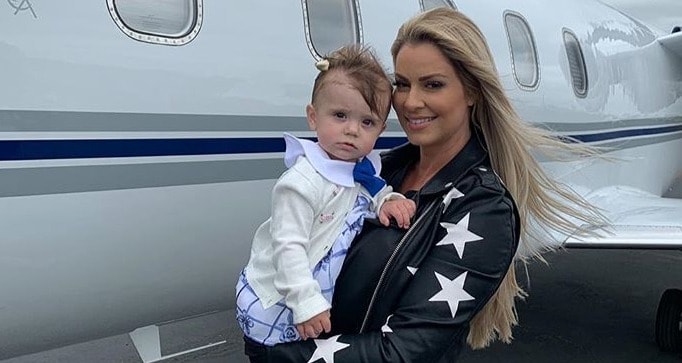 Former professional wrestler Maryse Ouellet is one talented lady… not content with living off the proceeds of her highly successful WWE career, she's made a name for herself as a model, a businesswoman, a reality TV star, an actress, and latterly, as the manager of her pro-wresting husband, Michael "The Miz" Mizanin. With so many successes already under her belt, its likely we'll be hearing much more from Ouellet in the future. Get yourself ready by reading these 10 facts you didn't already know about the Canadian star.
1. She has a degree in Business Administration
Although she was born in Montreal, Quebec, Ouellet was raised in Edmundson, New Brunswick. During high school, Ouellet was the only girl in her class of 30, but despite the boyish influence of her peers, she remained attached to her love of beauty and fashion, organizing the school's annual fashion show, and sowing the seeds of the makeup line she would go on to launch years later. After graduating from high school, Ouellet enrolled at College Montmorency de Laval where she earned a degree in Business Administration.
2. She's a beauty pageant winner
Over the years, Ouellet has achieved huge success as a model, starting in 2003 when she won the Miss Hawaiian Tropic Canada beauty pageant. In 2004, she competed in the international finals of Miss Hawaiian, and managed to finish in second place. Ouellet has gone on to model for hundreds of magazines over the years but is most known for her work with Playboy. Her relationship with the publication began in 2007, when she appeared on the cover of its Girls of Canada calendar. She's subsequently featured in 12 special editions of the magazine (with 3 of those as the cover star) and has managed to pull in some significant sales for the publication: her appearance in Playboy Vixens saw the edition sell out in less than 24 hours on the east coast. To add to her credits, she can also boast being one of the most downloaded celebrities on the Playboy website.
3. She's an optimist
As any celebrity knows, the stress of looking paparazzi- ready 24/7 can be a trying experience. Combine that with the demands of a successful career in WWE, modelling, reality TV and business, and you'd forgive Ouellet for having the occasional "off-day". However, Ouellet manages to maintain her smile by doggedly sticking to her optimistic outlook. "I just push away anything negative", she explains. "Just do what you want to do and believe that you can do it and you will do it".
4. She's featured in a Timbaland music video
In 2004, Ouellet made her music video debut on the Timbaland/ Hives collaboration, "Throw it On Me". Ouellet, who was joined by fellow WWE Divas Ashley, Torrie Wilson, Brooke Adams, Layla and Kelly Kellyin for the shoot, decided to accept the gig after spotting the connection between the track and the WWE. "I think the WWE Divas are very strong women, with strong personalities, so we fit the song," Maryse explained. "We need music with a lot of energy. It makes us want to move, want to dance and have fun". Timbaland himself explained the casting decision by noting: – "The reason I asked the Divas to be in my video was because I didn't want the typical casting for this. I wanted women who mean something".
5. She's married
In 2013, Ouellet announced her engagement to fellow professional wrestler, Mike Mizanin (or "The Miz", as he's known to fans). The pair, who had been dating for 7 years, married in 2013 following a 12- month engagement. The couple, who reside in Los Angeles, California, currently share parenting duties of 1-year old daughter Monroe Skye. In February 2019, the happy couple announced they will be welcoming a new addition to the family in September this year.
6. Her first language is French
Canadian Ouellet's first language is French, and she initially struggled to master the complexities of the English language. The language barrier proved a slight challenge to her dating life, after future husband Mike Mizanin made fun of her English skills. "I remember him giving me so much trouble when I did the Diva Search audition, because I couldn't speak more than 10 words (of English)", she explained to the WWE. "He was making my life hell. I guess that was his flirting technique". The technique clearly worked, as the pair have been happily married for nearly 5 years… she also eventually mastered English, despite it taking a further 2 years for her to get fully comfortable with it.
7. She's starred in multiple reality TV shows
Since leaving the WWE, Ouellet has forged quite the successful career as a reality TV star. She made her debut in 2015 on E! network's Wags, which followed the professional and personal lives of the wives and girlfriends of several sporting stars. Ouellet has since gone on to star in Total Diva's, a 2016 -2018 series which gave viewers an inside peek into the personal lives of several WWW female wrestlers, and most recently, Miz & Mrs., a series dedicated to the exploits of Ouellet and husband Mike. In April 2019, USA Network renewed Miz & Mrs. for a second series.
8. She's a vegetarian
Ouellet's love of animals extends to full-on vegetarianism… a dietary choice she tried to convince her husband to adopt during filming of reality TV show, Total Divas. During a trip to a farm, Oullet challenged the carnivorous Mike to go a full week without indulging his meat-eating ways. If he succeeded, she would then eat anything he asked her to. The Miz accepted the task on the condition Oullett accepted one of her own. "If you have just the tiniest piece of red meat to prove to me that you will go through with this, I will do an entire week of being a vegetarian," he countered.
9. She's a video game star
Gaming fans will be delighted to know Ouellet appears in a total of five WWE games. She made her debut in WWE Smackdown vs. Raw 2010 and has subsequently gone on to feature in WWE Smackdown vs. Raw 2011, WWE '12, WWE 2K18 and most recently, WWE 2K19.
10. She's building a business empire
Since quitting wrestling, Ouellet has turned her hand to business. In 2014, she returned to school to get her real estate license, and subsequently started working for a Los Angeles realtor. "It's going really well and I love it. That's the career path I'm in right now", she revealed to WWE. "I love everything related to business. That's my field, besides entertainment, which I'm really good at". If a career in real estate wasn't enough, she's also founded her own clothing and jewelry line, the House of Maryse.