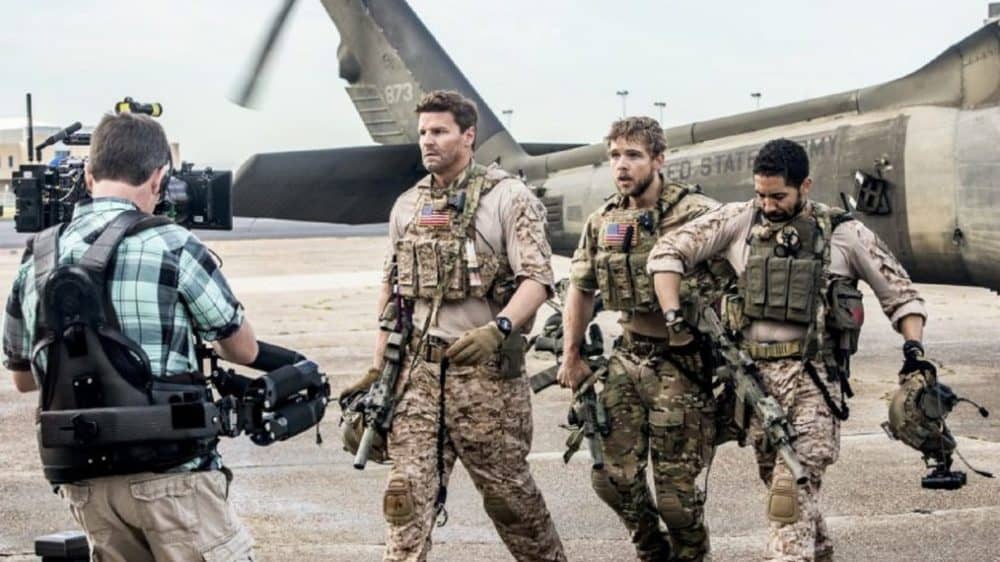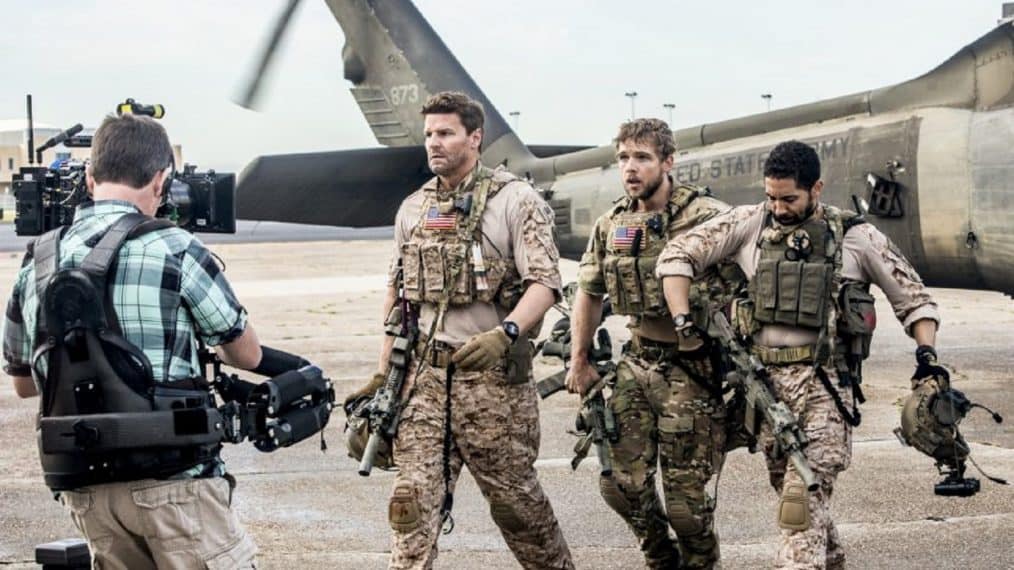 As entertaining as military procedurals go, it's easy to get lost in the sea of them out there. Thank goodness for David Boreanaz and the rest of the cast of SEAL Team because they're exactly what set this TV show apart from all the rest. SEAL Team may not be changing the world of TV, but at the very least it's keeping us interested. Here's the SEAL Team cast that's keeping this show alive.
David Boreanaz
Any TV fan should know who Boreanaz is or at least know how he looks like. Boreanaz has been starring in many popular shows for at least 20 years now. Let's start it off with Buffy the Vampire Slayer, where he played the character Angel for 6 years. He then got his own spinoff, and he continued to play the character for another 5 years. Right after that, he went on to star in Bones as Seeley Booth alongside Emily Deschanel. The successful show lasted for 12 seasons, and right after the show ended in 2017, Boreanaz went right into SEAL Team.
Max Thieriot
If there was ever an understated actor more than Max Thieriot, we sure would like to know. This talented actor has been around since he was a young teenager. His first acting credit was the 2004 kid film, Catch That Kid. He went on to star in a few blockbuster films after that: The Pacifier (2005), The Astronaut Farmer (2006), Nancy Drew (2007), Jumper (2008), and Kit Kittredge: An American Girl (2008) among a few others. His first TV work came in 2015, but it wasn't until he joined the cast of Bates Motel from 2013 to 2017 that he really took to TV.
Jessica Paré
This Canadian actress had been acting long before she broke into the Hollywood scene. We first saw her as Josh Hartnett's fiancée in Wicker Park (2004), but she's since wowed us with performances in movies such as Brooklyn (2015) and the famous TV series Mad Men where she played the role of Megan Draper. She plays Mandy Ellis in SEAL Team, a CIA agent who works as an analyst for Bravo Team. Paré's performance has been more than satisfactory so far, and we'd have to say that this kind of action role suits her very well.
Neil Brown Jr.
Here's another accomplished actor that we rarely hear about. Brown has about 60 acting credits to his name dating all the way back to 1995. Some of his credits include guest appearances in TV shows such as ER, Everybody Hates Chris, Army Wives, Castle, Weeds, Suits, and NCIS among many others. This talented actor also happens to be a martial arts expert. Aside from being an actor, he's also a stuntman and stunt choreographer.
A.J. Buckley
Irish actor Alan John Buckley is the perfect cast for Sonny Quinn in SEAL Team. This highly experienced actor and director has been around TV for a long time. Some of his credits include CSI: NY, Supernatural, Justified, The Mentalist, Hawaii Five-O, Narcos, and Blue Bloods. He's also done quite a number of voice acting throughout his career. His most recent voice acting work was as Nash in The Good Dinosaur (2015). While he's concentrating on SEAL Team at the moment, Buckley is the type of actor that will never stop picking up roles along the way.
Toni Trucks
Trucks has done quite a few memorable roles since she started professionally acting in 2001. She's quite a trained actress having attended some prestigious acting schools including the Interlochen Arts Academy and the University of Michigan's Musical Theater Program. Some of her more famous roles include Terri from Barbershop, Mary from The Twilight Saga: Breaking Dawn – Part 2, Anita Haskins from Franklin & Bash, Deputy Sheriff Janelle Farris from Grimm, and as CGIS Agent Joan Swanson from NCIS: New Orleans.
Judd Lormand
If Lormand seems familiar to you, it's probably because he has a tendency to take on similar types of acting roles. He often takes on law enforcement roles. Throughout his career, he's been a local deputy, a chief, and officer a few times, a detective, a lieutenant, an investigator, a sergeant, and an agent. In SEAL Team, Lormand plays the role of the formidable Lt. Commander Eric Blackburn—someone you don't want to mess with. Lormand's other acting credits include Geostorm (2017), Jack Reacher: Never Go Back (2016), Pitch Perfect (2012), and The Hunger Games (2012) among many others.