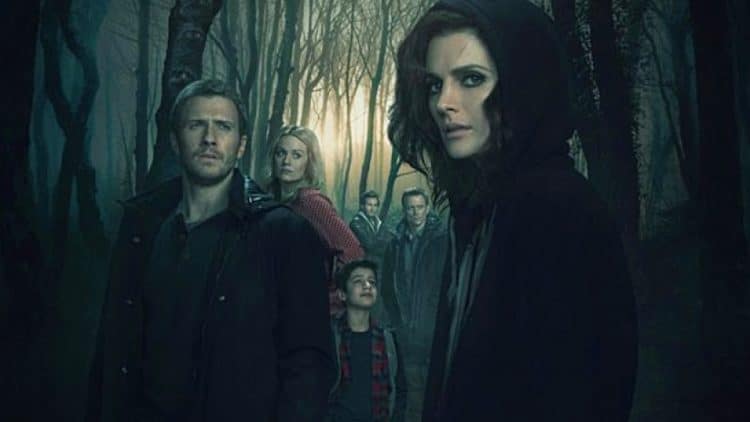 On September 25, 2017, a new thriller hit our screens. AXN's Absentia immediately had the nation hooked with its tense plotlines and gritty action. The show tells the story of Emily Byrne, an FBI agent who mysteriously disappeared during an investigation into a series of high-profile killings. Emily is presumed dead, and slowly, those around her begin to move on with their lives. 6 years after her disappearance, Emily is found alive (if not necessarily well) in a cabin in the woods. With no memory of what's happened to her, Emily returns home, only to find herself on the run again after she's implicated in a new series of murders. If you're one of the show's many fans and want to know more about the actors behind your favorite characters, keep reading.
Stana Katic
Prior to joining the cast of Absentia as lead character Emily Byrne, Canadian actress Stana Katic was best known for playing Kate Beckett on the ABC crime series, Castle. Katic's contract with Castle ended in 2016 ahead of a potential 9th season; whether by coincidence or design, the series never made it to the promised 9th run, with news of its cancellation following hot on the heels of Katic's departure. Outside of her acting, Katic is a budding entrepreneur and environmentalist, having founded the energy-conservation initiative The Alternative Travel Project in 2010.
Patrick Heusinger
Florida born Patrick Heusinger is best known for his roles in Girlfriends' Guide to Divorce, Gossip Girl, Royal Pains and of course, Absentia. He's also appeared in several web series, including Jack in a Box in 2009 and Submissions Only in 2010-2011. Heusinger has played the character of Special Agent Nick Durand, Emily's husband, and fellow FBI agent, since the show's premiere in 2017.
Cara Theobold
Cara Theobold is an English actress who trained at the renowned Guildhall School of Music and Drama before earning her big break in the hit UK period drama series, Downton Abbey. In addition to her roles in TV and film, Theobold is also known for her voice-work, with credits including Tracer in the video game Overwatch. In Absentia, Theobold plays the character of Alice Durand, Nick's second wife and step-mother to Flynn. Although initially welcoming to the returned Emily, Alice's attitude changes when she feels Nick's affections are in danger of turning.
Neil Jackson
Absentia's Jack Byrne, Emily's older stepbrother whose life took a downward spiral after Emily's disappearance, is played by English actor Neil Jackson. The 43-year-old Jackson has starred in numerous TV and films since he started in the industry in 2002, including Alexander, Push, Quantum for Solace and Person of Interest. He's also a talented screenwriter whose credits include The Passage, a 2007 horror film directed by Mark Heller.
Angel Bonanni
The character of Tommy Gibbs, an unyielding detective who teams up with Nick to hunt Emily down, is played by Uruguay born Israeli model, Angel Bonanni. Prior to landing the Absentia gig, Bonanni was best known for his roles in False Flag (2015) and Shots Fired (2017).
Bruno Bichir
Mexican actor Bruno Bichir takes the role of Daniel Vega, an FBI psychologist who works closely alongside Emily as she attempts to put her life back together and find her abductor. Bichir started his acting career at the age of 5 and is best known for his work in A Breakfast Chronicle, which earned him an Ariel Award nomination for Best Actor, and Don't Tempt Me, for which he was nonmined for Best Bichir in a Film at the MTV Movie Awards-Mexico.
Paul Freeman
76-year-old actor Paul Freeman's extensive work in the theater has seen him described by the Los Angeles Times as "one of Britain's best-regarded actors, classically trained, with stints at the Royal Shakespeare Company and the National Theatre". That's not to say he's neglected other entertainment outlets: his film and TV credits include such hits as Hot Fuzz (2007), A Fantastic Fear of Everything (2012) and High Strung (2016). In Absentia, Freeman plays Emily's stepfather and retired police officer, Warren Byrne.
Ralph Ineson
Taking the part of Adam Radford, a Special Agent who heads up the manhunt of Emily after she turns fugitive is Ralph Ineson. The English actor achieved international recognition as Dagmer Cleftjaw in Game of Thrones, Amycus Carrow in the Harry Potter franchise and as Colonel Ansiv Garmuth in Star Wars: The Last Jedi.
Christopher Colquhoun
Prior to joining the cast of Absentia, RADA-trained actor Christopher Colquhoun was best known for his reoccurring roles in the UK hospital drama shows, Holby City and Casualty. In Absentia, he tackles the part of Special Agent Derek Crow, an FBI agent who takes charge of the Boston Field Office after the death of Special Agent Adam Radford.
Patrick McAuley
Child actor Patrick McAuley stars as Flynn, Emily's 9-year-old son who has no memory of his returned mother and initially struggles to bond with her. In addition to his work on Absentia, 14-year-old McAuley has featured in The Conjuring 2 (2016) and The Hurricane Heist (2018).
Lydia Leonard
Lydia Leonard takes the role of journalist Logan Brandt / Laurie Colson, who becomes involved in the action after leading an investigation into Emily. The 37-year-old actress was born in France but moved to the UK at the age of five. She subsequently trained at the Bristol Old Vic Theater School and cut her teeth playing Anne Boleyn in the Royal Shakespeare Company's production of Hilary Mantel's Wolf Hall.
Richard Brake
Richard Brake plays Conrad Harlow, a reclusive banker who was implicated in the serial killings Emily was investigating prior to her disappearance, imprisoned for her kidnapping and suspected murder, and subsequently pardoned and released on her re-appearance. Brake is best known for his roles in Doom Head (2016) and Mandy (2018). He's also enjoyed supporting roles in Games of Thrones and Batman Begins (2005).
Matthew Le Nevez
Special Agent Cal Isaac, a sympathetic and loyal friend to Emily, is played by Matthew Le Nevez. The Australian actor is best known for playing Doctor Patrick Reid in the TV series Offspring and Detective Brian Dutch in The Kettering Incident.
Natasha Little
Taking the part of Special Agent Julianne Gunnarsen, a new addition to the Boston Field Office who's recognized for her superior profiling skills, is Natasha Little, an English actress known for her roles in Another Life, The Night Manager, and Thirteen.