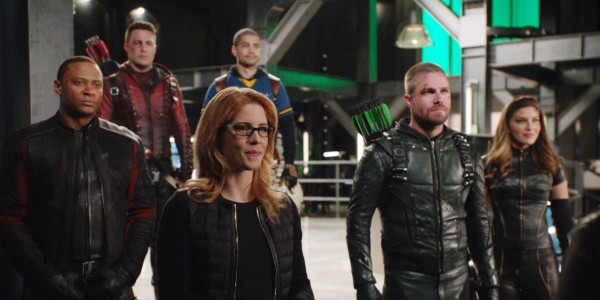 The new season of The CW's Arrow premiered on October 15, and it's already got all the hallmarks of being one of the best ever. Unfortunately, it's also set to be the last. After 7 seasons, Arrow will be departing our TV screens for good at the end of season 8. But for now, there's still plenty of action-packed adventure left to enjoy. Find out which characters will be making an appearance in the upcoming episodes with our who's who guide to the cast of Arrow season 8.
Stephen Amell as Oliver Queen / Green Arrow
Reprising his starring role as Oliver Queen / Green Arrow is Canadian actor and producer, Stephen Amell. Since making his acting debut in Queer as Folk in 2004, Amell has enjoyed a prolific career spanning both TV and film, with roles in the likes of Private Practice (2012), Hung (2011), Heartland (207-2012), Code 8 (2019), Teenage Mutant Ninja Turtles: Out of the Shadows (2016), and Mi Madre, My Father (2018). Off-screen, he's developed something of a reputation as a philanthropist and has hosted a number of successful fundraising campaigns via Represent.Com. After divorcing his first wife Carolyn Lawrence in 2010, Amell remarried in 2012. He and his second wife, Cassandra Jean, welcomed a baby daughter into the family in 2013.
David Ramsey as John Diggle / Spartan
Reprising his role as John Diggle / Spartan is the 47-year-old American actor, David Ramsey. Ramsey's big break came in 1997 with his role as pastor David Randolph in the UPN sitcom Good News (1997-98) . He's since starred in numerous TV shows, with his most notable performances coming in All of Us (2005), The West Wing (2006), CSI: Crime Scene Investigation (2006), Ghost Whisperer (2005-08), Wildfire (2008), Dexter (2008-09), Blue Bloods (2011-17), and Hollywood Residential (2008). His character of John Diggle / Spartan, meanwhile, has appeared in various cross-over episodes of The Flash (2014-18), DC's Legends of Tomorrow (2016-17), and Supergirl (2018).
Rick Gonzalez as Rene Ramirez / Wild Dog
Rick Gonzalez (who stars as Rene Ramirez / Wild Dog) took his first steps in acting when he won a minor part in the made for television movie Thicker Than Blood (1998). From there, he landed the role of a gangbanger in 2001's Crocodile Dundee in Los Angeles, Rudy Bonilla in The Rookie, and Primo in the 2003 movie Biker Boyz. His career since then has spanned both TV and film, taking in the 2003 comedy Old School, Laurel Canyon (2003), Subway Cafe (2004), War of the Worlds (2005), Roll Bounce (2005), Pulse (2006), First Snow (2006), Illegal Tender (2007), and What We Do Is Secret (2007). Outside of acting, Gonzalez has a keen interest in music, releasing a mixtape in 2011 and featuring on the track "Bully Rap" on Sean Price's 2012 album, Mic Tyson.
Juliana Harkavy as Dinah Drake / Black Canary
Back as Dinah Drake / Black Canary is Juliana Harkavy, an American actress, writer, and singer. Prior to becoming a series regular on Arrow, Harkavy was best known for her performances as Rebecca in Dolphin Tale and Dolphin Tale 2, Jessie in To Write Love on Her Arms, and Alisha in The Walking Dead.
Katherine McNamara as adult Mia Smoak
Reprising her role as the adult version of Mia Smoak is American actress Katherine McNamara. Since beginning her career on Broadway in a production of A Little Night Muse, McNamara has appeared in the likes of Drop Dead Diva, 30 Rock, New Year's Eve, and Happyland, although she's perhaps best known as Clara Fray in Shadowhunters. She can next be seen in the CBS All Access limited series adaptation of Stephen King's The Stand, which is currently set for a 2020 release.
Ben Lewis as adult William Clayton
Season 8 sees Ben Lewis' character of William Clayton move from a recurring role to a series regular. Prior to his casting in Arrow, Lewis was best known for his roles in Scott Pilgrim vs. the World (2010), and Zero Recognition (2014). He's been married to fellow actor Blake Lee (Parks and Recreation (2009), Mixology (2013) and Wisdom of the Crowd (2017)) since 2016.
Joseph David-Jones as adult Connor Hawke
20-year-old actor Joseph David-Jones takes on the role of adult Connor Hawke. After graduating from the University of Kentucky with a bachelor's degree in mechanical engineering, Jones landed his first acting job as Kilo Doss in an episode of America's Most Wanted: America Fights Back. Since then, he's appeared in Intelligence (2014), Hysteria (2014), Legends of Tomorrow (2016), Medal of Honor (2018), and as the recurring character of Clayton Carter in 14 episodes of Nashville.
LaMonica Garrett as Mar Novu / the Monitor and Anti-Monitor
Reprising his role as Mar Novu / the Monitor and Anti-Monitor is LaMonica Garrett. His TV debut came in 2008 in the TV series, One Tree Hill. After winning minor roles in TV shows like Hawthorne, CSI: Miami, and NCIS, as well as films like Transformers: Dark of the Moon, he landed his big break with the recurring role of Deputy Sheriff Cane on FX's Sons of Anarchy (2011- 2014). In 2016, he starred as Mike Ritter in Designated Survivor, and in 2018 he appeared in several episodes of Supergirl. Earlier, this year, it was announced that the popularity of Garret's character of Mar Novu / the Monitor and Anti-Monitor had won him the chance to reprise the character in the "Crisis on Infinite Earths" crossover.
Katie Cassidy as Laurel Lance / Black Canary
After coming to the public's attention as a modern-day scream queen in horror films such as When a Stranger Calls (2006), Black Christmas (2006), Harper's Island (2009), A Nightmare on Elm Street (2010) and the third season of the horror series, Supernatural (2007–08), actress Katie Cassidy landed her big break in 2012 with her casting as Laurel Lance / Black Canary in Arrow. She's since appeared as the character on The Flash and Legends of Tomorrow, and lent her vocal talents to an animated version of Black Canary in the animated web series Vixen. Although she's now concentrating fully on acting, Cassidy has briefly dabbled with music in the past, recording a cover version of "I Think I Love You," which had previously been a hit for her father and his made for television band, The Partridge Family.