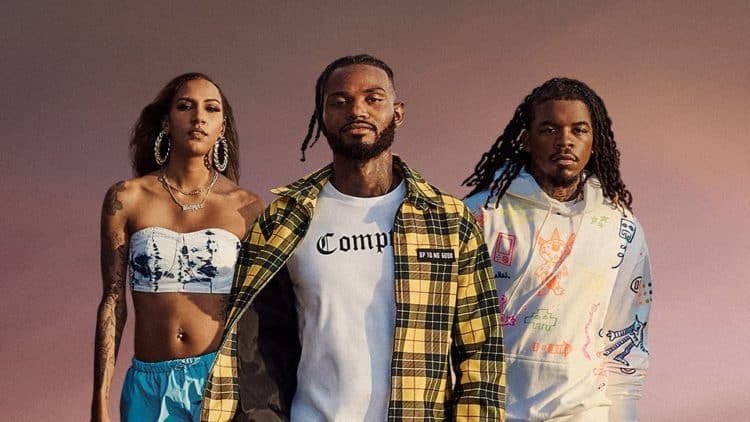 VH1's latest spin off of "Black Ink Crew" takes place in the rough town of Compton, California. The third spin off of VH1's realty show revolving around tattoo parlors premiered July 30 with a two hour special. Mostly known for its gang violence and crime during the 1980's and early 1990's, Compton, the city just south of downtown Los Angeles, is also known for its rap music scene. Today, Compton is a major center for musicians and street artists. Danny "KP" Kirkpatrick's tattoo shop IAM Compton is featured in this latest version of the successful tattoo shop reality show. As with "Black Ink Crew Harlem" and "Black Ink Crew Chicago", the rap and tattoo artist hopes to prove that he and his crew can help inspire the art of his hometown. Of course with a mixture of personalities and dynamics, "Black Ink Crew Compton" will be a great source of entertainment. Meet the crew of "Black Ink Compton".
Danny KP Kirkpatrick
Danny Kirkpatrick was raised in Compton. The 32 year old rap star and tattoo artist remembers going up in Compton with its gang violence, the Blood and Crips and the 1992 LA riots. Kirkpatrick was driven to become a rap singer and songwriter. Along the way he found his talents as a tattoo artist. Just a decade ago, the talented Kirkpatrick began a career as an actor. He was in the 2008 television series "Mystery ER" and starred in a film short, "Decent People". In 2011, Kirkpatrick released his album and video, "I Am Compton" in honor of his hometown. He also voiced a character in a video game. Kirkpatrick has proven himself as a successful tattoo artist. His clients have included Diddy and Taraji P. Henson. In the premier of "Black Ink Compton", Kirkpatrick opens the first tattoo parlor in the city of Compton. He brings in talented tattoo artists including his protege Ink Drippin, his girlfriend (maybe wife) actress Kyla Pratt and his cousin and business partner Tim. The cast also includes tattoo artist Lemeir, his girlfriend Danielle and friend Nessie. Tattoo artist apprentice Vudu Dahl and receptionist Barbie round out the cast. Kirkpatrick's goal with IAM Compton is to bring art to a sometimes dangerous community and create a "safe zone" with his talented crew.
Kyla Pratt
Kyla Pratt was a child actress. She is most famous for her roles in Eddie Murphy's "Dr. Doolittle" movie series and as Penny Proud in Disney's first animated series "Proud Family" which aired from 2001 to 2005. Kyla has been with Danny Kirkpatrick since 2005. The couple became engaged in 2011. Rumor has it they recently married. They have two children. Lyric was born in 2010 and Liyah was born in 2011. As Kirkpatrick's silent business partner and investor in IAM Compton, Pratt brings her dynamic personality and attitude to "Black Ink Crew Compton".
Tim
Tim appears on "Black Ink Crew Compton". He's Danny DP Kirkpatrick's cousin and is IAM Compton's shop manager. Tim grew up in Compton with Kirkpatrick. He was a member of a gang and remains affiliated but is not an active member. Tim played football in high school and college which helped steer him away from gang violence. He continued to play football in college and played professionally for a minor team. When Tim returned to Compton, he was inspired by his cousin's music talent and career. Tim brings his business skills to IAM Compton and helps Kirkpatrick and Pratt run the business. Tim also has street cred which helps connect with the people of Compton.
Ink Drippin'
Ink Drippin' is a tattoo artist at IAM Compton. He's also a protege of Danny KP Kilpatrick and also grew up in Compton. Ink Drippin' is a talented tattoo artist and a handsome playboy. He helped his single mother raise his younger siblings. After a bad car crash, Ink Drippin' decided pursue art full time because he realized life is short. He always admired Danny KP Kirkpatrick for his music and art talents. Ink Drippin' thinks of Kirkpatrick as an older brother and is happy to work along side him.
Lemeir
Lemeir grew up on the tough streets of Philadelphia. His dad was in jail, and after his brother died in a car crash, Lemeir moved to Los Angeles to pursue his business dreams. Leimeir knew he had a lot of talent in business and art. He moved to Los Angeles and started Happy Ice Food Trucks. The franchise features tie dyed trucks that serve food, ice cream, shaved ice and frozen yogurt. The business has been a success. Stars like Angelina Jolie and Ellen DeGeneres are fans. After meeting Danny KP Kirkpatrick at a tattoo convention, he joined him in opening IAM Compton. Lemeir returns to Philadelphia to reconnect with his mother, who's ill, and his estranged dad.
Danielle
Lemeir's girlfriend, Danielle, is a recurring character on "Black Ink Crew Compton". She is also Lemeir's business partner in Happy Ice Food Trucks. Danielle and Lemeir have an on and off relationship which is often dramatic. She is also pregnant with his baby.
Nessie
Nessie is a good friend of Lemeir's from Philadelphia. She is a talented lyricist, muralist and tattoo artist. Nessie once wanted to become a doctor, but she found her dream job as a tattoo artist. It's tough for a woman to succeed as a tattoo artist because it's very male dominated. Nessie tries to break through the sexist barrier and enhance women's empowerment.
Vudu Dahl
Vudu Dahl is another woman that must work through the sexism of the tattoo industry. She was born and raised in Seattle and was part of a religious cult as a child. She escaped that life and moved to Venice, California where she realized her dream of pursuing a career as a tattoo artist. She works as a tattoo apprentice at IAM Compton. She brings a different vibe to the shop because her artwork is all about enhancing the female body. Dahl, a bisexual, is covered in tats. She brings a whole new wild clientele to the shop.
Barbie
Rounding out the cast is IAM Compton's sassy and stylish receptionist. Barbie is a longtime friend of Kirpatrick. She had a tough life growing up in Compton. She was raised by her grandparents and dad after her young mom left. She witnessed gun violence and domestic abuse. She's tough and strong and brings order to the front desk of IAM Compton.