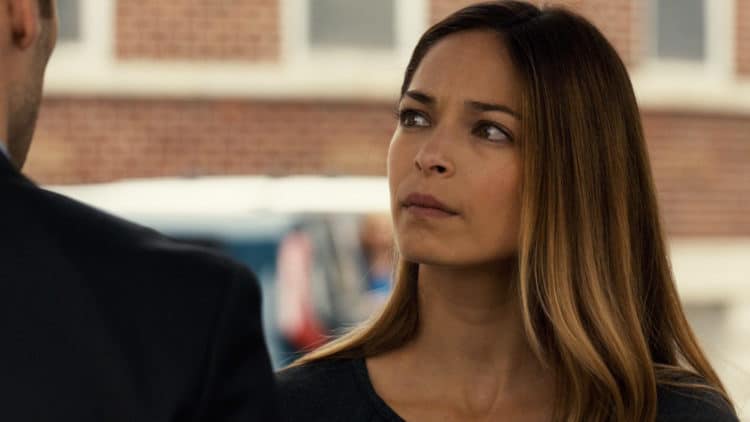 On January 10, 2018, we were introduced to CBC's newest offering, the thrilling Burden of Truth. The show (which is now in its second season) gave us Joanna Chang, a hot-shot cooperate attorney who returns to her hometown of Millwood to represent a pharmaceutical company in a case involving a group of girls suffering from a mysterious illness. After realizing the girls are more in need of her help than the pharmaceutical company, Chang switches allegiance and sets out to uncover the truth. The series, which stars Kristin Kreuk as Joanna, features a supporting line- up of some of Canada's hottest acting talents. To find out more about the show's stellar cast, keep reading.
Kristin Kreuk as Joanna Chang
Taking the lead role of attorney Joanna Chang is Canadian actress Kristin Kreuk. Kreuk began her career in the teenage soap opera, Edgemont. From there, she landed the titular role on ABC's TV movie, Snow White: The Fairest of Them All, and in 2014, the role of Tenar in the Sci-Fi Channel's Earthsea. She's subsequently enjoyed TV success in Smallville (2001-2009), Ben Hur (2010), Chuck (2010) and Robot Chicken (2015) and starred in films such as Street Fighter: The Legend of Chun-Li (2009), Irvine Welsh's Ecstasy (2011) and The Emissary (2017). In recent years, Chang has courted controversy after her involvement in the sex-trafficking "cult" NXIVM was revealed. Fellow Smallville actress, Allison Mack, is currently awaiting sentencing for her part in the group's nefarious activities, but Chang has escaped unscathed after revealing she's had no contact with any of the cult's members since leaving over five years ago.
Peter Mooney as Billy Crawford
The part of Billy Crawford, a lawyer who works alongside Joanna to uncover the conspiracy, is played by Canadian actor, Peter Mooney. Mooney began honing his craft at the Manitoba Theatre for Young People, before graduating from the National Theatre School of Canada in 2004. After a few minor roles in such features as The Artists (2006), Absolution (2006) and Run Robot Run! (2006), Mooney got his big break playing Dr. Adrian Keeper on ABC's Falcon Beach. From there, he earned a Canadian Screen Award nomination for best actor in a supporting role for his work as a series regular on Camelot, and another nomination for Male Action Performer of the Year in 2013 for playing Jack in The Proposal. Outside of acting, Mooney is a noted philanthropist, having participated in the Charity Challenge trek to Machu Picchu for UNICEF Canada.
Star Slade as Luna Spence
Staring as Joanna's resourceful assistant and Molly Ross's girlfriend, Luna Spence, is Star Slade. The Canadian actress is best known for Frontier (2016), and Emerald Code (2017). As well as being a talented actress, Slade is a trained ballet dancer who's shown of her star credentials in numerous musical productions, including Forgotten, Best of Broadway, 12 Angry Jurors, and Kaleidoscope.
Nicola Correia-Damude as Diane Evans
School counselor and long-time friend of Joanna, Diane Evans, is played by the Toronto based actress, Nicola Correia-Damude. As a graduate of the Etobicoke School of the Arts, Studio 58, and the Birmingham Conservatory for Classical Theatre, Correia-Damude has combined a successful career in the theatre (credits include Coriolanus, Much Ado About Nothing, Serious Money and The Women and Albertine) with an equally successful one in TV. Prior to landing Burden of Truth, Correia-Damude was best-known as Maryse Lightwood on Shadowhunters, Ada Turning on Annedroids, Renee in Republic of Doyle, Sgt. Pamela Blake on Private Eyes, and Tess Carter on Remedy, a role that bagged her a Canadian Screen Award nomination in 2016.
David Lawrence Brown as Ben Matheson
David Lawrence Brown plays Ben Matheson, father to one of the sick girls and the owner of the town's mill. Brown's 20 years in the industry have included such highlights as the psychopathic serial killer Gary Ridgway in The Riverman, hitman Sergei in the feature film The Hitman Never Dies, and the bitter Sheriff Logan in The Pinkertons. Outside of acting, Brown fronts up rock band Boss Logan, and according to his IMDB profile, is currently writing a web series exploring joke-theft in standup comedy.
Meegwun Fairbrother as Owen Beckbie
Meegwun Fairbrother stars as the police officer, Owen Beckbie. The Canadian native spent his childhood on numerous First Nations communities across Northern Ontario, before moving to Ontario at the age of 13 to complete his education. Since graduating from the acting conservatory at York University, Fairbrother has enjoyed success with APTN's Mohawk Girls, Syfy's Helix, and his self-directed short, Sweet Dreams.
Anwen O'Driscoll as Taylor Matheson
The role of Ben Matheson's daughter, Taylor Matheson, is taken by actress Anwen O'Driscoll. O'Driscoll began her career performing in various productions at Lindsay Little Theatre before graduating to the big league with roles in October Faction (2018), Honey Bee (2018), and of course, Burden of Truth.
Sara Thompson as Molly Ross
Starring as Billy Crawford's niece and Luna's girlfriend, Molly Ross, is Sara Thompson, an actress best known from her roles in Night Hunter (2018) and Make it Happen (2018).
Michelle Nolden as Teddie Lavery
Canadian actress Michelle Nolden joined the cast of Burden of Truth in season 2 as Teddie Lavery, Joanna's boss at Steadman Lavery. Nolden's 20-year career has taken in roles in ZOS: Zone of Separation, Numb3rs, Street Time, Earth: Final Conflict, The Time Traveler's Wife, Men with Brooms, and Republic of Doyle (among others). In addition to her success as an actress, Nolden has also won acclaim as a writer and director.
Varun Saranga as Noah
Season 2 of Burden of Truth introduces us to Joanna's new client, Noah, played by Canadian actor Varun Saranga. Saranga developed an interest in acting at the Woburn Collegiate Institute, where he directed and starred in several student productions. Since graduating, he's enjoyed success with such roles as the geeky AJ Mehta on How to Be Indie, lab assistant Jeremy Chetri on Wynonna Earp, and Vijay Gill on AXN/Bravo Canada's Carter.