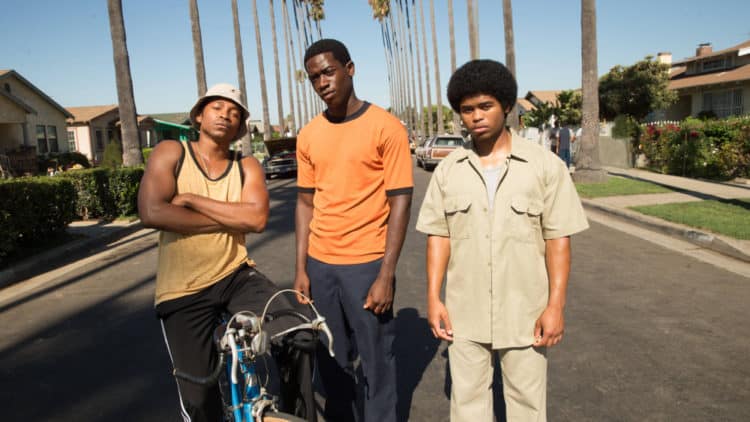 Crime drama series Snowfall has been keeping us gripped since it first started broadcasting back in July 2017. The character-driven plot revolves around the first crack epidemic to hit LA in the early 1980s, telling the inter-weaving stories of the numerous characters involved, from teenage drug dealers to CIA operatives. The third season of the show premiered on FX on July 10, 2019, and if early indicators are anything to go by, it's set to be an explosive run. To find out more about the show's ensemble cast, keep reading.
Damson Idris as Franklin Saint
Taking the role of 19-year-old drug dealer Franklin Saint is 27-year-old actor Damon Idris. The English actor began his career in the stage production of Pandora's Box. After several years in theater, Idris made the move into TV and film, taking on minor roles in shows such as Miranda (2013), The Missing (2014), and Doctors (2015). Snowfall represents his first major TV role. As part of the auditioning process, London-born Idris had to prove he had the chops to play an American- something which, as UpClosed reports, he managed by studying and emulating the accents of his acting heroes, Denzel Washington, and Michael B Jordan.
Carter Hudson as Teddy McDonald
Carter Hudson takes on the role of Teddy McDonald, a CIA operative working undercover. Prior to Snowfall, Hudson was best known for his roles in A Crime to Remember (2013), and The Night of (2016). On the home front, Hudson is married to actress Hollye Hudson, star of such films as Art Machine (2012) and Mary Last Seen (2010).
Emily Rios as Lucia Villanueva
Playing Lucia Villanueva, the daughter of a Mexican crime lord, is Emily Rios. Prior to her role in Snowfall, the actress was best known as Andrea Cantillo in Breaking Bad. She's also enjoyed recurring roles in Friday Night Lights, Men of a Certain Age, The Bridge and From Dusk till Dawn: The Series. Her film career, meanwhile, has consisted of small roles in movies such as Paint it Black (2016), Big Mommas: Like Father, Like Son (2011), and Pete Smalls is Dead (2010).
Sergio Peris-Mencheta as Gustavo "El Oso" Zapata
Starring as Mexican Luchador Gustavo "El Oso" Zapata is Spanish actor Sergio Peris-Mencheta. The 44-year-old has worked largely on Spanish TV but has also featured in several English-speaking films, including The Borgia (2006), Resident Evil: Afterlife (2010), Life Itself (2018), and Rambo: Last Blood (2019).
Isaiah John as Leon Simmons
Starring as Franklin's best friend, Leon Simmons, is actor Isaiah John. Hailing from Georgia, Atlanta, John began acting as a student, and has since gone on to work on numerous short films, TV series and films. According to his IMDB profile, John is also building a promising career behind the lens, having worked as part of both sound and production crews.
Amin Joseph as Jerome Saint
Taking on the part of Jerome Saint, Franklin's uncle, is 39-year-old actor Amin Joseph. Since making his debut in Rage and Discipline, Joseph has enjoyed a prolific career in both TV and film, taking in roles in such TV shows as CSI: Miami, Shark, Sons of Anarchy, Southland, The Protector, and Mob City, and in films such as Baywatch, The Expendables, The Mist and The Gambler.
Angela Lewis as Aunt Louie
Playing Jerome's put-upon girlfriend, Aunt Louie, is actress Angela Lewis. In addition to her role on Snowfall, Lewis is known for Code Black (2015) and Top Five (2014).
Michael Hyatt as Cissy Saint
Featuring as Franklin's mother, Cissy Saint, is British born actress, Charlene "Michael" Hyatt. Hyatt began honing her acting skills in University while working as an assistant to Spike Lee, and has since built a successful career in theatre, TV, and film. Her somewhat unusual nickname, Michael, was bestowed on her as a child after she became infatuated with legendary pop star, Michael Jackson.
Judith Scott as Claudia Crane
The part of Claudia Crane, the owner of an LA nightclub, is taken by Judith Scott. The talented actress's list of credits includes recurring roles on 24, CSI: Crime Scene Investigation, and Dexter, and guest appearances on such shows as Numbers, Family Law, Judging Amy, The X-Files, and Crossing Jordan.
Alon Aboutboul as Avi Drexler
Playing the role of drugs and arms dealer, Avi Drexler, is Israeli actor Alon Aboutboul. Aboutboul got his start in the industry in the Israeli film Hapnimiyah. He's since built an impressive body of work that spans both his home country and the US. His performances have earned him several awards, including the IFFI Best Actor Award at the 44th International Film Festival of India.
Kevin Carroll as Alton Saint
Taking on the role of Alton Saint, Franklin's estranged father, is Kevin Carroll, an actor best known for The Leftovers (2014) and Sacred Lies (2018).
Reign Edwards as Melody Wright
Starring as Melody Wright, Franklin's on-again, off-again girlfriend, is actress Reign Edwards. Edwards is perhaps best known for her recurring role as Nicole Avant in the soap opera, The Bold and the Beautiful, a part that earned her 3 Daytime Emmy Awards nominations for Outstanding Younger actresses in 2016, 2017, and 2018.
Jonathan Tucker as Matt McDonald
Appearing as Matt McDonald, Teddy's brother, is Jonathan Tucker. Since getting his start in the industry in such films as Troublemakers (1994), Sleepers (1996), and The Virgin Suicides (1999), Tucker has become best known for his roles in TV shows like Parenthood (2011-2013), Justified (2015), American Gods (2017), and Westworld (2018). His appearance on the drama series Kingdom, meanwhile, earned him a Best Supporting Actor nomination by Entertainment Weekly, and the praise: "One of the most underappreciated actors on one of the most underappreciated shows, Jonathan Tucker's turn as Jay Kulina is one of the most electric performances on television."
Adriana DeGirolami as Soledad
Playing the part of Soledad, Pedro's fiancé and undercover agent, is Adriana DeGirolami. Known for her roles in You're the Pest (2016) and Law & Order: Special Victims Unit (1999), the talented actress is also building a career behind the camera, having written and directed the short film Pat and Penelope and the YouTube sensation, Abuela Votes!
DeRay Davis as Peaches
Featuring as Peaches, Jerome and Franklin's bodyguard, is actor DeRay Davis. As well known for his comedic routines as he is his acting, Davis began his career in comedy clubs before branching out into TV. Since then, he's become famous for his skits on several Kanye West albums, and for his appearances in music videos for both West and numerous other hip-hop artists.