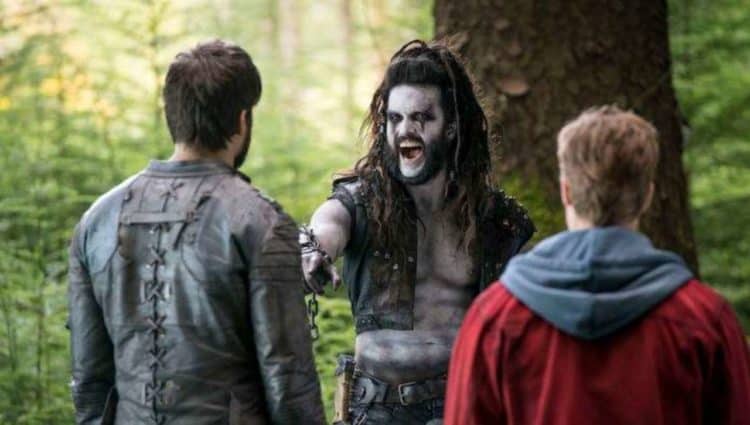 On March 21, 2018, Syfy launched its newest offering, Krypton. Set on the plant of Krypton around 200 years before the birth of its most famous son, Superman, the series focuses on the latter's grandfather, Seg-El (played by Cameron Cuffe). The show proved an instant hit with comic book fans, and in May 2018, was renowned for a second outing. The first episode of season 2 premiered on June 12, with most of the cast from season 1 back for a second helping of extra-terrestrial fun. There have also been one or two new additions to the cast, including the English actor Emmet J Scanlon. To find out who he plays (and who he joins), keep reading.
Cameron Cuffe
English actor Cameron Cuffe takes the role of Seg-El, a member of the House of El and future grandfather of Superman. Prior to being cast in Krypton, Cuffe was best known for starring alongside the legendary Meryl Streep in Florence Foster Jenkins and playing William Shannon in the British drama series, The Halcyon. Outside of TV and film, the 25-year-old actor is most recognizable to gamers as the voice of Zach in the extreme sports video game, Sleep.
Georgina Campbell
Taking the role of Lyta-Zod, Primus of the Kryptonian military guild and one-time lover of Seg-EL, is British actress Georgina Campbell. Since graduating with a degree in film studies from Royal Holloway, University of London in 2014, the 27-year-old actress has starred in numerous TV shows and films, including Casualty, Holby City, Doctors, Death in Paradise, Flowers, and Broadchurch. She's perhaps best known for the one-off drama, Murdered by My Boyfriend (2014), for which she won a BAFTA TV Award for Best Actress in 2015.
Shaun Sipos
Shaun Sipos plays the part of Adam Strange, a human who travels back in time from the future to tell Seg-El about his future grandson, Kal-El/Clark Kent/ Superman. The 37-year-old Canadian actor has numerous film and TV credits to his name, including Dark Matter (2016), The Vampire Diaries (2013-2014), Life Unexpected (2010-1011), The Babymoon (2017), Texas Chainsaw 3D (2013) and The Grudge 2 (2006)
Anne Ogbomo
Ann Ogbomo studied theatre arts at Middlesex University before achieving her MA in community arts from Goldsmith University. After graduating, she began her career in theatre, performing as a mainstay at the Royal Shakespeare Company while also appearing at such institutions as the Royal National Theatre, The Globe and RSC. Offstage, she's seen success in World War Z (2013), The Honey Trap, (2010), Wonder Woman (2017), Justice League (2017) and as Monique in The No. 1 Ladies Detective Agency (2009). Krypton sees her take the role of Jayna-Zod, Lyla's mother and former Primus of the Kryptonian military guild.
Aaron Pierre
Playing the character of Dev-Em, Lyta's ex-fiancée and former commander in the Kryptonian army is Aaron Pierre. Prior to his casting in Krypton, Price was best known for his roles in Britannia (2017) and The A Word (2016). Before deciding on a career in acting, Price had wanted to be a sprinter, as he revealed during an interview with The Guardian. "I wanted to be a sprinter, when I was a kid. Then I reached a point where such a strict way of eating just didn't appeal! But my school did plays, and I joined a theatre group in Croydon, in this really run-down warehouse. We'd devise our own plays and put them on for anybody that could be bothered to turn up".
Rasmus Hardiker
Playing Kem, Seg's best friend and a one-time bar owner, is Rasmus Hardiker. Hardiker began his career as a comedic actor, appearing as Raymond in the BBC sitcom Saxondale, and Ben in the Jack Dee comedy Lead Balloon. He's perhaps best known for his extensive voice work: as well as voicing Scott and Alan Tracy in the TV series, Thunderbirds are Go, he's voiced multiple voices on both the US and USA versions of Thomas & Friends.
Wallis Day
Nyssa-Vex, a former junior magistrate who helps in the uprising against General Zod, is played by Wallis Day. After studying at the Sylvia Young Theatre School, Day landed her first film role in 2016's Between Two Worlds. Since then, she's gained recognition for WILL (2017) and as Angie on the TV series, The Royals. According to IMDB, Wallis is known for performing all her own stunts on set and is a keen martial arts amateur.
Blake Ritson
Playing Brainiac, the alien android from Colu who took control of the Voice of Rao in season 1, before moving onto Seg's mind in season 2, is the English actor and director, Blake Ritson. As an actor, Ritson is best known for playing King Edward III in the TV miniseries, World Without End (2012), Mr. Elton in the BBC adaptation of Emma (2009) and Justin in The League of Gentlemen. As a director, Ritson has worked alongside his brother, Dylan, on the award-winning short films, Out of Time, More, More, More, and Love Hate.
Ian McElhinney
Ian McElhinney plays Val-El, Seg's grandfather who, by season 2, has taken up the leadership of the resistance against General Zod. Before his career in acting, McElhinney worked as a teacher for several years. Since changing direction over 30 years ago, McElhinney has racked up numerous TV and film credits, including Games of Thrones, The Fall, Derry Girls, Ripper Street, and Ripper Street.
Colin Salmon
English actor Colin Salmon takes on the part of General Dru- Zod, a future enemy of Superman and the new ruler of Krypton. Salmon's extensive list of credits includes Charles Robinson in the James Bond film's Tomorrow Never Dies (1997), The World is Not Enough (1999) and Die Another Day, and James "One" Shade in the Resident Evil franchise. Outside of acting, Salmon is a patron of the African-Caribbean Leukemia Trust and an ambassador for The Prince's Trust.
Hannah Waddingham
Season 2 of Krypton sees Hannah Waddingham's Jax-Ur, former leader of the Black Zero terrorist group and current co-leader in the resistance against General Zod, move from a recurring role to a main character. Waddingham is best known as a West End performer, having appeared in such productions as Spamalot, Into the Woods and The Wizard of Oz. She's also had a successful career in TV and film, having appeared in Games of Thrones as Septa Unella, along with the psychological thriller, Winter Ridge (2018), and the film adaptation of the musical, Les Misérables (2012).
Emmett Scanlan
Emmett J Scanlon takes the role of Lobo, a villainous bounty hunter with super-human strength who's seeking vengeance on Brainiac. Irish actor Scanlon came to fame as Brendan Brady in the Channel 4 soap opera, Hollyoaks. Since then, he's appeared in numerous TV shows and films, including The Fall, In the Flesh, and Guardians of the Galaxy.