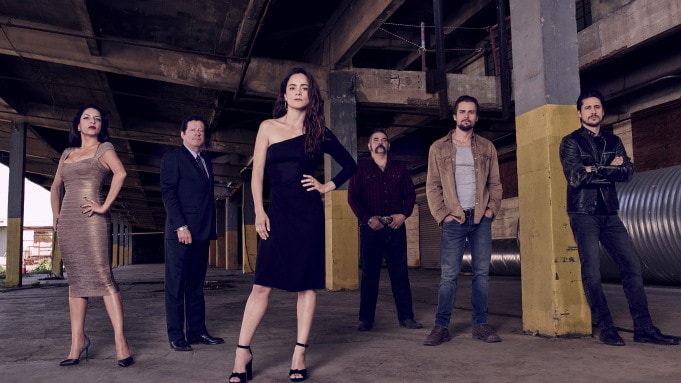 On June 6, 2019, the fourth season of crime drama series Queen of the South premiered on USA Network. Queen of the South tells the story of Teresa (Alice Braga), who escapes Mexico after the murder of her drug-runner boyfriend to build a new life for herself in America. Season 1 followed Teresa as she and her allies tried to bring down the leader of the drug cartel that was responsible for her lover's death. By season 3, Theresa had struck out alone, determined to make it as the nation's leading drug smuggler. Season 4 catches up with the ambitious Mexican as she tries to expand her empire to the East Coast – a decision that comes at a price. The latest season sees the return of several familiar faces (including Hemky Madera as Pote Galvez and Ryan O'Nan as King George), along with some brand-new additions to the cast . To find out more, keep reading.
Alice Braga as Teresa Mendoza
Starring as the lead character, Teresa Mendoza, is Brazilian actress Alice Braga. Prior to her casting in Queen of the South, Braga had featured in several hugely acclaimed films, including 2002's City of God and 2005's Lower City. Queen of the South represents Braga's first major U.S television role, with her previous TV credits extending to non-English speaking parts only.
Hemky Madera As Pote Galvez
Taking the role of Pote Galvez (a former Vargas Cartel lieutenant who has since become one of Theresa's most trusted allies) is the Dominican- American actor Hemky Madera. After beginning his career in Spanish speaking TV roles, Galvez made the transition to English speaking parts in shows such as New Girl, From Dusk till Dawn: The Series, and Agent X. In addition to his work on TV, he's also enjoyed considerable success in films, and was most recently seen reprising the character of Mr. Delmar in Spider-Man: Far from Home.
Bailey Chase as Eddie Brucks
Joining the cast of season 4 as Eddie Brucks, a musician trying to overcome his dark past, is Bailey Chase. Prior to joining the hit show, Chase was best known for his roles in Chicago P.D., Grimm, 24: Legacy, and the David Lynch reboot of Twin Peaks.
Ryan O'Nan As King George
Reprising the role of King George, a Texas weed smuggler who helps Theresa build her empire, is Ryan O'Nan. Prior to Queen of the South, O'Nan was best known for his roles in Fargo and Ray Donovan. In addition to his acting credits, O'Nan is building a successful career behind the camera as a producer, director, and writer- he's even acted as a story editor on Queen of the South itself.
Joseph T. Campos As Boaz Jimenez
Taking on the role of Boaz Jimenez is Illinois native, Joseph T. Campos. Campos began his career as an extra in such features as The Alamo. He's subsequently built a successful career in the industry as an actor, voice artist, writer and editor, and has even won awards for his talents, including The Merit Award for Best Supporting Actor at Indie Fest 2009.
Justina Machado as Brenda Parro
Starring as Brenda Parro, the wife of one of the key members of the Dallas branch of the Vargas Cartel, is American actress Justina Machado. Machado is perhaps best known for her roles in the Netflix sitcom, One Day at a Time, the HBO series Six Feet Under, and as Isabella Hudson in Final Destination 2.
Molly Burnett as Kelly Anne Van Awken
Playing Kelly Anne Van Awken is the actress and singer Molly Burnett. Best known for her portrayal of Melanie Jonas on Days of Our Lives, Burnett been recognized on numerous occasions for her contributions to acting, receiving a Daytime Emmy Award nomination in the Outstanding Younger Actress in A Drama Series category in both 2010 and 2012.
Alejandro Varrios as Chicho
The character of Chicho is played by Alejandro Varrios, an actor best known for his roles in S.W.A.T and Law & Order True Crime: The Menendez Murders (2017).
David Bianchi as Manny
Taking the role of Manny in season 4 is the American-Brazilian actor, producer, and writer, David Bianchi. Prior to joining the cast of Queen of the South, Bianchi was most recognizable for his roles in such films as Elizabethtown, Priest and Filly Brown, and TV shows such as Westworld, Shooter, The Last Ship, and Pretty Little Liars.
Martha Higareda as Castel
Playing the character of Castel, the niece of Colombian cartel leader Reynaldo Fieto, is the Mexican actress, producer, and screenwriter, Martha Higareda. The 35-year-old actress has been active in the industry since 2003, working on Spanish speaking parts before transitioning into English speaking roles with 2007's Borderland. At the age of 25, she wrote and produced her first feature film, Te presento a Laura, and in 2014, followed up on its success with Casese Quien Pueda.
Alfonso Herrera as Javier Jimenez
Starring as Javier Gallegos, a former mercenary and member of the Jimenez cartel who's now one of Theresa's closest allies, is Alfonso Herrera. The 35-year-old actor came to fame as a member of the award-winning Latin pop group, RBD, but has since built a successful career as an actor, appearing in the likes of Drunk History (2016), Sense8 (2015-18), and The Exorcist (2016-18)
Ronald Joe Vasquez as Airport Traveler
Ronald Joe Vasquez takes the role of Airport Traveler. Vasquez, who is married to Yolanda Arris and has four children, has previously appeared in such popular hits as NCIS: New Orleans (2015) and Our Brand is Crisis (2015).
Pêpê Rapazote as Raul 'el gordo' Rodriguez
Taking on the character of Cuban drug dealer Raul 'el gordo' Rodriguez is Pêpê Rapazote, a 48-year-old Portuguese actor best known for his roles in Shameless, Operation Finale, Blood Ties and Amicci per la Pelle. According to IMDB, the talented actor speaks five languages and splits his time between his home country of Portugal, the US, and Latin America.
David Andrews as Judge Cecil Lafayette
Appearing as Judge Cecil Lafayette (a devilish member of one of the oldest families of New Orleans and quite possibly one of Theresa's toughest adversaries) is acting veteran, David Andrews. Andrew's extensive list of TV and film credits include Cherry 2000 (1987), and Terminator 3: The Rise of the Machine (2003). Andrews is clearly relishing the chance to play the bad guy, telling The Advocate , "He may be only slightly worse than some of the roguish characters who have roamed this state, but it's fun to play such a devilish and colorful guy."