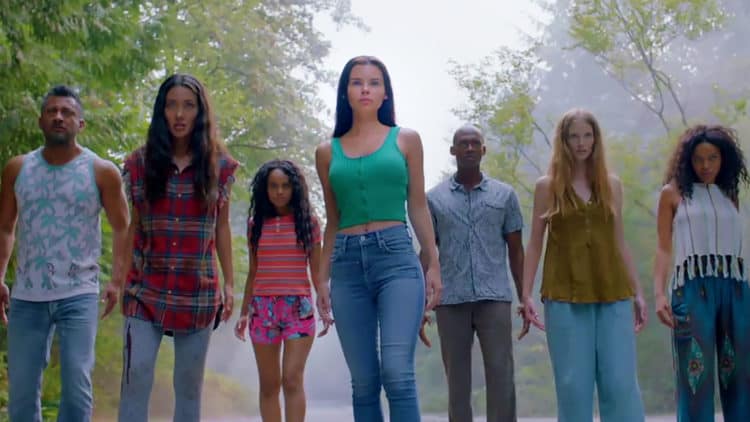 Siren revolves around the town of Bristol Cove, a small backwater that, legend has it, once played home to the sea's most mysterious and mythical creatures. The lives of the town's residents are turned upside down with the sudden appearance of Ryn Fisher, a mysterious young woman who wreaks havoc as she hunts down her missing sister. Led by marine biologists Ben and Maddie, the town tries to uncover the truth about Ryn, discovering some deep, dark secrets along the way. With season 2 already well underway, and a third season set to hit out screens in 2020, find out more about the show with our rundown of the cast of Siren season 2.
Alex Roe as Ben Pownall
Taking on the role of Ben Pownall, a marine biologist who becomes spellbound by Ryn, is English actor Alex Roe. Roe got his start in the industry as a child actor in a commercial for Milky Way, subsequently making his first film, The Calling, at the age of 10. Since then, Roe has appeared in numerous TV shows (including The Cut and The Fugitive) and films (including The 5th Wave, Hot Summer Nights, Rings and Forever My Girl). Outside of acting, Roe is a keen football, having played semi-professionally as a youth and with amateur team Atlético Silverlake since his move to LA.
Eline Powell as Ryn Fisher
Eline Powell plays Ryn Fisher, a feral young mermaid with a deep, dark secret. The Belgium- born actress is the daughter of pharmacologist Rudi Pauwels and clinical researcher Carine Claeys, renowned in their field as the co-founders of the biotech company, Tibotec. After graduating in 2011 from the Royal Academy of Dramatic Arts with a BA in acting, Powell landed a minor role in Dustin Hoffman's directorial debut, Quartet. Since then, she's featured in such shows as Game of Thrones, Novitiate and King Arthur: Legend of the Sword. After landing the role of Ryn, Powell studied intensely, reading up on the legends of mermaids and watching videos of marine creatures to learn the intricacies of their body language. Her studies clearly paid off, with IndieWire recognizing her performance with the praise:- "Powell's ability to embody a being who is mainly a physical presence, yet fill it with wonder, fear, and menace without uttering a word, is magnetic".
Ian Verdun as Xander McClure
Ian Verdun takes on the part of Xander McClure, a deep-sea fisherman intent on discovering the truth about the mysterious merpeople. Verdun is known mainly for his stage work, and has received widespread critical acclaim for his talents, with Variety calling him "quickly charming" and LA Weekly calling his performances "finely nuanced". In addition to his theatre roles, Verdun has appeared in numerous TV shows, including ABC's Last Resort, TNT's Hawthorne and FOX's Lucifer.
Fola Evans-Akingbola as Madeline "Maddie" Bishop
Fola Evans-Akingbola appears as Madeline "Maddie" Bishop, a marine biologist, Ben's girlfriend and the step-daughter of the sheriff of Bristol Cove. The British actress cut her teeth at the National Youth Theatre of Great Britain, before studying her craft further at Identity Drama School and The Actors' Temple in London. In addition to her appearances on stage, Fola has featured in several big-hitting TV shows, including the hugely popular Games of Thrones and the BBC crime-comedy, Death in Paradise.
Rena Owen as Helen Hawkins
Rena Owen plays Helen Hawkins, an eccentric woman who is revealed to have descended from merfolk. The New Zealand actress honed her skills in high school by performing with local Maori culture groups, but initially pursued a career in medicine, training as a registered nurse at Auckland Hospital. After moving to London, she reignited her interest in acting, performing extensively in theatre with the Royal Shakespeare Company. After returning to New Zealand, she made the move into TV, quickly making her name through such features as E Tipu E Rea and Once Were Warriors. The latter picked up rave reviews, earning Owen Best Actress awards at numerous film festivals (the Montreal World Film Festival, Oporto Film Festival, and San Diego International Film Festival among them) and both a Special Benny Award for Excellence in Film, and the Toastmasters Communicator of the Year Award in her native New Zealand. In addition to her TV credits, film-fans will be aware of Owen though her appearances in Star Wars: Episode II — Attack of the Clones (2002) as Taun We, and in Star Wars: Episode III — Revenge of the Sith (2005) as Nee Alavar.
Curtis Lum as Calvin Lee
Featuring as Calvin Lee, Xander's close friend and coworker, is Curtis Lum. The Canadian actor and producer has appeared in various TV shows, including Supernatural, Prison Break, The Romeo Section and Supergirl, with his superlative performances earning him a mention as one of Canada's Rising Stars by The Hollywood Reporter. In addition to his acting credits, Lum is developing a significant portfolio of work behind the camera, having created and produced several short films (including Nature and Jaded), along with 16 episodes of the comedy series, Chasing Mood.
David Cubitt as Ted Pownall
Taking on the role of Pownall family patriarch, Ted Pownall, is seasoned actor, David Cubitt. The English-born actor moved to Vancouver, British Columbia when he was just six months old, and resided there until moving to LA to further his acting career. After studying at Studio 58, Cubitt made his TV debut in the 1987 series, 21 Jump Street. Since then, he's developed a significant portfolio of work that spans both TV and film, taking in highlights such as Shut In, in which he starred alongside Naomi Watts and Oliver Platt; Stonewall, featuring Johnathan Rhys Meyers; Ali, the Muhammed Ali biographic starring Will Smith in the lead; and the 2014 comedy, The Colossal Failure of the Modern Relationship. Cubitt has won multiple accolades for his work over the years, including the 1997 Gemini Award for Best Performance by an Actor in a Continuing Leading Dramatic Role and the 1998 Gemini Award for Best Dramatic Series, both of which recognized his stellar performance in the Canadian series, Traders.