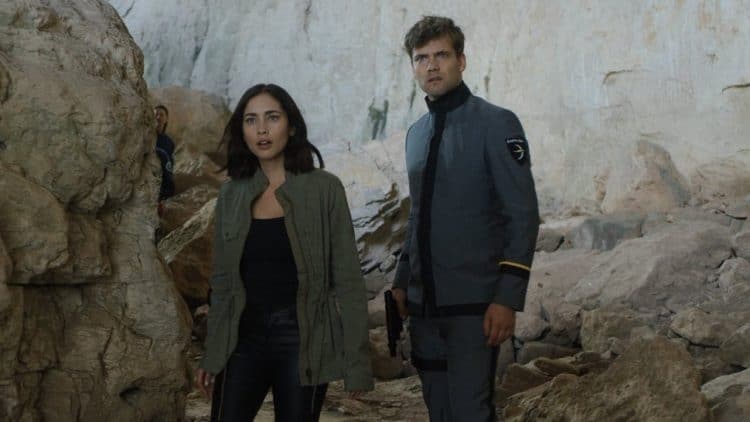 The CW's new summer show is Pandora, a space-age series set in the distant future. Central to the action is Jax, a plucky young orphan who may have lost everything she holds dear but is determined to build a new life for herself at Earth's Space Training Academy. Along the way, she finds herself defending herself and her new-found friends from a host of threats… and uncovering some unsettling truths about both them and herself in the process. Starring as Jax is relative newcomer Priscilla Quintana. The rest of the cast consists of a mixture of seasoned veterans and hot new talents. While reviews haven't been great so far, to find out more about the cast, keep reading.
Priscilla Quintana as Jax
You may not be too familiar with the name Priscilla Quintana yet, but if the hype surrounding Pandora is anything to go by, you soon will. Quintana takes the lead role of Jax, a bright, empowered young woman whose life gets turned upside down when she uncovers the dark secret at its heart. Although Pandora will be her big break, the actress has been working in the industry for years, appearing in minor roles on TV shows like Masters of Sex and Lethal Weapon, as well as the 2018 feature film Traffik. Quintana was clearly delighted with landing the part of Jax, taking to Instagram to give her fans some insight into how sweet it is to taste success after so many years of rejection. "Usually, it's not even a 'no,' it's just complete silence, leaving you mulling over what happened in that 5-minute audition for hours," she shared. "Odd jobs, wondering where your next paycheck is going to come from/when that'll ever be … the awkward family dinners when someone asks what you're working on next and you have no idea if you'll ever even work again. It's all part of the process. It all makes the eventual 'yes' that much sweeter. I'm happy Pandora is my 'yes.' This project is so dear to me."
Raechelle Banno as Atria Nine
Australian actress, dancer, model, and writer Raechelle Banno has been working since she was just 9 years old, modeling for the likes of Boden, King Cow, Little Romeo, Barbie and Total Girl magazine and appearing in TV commercials for such brands as McDonalds and Vodafone. After taking several courses at the National Institute of Dramatic Art, Banno made the transition into acting, appearing in numerous short films and the Australian children's drama In Your Dreams. At around that time, she also wrote and produced her first short film, Exposed. In 2015, Banno joined long-running soap opera, Home and Away, as Olivia Fraser Richards. She continued in the role until 2018. In Pandora, Banno takes the part of Atria Nine, a free-spirited, gregarious character known for her trademark bright purple hair and the tattoo on her neck that marks her out as a clone. Although outwardly cheerful, she often has moments of darkness, hinting at buried secrets in her past.
Martin Bobb-Semple as Thomas James Ross
Taking on the role of Thomas James Ross, the son of a telepath who's inherited some of his father's gifts, is Martin Bobb-Semple. The British actor is best known for his regular role as Alex, Becky's love interest, in the Netflix series Free Rein (which coincidentally also featured fellow Pandora cast member, Noah Huntley).
Banita Sandhu as Delaney Pila
Tackling the character of Jax's roommate Delaney Pilam, a young woman gifted with enhanced abilities thanks to her cybernetic implants, is Banita Sandhu. The British actress began her career in the industry at a young age, appearing in various TV commercials for brands such as Vodafone. After being spotted by film writer Juhi Chaturvedi while appearing in a commercial for chewing gum, Sandhu was chosen to star in his upcoming film, October. Since then, she's gone from strength to strength, with Pandora representing her first major US role.
Ben Radcliffe as Ralen
Starring as Ralen, the son of a Zatarian ambassador with questionable loyalties and motives, is Ben Redcliffe. Prior to his casting in Pandora, Radcliffe was best known for his role as Young Bruce in the 2014 romantic comedy, Cuban Fury, as Iggi in the TV series The Evermoor Chronicles, as Henry Cummings in the gritty TV series Ransom, and as Robert in the family drama Hetty Feather.
Oliver Dench as Xander Duvall
Oliver Dench portrays Xander Duvall, an intelligent and charming teacher's assistant to Professor Donovan Osborn. Unbeknownst to those around him, Duvall is in fact an agent for the Earth Confederacy Intelligence Services. After he falls in love with Jax, he finds his loyalty to his employer tested to its limit. English actor Dench has acting in his blood: his great-aunt is acting royalty, Dame Judi Dench. Dench began his career in the theatre, starring in productions of Shakespeare and acting as Artistic Director of the Revolve Theatre Company. Since making the move into TV, he's become best known for his role as Will Palmerston on the series Ride.
John Harlan Kim as Greg Li
Taking the role of the super-smart medical student Greg Li is John Harlan Kim. The Australian actor of Korean descent got his first break in the industry in 2010, when he was offered the part of a Japanese soldier in the Tom Hanks–Steven Spielberg TV miniseries The Pacific. Since then, he's enjoyed success as the straight-talking, boyishly charming master-thief Ezekiel Jones in TNT's fantasy adventure series, The Librarians.
Noah Huntley as Donovan Osbourne
Taking on the role of Donovan Osbourne is Noah Huntley. The British actor is best known for his appearances in such films as 28 Days Later (2002), Snow White and the Huntsman (2012), Dracula Untold (2014), and The Chronicles of Narnia: The Lion, the Witch and the Wardrobe (2005). In addition to his acting success, Huntley has also enjoyed a career as a model, appearing in campaigns for such brands as Bloomingdales, Paul Smith, Jigsaw, Cacharel and Nautica.