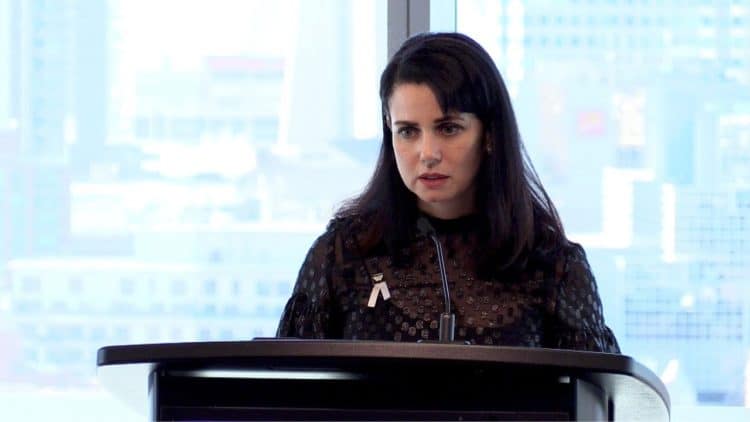 If you were a fan of the popular TV show, The L Word, you'll probably recognize Mia Kirshner's face instantly. In her role as Jenny Schecter, Kirshner captivated millions of viewers. In the years since the show ended its original run, Kirshner has appeared in several other films and TV shows. However, like many stars, there is much more to Kirshner than meets the eye. Despite her star status, much of Kirshner's life is lived away from the spotlight. If you're interested in learning more about the beautiful and talented actress, you've come to the right place. Here are 10 things you didn't know about Mia Kirshner.
1. Her Grandparents Were Holocaust Survivors
To many people, the Holocaust seems like a distant memory. But for the many families across the world who are still feeling its devastating effects, the Holocaust is more than just a thing of the past. Mia Kirshner was raised by Jewish parents in Toronto, Canada. Kirshner's father, Sheldon, is the son of Polish Jews who survived the horrors of the Holocaust. Unfortunately, Sheldon's brother, Izhou, died during the Holocaust when he was just 9-years-old. Sheldon was born at a displaced person's camp in Germany after World War II.
2. Her Father Signed A "Nudity Waiver" For Her Debut Film
The entertainment industry can be competitive and it's no secret that people often go to extreme lengths to stand out. When Kirshner was a teenager looking to break into the industry she was prepared to due whatever it took. In 1993, Kirshner asked her parents to sign a 'nudity waiver' so that she could appear in her debut film, Love and Human Rights. Her father agreed to sign the waiver but her mother refused because she was uncomfortable with her 15-year-old daughter showing her breasts.
3. She Regrets Some Of Her Career Choices
The beginning of a career in any industry always includes a few bumps in the road, and Kirshner's is no exception. Although she is proud of her work, there are a few decisions she regrets making early on in her career. According to Kirshner, "Unfortunately, when you start your career at such a young age, in a way you're becoming a young adult through your work, and mine represented some of the dark narcissism you can feel at that age."
4. She Got Her First Talent Agent At The Age Of 12
Kirshner discovered her love of acting at a very young age and by the time she was nearing her teenage years knew it was something she wanted to pursue professionally. At just 12-years-old, Kirshner was able to get a talent agent. By 15, she landed her first aging gig in the 1993 film, Love and Human Rights. Her role in the film earned her a Genie nomination for Best Performance by an Actress in a supporting role.
5. She Is An Activist
Acting isn't the only thing Mia Kirshner is passionate about. She has also become known for her philanthropy and her dedication to human rights initiatives. In 2008, she co-authored a book titled, I Live Here. The book focuses on four families from different parts of the world and the struggles they're working to overcome.
6. She Had A Voice Role In A Video Game
Kirshner's on screen roles are her claim to fame, but she's also tried her hand at voice acting. In 2006, she voiced the character of Mandy in the video game 24: The Game for Playstation 2. The game was based on the TV series 24, which aired on Fox from 2001 to 2010 and briefly in 2014.
7. She's Nothing Like Jenny Schecter
Kirshner's portrayal of Jenny Schecter on The L Word may be her most famous role, but that doesn't mean that she identifies with the character. Although her acting may have convinced viewers that she was tapping into a bit of her own personality to portray Jenny, Kirshner has said that she's "nothing" like Jenny. During an interview with The New York Times, in 2004, Kirshner went as far as to say that Jenny was evil.
8. She Was In A Marliyn Manson Video
Marilyn Manson and Mia Kirshner may not seem like a likely due, but looks can be deceiving. The two worked together in 2001 when Kirshner made in appearance in the video for Manson's song "Tainted Love". Although the song never became a major hit in the United States, it topped the charts in several countries across the world.
9. She May Appear In The Reboot Of The L Word
10 years after it's final episode, The L Word will be returning to the air. The reboot, The L Word: Generation QÂ will include many original characters and fans are wondering if Jenny Schecter will be among them. Although her character killed off during the show's original run, the show's creator said there may be a chance viewers will get another glimpse of Jenny. During a recent interview, show creator, Illene Chaiken said, "I just want to say kind of anything can happen. We're living in the reality of "The L Word" to a large extent. Bette, Shane and Alice, as you know, are coming back – those three actors are my partners as well as executive producers on the show, and so we're picking up their lives 10 years later and any number of other characters can, and I hope will, appear on the show."
10. She Appeared In A Film About The Recent College Admission Scandals
Earlier this year (2019), several stars were thrust into the headlines after it was revealed that they had secretly paid hundreds of thousands of dollars to get their children admitted to school. The story was made into a Lifetime movie which starred Mia Kirshner and Penelope Ann Miller. The movie was released in the fall of 2019.