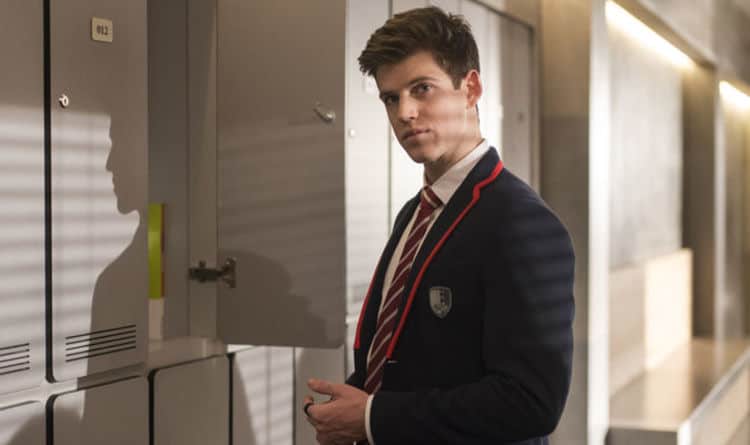 The last few years have been a whirlwind for Miguel Bernardeau. Within two years of his acting debut, he earned a main role in the series, Elite. When the show began, no one could have known just how successful it would become. As a cast member since season 1, Miguel has achieved world wide popularity for his role as Guzman. Although Guzman is somewhat arrogant and quick tempered, his love for his sister and his friends also reveal a soft side. Thanks to the role, Miguel has been able to show his wide range of talents, and fans can't get enough. Continue reading for 10 things you didn't know about Miguel Bernardeau.
1. His Mom Is An Actress
Miguel isn't the only person isn't his family who loves to act. His mother, Ana Duato, is a well-known Spanish actor who has been working in the business for over 30 years. His father, whose name is also Miguel, is a producer.
2. He Went To College In The United States
When Miguel decided he wanted to be an actor, his parents agreed on one condition: he had to work hard and get accepted into an acting program in the United States. Miguel did just that. He studied in California and lived in Santa Monica for three yers. He said it was a great experience and he thinks it has prepared him nicely for his career.
3. He's A Stranger Things Fan
Just because he's part of one successful show on Netflix doesn't mean he can't enjoy another. Miguel is a really big fan of Stranger Things. In fact, he would love to get the opportunity to make a guest appearance on the show some day.
4. He Hopes To Work In The United States Some Day
Miguel really loves his home country and is happy to be back. However, he also loved living in California and hopes to get the chance to work there some day. It goes without saying that working in Hollywood could definitely help take his career to an even higher level.
5. He Likes To Keep The Personal Feel On His Instagram Account
Thanks to the show's popularity, Miguel Bernardeau's Instagram following has grown exponentially. Despite having a much larger following, Miguel likes to stay true to himself on social media. He told Entertainment Weekly, "My Instagram is my personal account. I post some photos that I like because I do a lot of sports and I love my dogs and I take pictures sometimes, and that's mainly what I use it for."
6. He's In A Relationship
Miguel has become somewhat of a heart throb due to the success of Elite, but he only has eyes for one woman. He is in a happy relationship with singer, Aitana Ocana who is very well-known in Spain. In early 2020, Ocana said she dedicates everything she does to Miguel.
7. He's Adventurous
Miguel likes to spend his free time going on all sorts of adventures with his friend. He likes to be outside and some of his favorite hobbies include swimming, surfing and hiking. He also likes to stay in good shape and has been learning how to box.
8. He Believes In Taking Care Of The Environment
Since Miguel likes to do lots of outdoor activities, it's only right that he be conscious about the earth and how its treated. In late 2019, he shared a photo of Instagram of a young Alaskan girl who was surrounded ice from the ocean that had begun to melt. He explained that this is a consequence of global warming that will eventually begin to impact all people if something isn't done. He ended the post by encouraging his followers to donate to Unicef.
9. He Hopes To Show Helps People Become More Open Minded
One of the most interesting things about Elite is its diverse cast. In addition to racial and ethnic diversity, the show also features gay and bisexual characters. The subject of homosexuality is often considered taboo, but Elite tackles it with ease. Miguel hopes that people who see the show will be able to open their minds and become more accepting.
10. He's A Dog Person
If you're already a Miguel fan and didn't think it was possible to like him anymore: it is. Miguel is a dog lover. That deserves at least a few more cool points. To make things even better, Miguel loves showing off his fur babies, Mimi and Marley, on Instagram.